Wicklow is known as the garden of Ireland, and if I am being honest it is easy to see why. The entire county is bursting with astonishing beauty, from captivating trailheads to stunning coastal walks, Wicklow really has it all! Today's guide will walk you through some of the most beautiful walks in Wicklow, from the famous Powerscourt Waterfall to some lesser-known trails such as Glen Beach Cliff Walk.
If you are planning a trip to Wicklow and want to find stunning hikes and walks in the area then look no further because this is the guide for you. We will cover the difficulty of each trail, distance, parking facilities and more.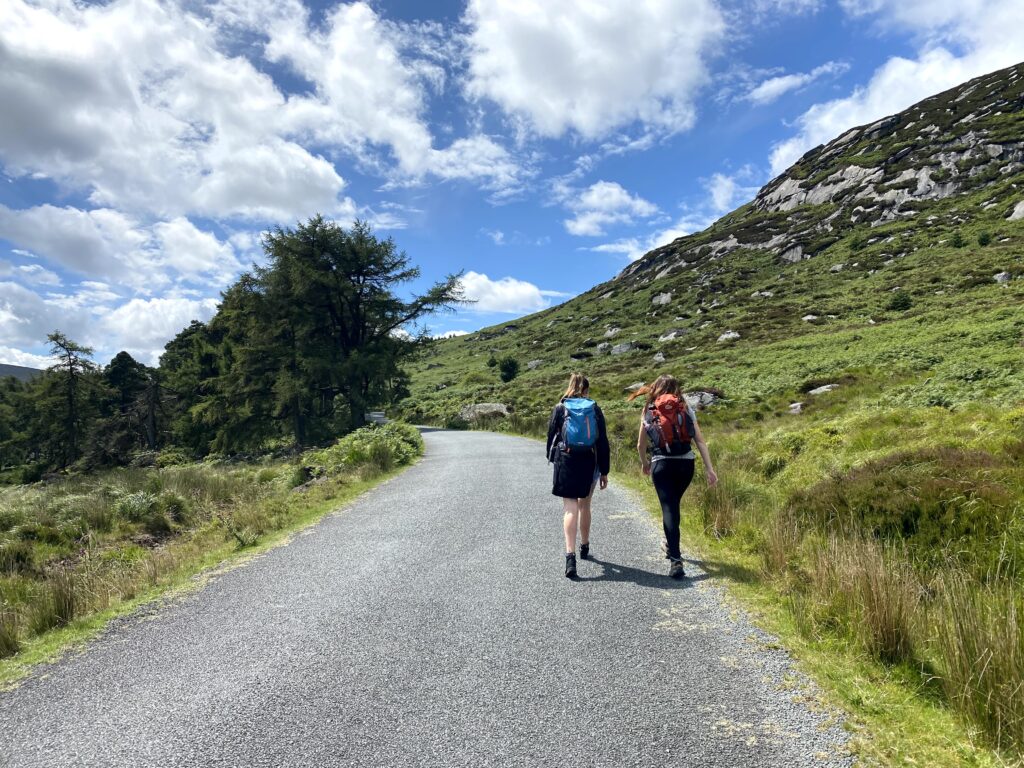 Best Walks in Wicklow
Kippure
Djouce Mountain
Crone Woods
Ballinastoe Woods
Sugar Loaf
Lugnaquilla
Devils Glen
The Wicklow Way
Powerscourt Waterfall
Glendalough
Lough Ouler
Lough Bray
Glen Beach Cliff Walk
Bray Head
Bray to Greystones Cliff Walk
Hikes in Wicklow
Wicklow National Park is home to over 149 Mountains which means there are plenty of beautiful hikes to enjoy. I thought it was only right to kick-start this post with a few of my favourites.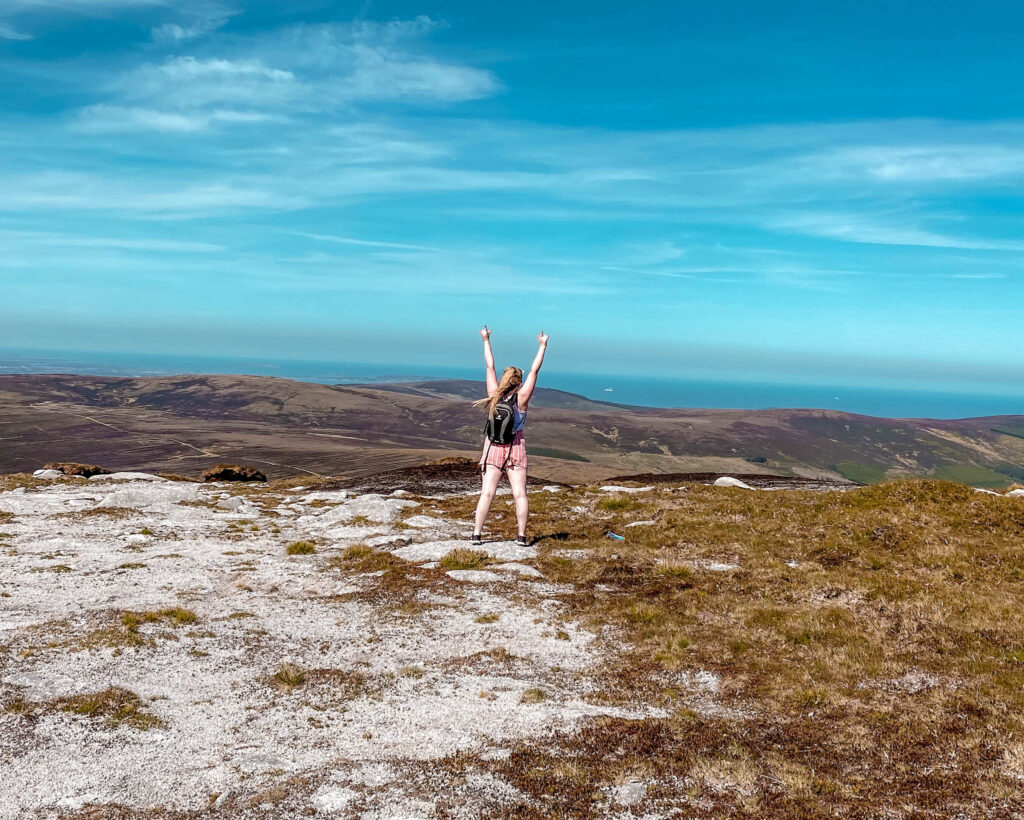 1. Kippure Mountain
First on the list, is one of my personal favourite Wicklow Hikes, and that is none other than Kippure Mountain. Kippure lies on the Dublin/Wicklow border and is one of the most noticeable mountains from a distance.

From the summit of Kippure hikers are presented with amazing views of Dublin, Wicklow and on a clear day, you may even be able to see Wales.

The trail itself is unmarked, and the terrain can be boggy and uneven in places. I'd advise anyone looking to give Kippure ago to wear hiking boots to avoid any accidents while walking.
The Route & Parking: There are a few ways to reach the summit of Kippure Mountain. The most popular route begins at the car park of Lough Bray. Link to the trails map.

The second option is to walk up the road leading to the TV mount on the top of the mountain. Although, this route is more of a walk rather than a hike. When taking this route please be mindful that it is not possible to park in front of the road gate as the road needs 24-hour access. Here is the nearest car park.
The third route starts in County Dublin on the Old Military Road and involves walking up the old Dublin/Wicklow border. Parking is limited here.
All routes take 1 to 3 hours to reach the summit depending on fitness level & route.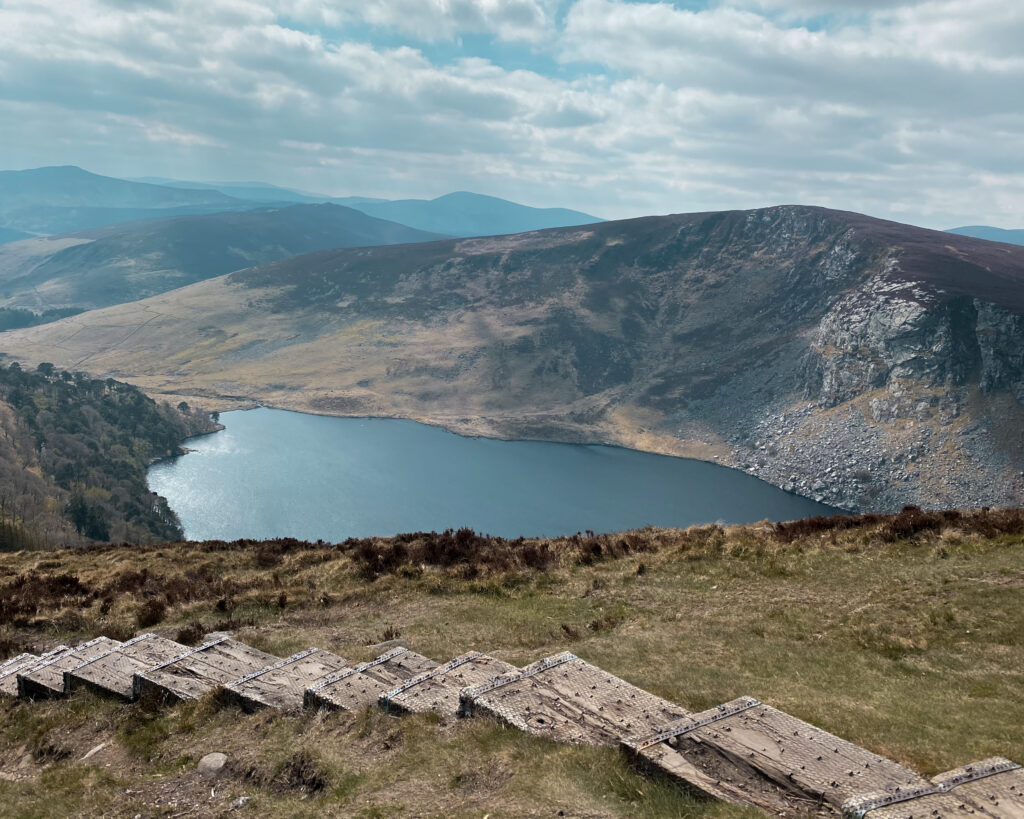 2. Djouce Mountain
Second, on our list of Wicklow Mountain Walks is Djouce. This is probably one of Wicklow's more popular trails and hosts phenomenal views from all angles of the hike. It is a marked way and takes about 2 hours to complete depending on fitness levels.

The trail consists of a mixture of boardwalk and grass terrain. On the trail, hikers are presented with amazing views of Lough Tay, otherwise known as Guinness Lake, the Vartry Reservoir and the Great Sugar Loaf.
This is a Wicklow Hike you don't want to miss!
Parking: When hiking Djouce Mountain the best place to park is the JB Malone Car Park however, I'd advise getting there early especially on a sunny day as it is a popular spot!
Check out my Djouce Youtube Video!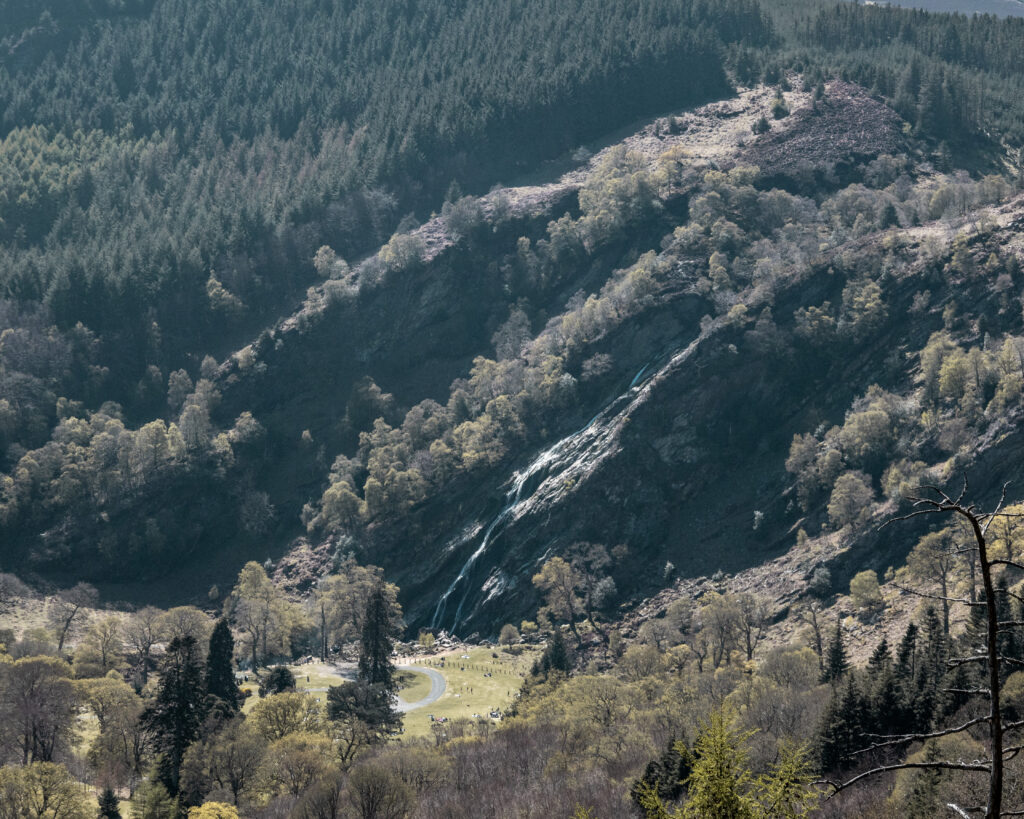 3. Crone Woods
Crone Woods is one of the Lesser-known Wicklow walking trails, located in the Powerscourt Area of Wicklow National Park. Crone Woods is home to 3 walking routes, the Maulin Mountain Trail (which takes 2.5 hours to complete/6km), a section of the Wicklow Way (132 Km in total) and the Mountain Access Route (which takes 55 mins to complete/2.6km).
Crone Woods offers hikers breathtaking views of the Glencree Valley, the Great Sugar Loaf and Powerscourt Waterfall.
CHECK OUT MY CRONE WOODS YOUTUBE VIDEO
Parking at Crone Woods: Crone Woods has its own car park free to use for hill walkers. It is a rather large car park but can be hard at times to find a space.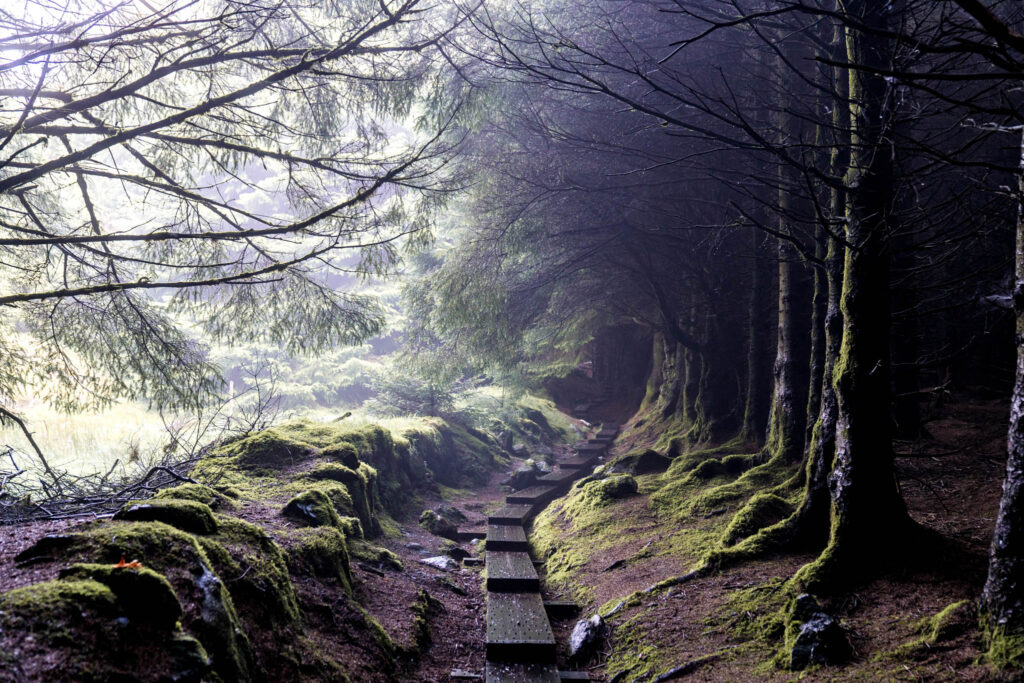 4. Ballinastoe Woods
Ballinastoe Woods was made famous after going viral on social media back in 2019. The perfect boardwalk makes the forest look like something out of an enchanted movie scene. Those who would like to see the magical boardwalk for their own eyes have a few walking options, ranging from 3 to 10 kilometres in length. This trail can also be combined with Djouce Mountain for those looking to spend the day out on the hills.
It is actually rather hard to find 'that spot'. The picture-perfect location that keeps popping up all over social media. Here is a google maps link to help you find it.
Please be mindful that Ballinastoe is also an extremely popular mountain biking area, it's important to be cautious this when hiking.
Parking at Ballinastoe Woods: Ballinastoe Woods is rather large and there are a few parking options for those looking to enjoy their scenic beauty. If you are looking to enter the magical part of the woods it's best to park at the Pier Gates Car Park. Just note that there is only room for maybe 6 cars at a time.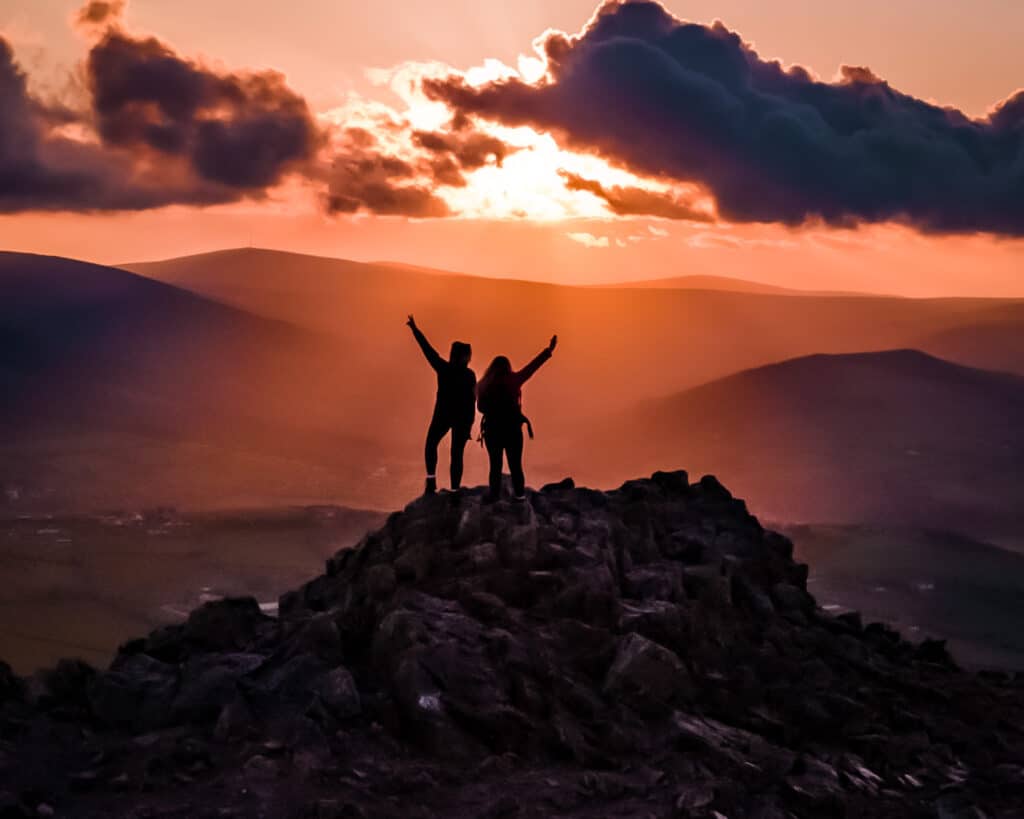 5. The Great Sugar Loaf
The Great Sugar Loaf is most iconic mountain in all of Wicklow and the perfect addition to your Ireland Itinerary. It can be seen for miles and miles and it is the scenic backdrop of most of the area's hiking trails. The walk up to the summit of the Sugar Loaf is rather quick and only takes 30 to 40 minutes depending on your fitness level. However, don't let the trail short distance fool you! It can be extremely steep in places, especially in the final 10 minutes leading to the summit. Let's just say it is not a hike for the faint-hearted. However, the views make the climb completely worth it. Especially if you go a sunrise or sunset.
Parking at the Great Sugar Loaf: The Great Sugar Loaf has its own dedicated car park and there are usually plenty of car spaces available.
Check Out My Sugar Loaf Youtube Video for a Visual Guide!
6. Lugnaquilla
Are you up for the challenge? Lugnaquilla is the second-highest mountain in Ireland and the highest in Wicklow National Park. Hiking up Lugnaquilla is not an easy choice but the views make its extremely rewarding. The trail ranges from 10 to 16km and can take up to 8 hours to complete depending on your fitness level. This trail is for more experienced hikers and it is important to come prepared with appropriate footwear, a first aid kit and plenty of water.
Parking at Lugnaquilla: The best place to park when hiking Lugnaquilla is the Baravore car park (which fits about 20 cars).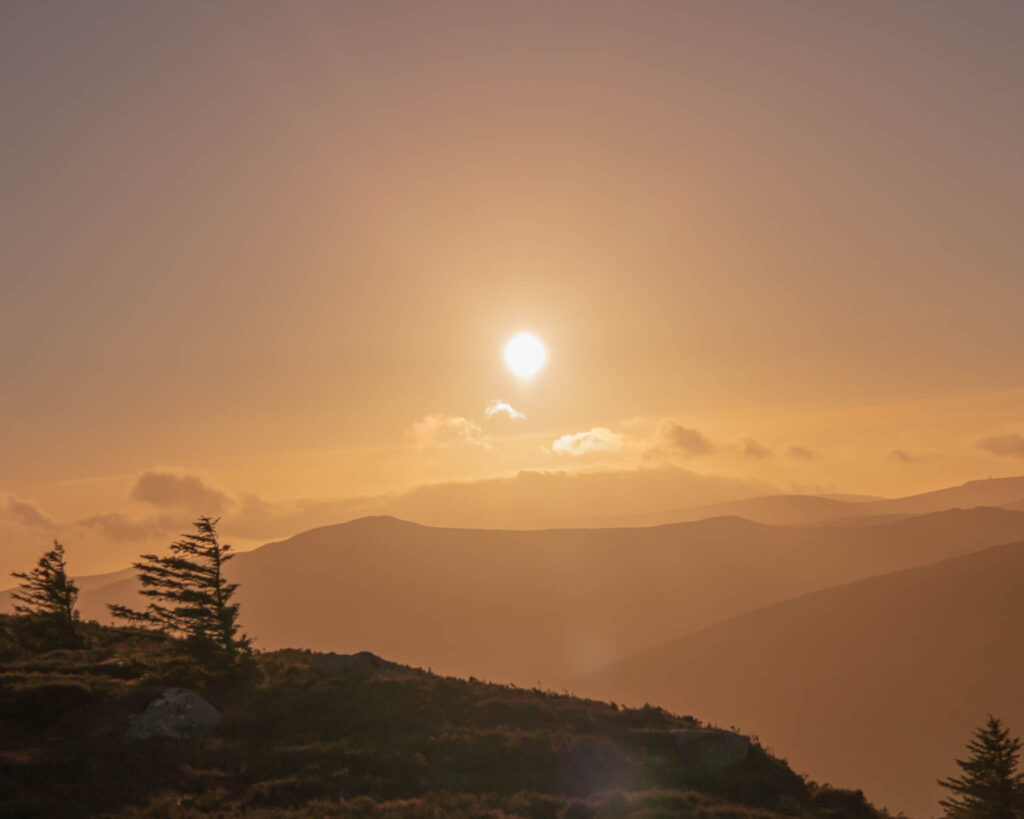 7. Devils Glen
The Devils Glen walking trails is one of Wicklows Lesser-Known hikes, it is home to two beautiful walks, the Waterfall Walk and the Seamus Heany Walk. The terrain is through forrest grounds and paved paths and is suitable those with a moderate fitness level. Both trails are looped and take about 2 hours to complete.
When walking around Devils Glen you will be presented with forest views, waterfalls and the stunning gorge.
Parking at Devils Glen: There are two car parks at Devils Glen, one at each of the trail start points. The Seamus Heany Trail only has 5 car spaces while the Waterfall Trail has about 20.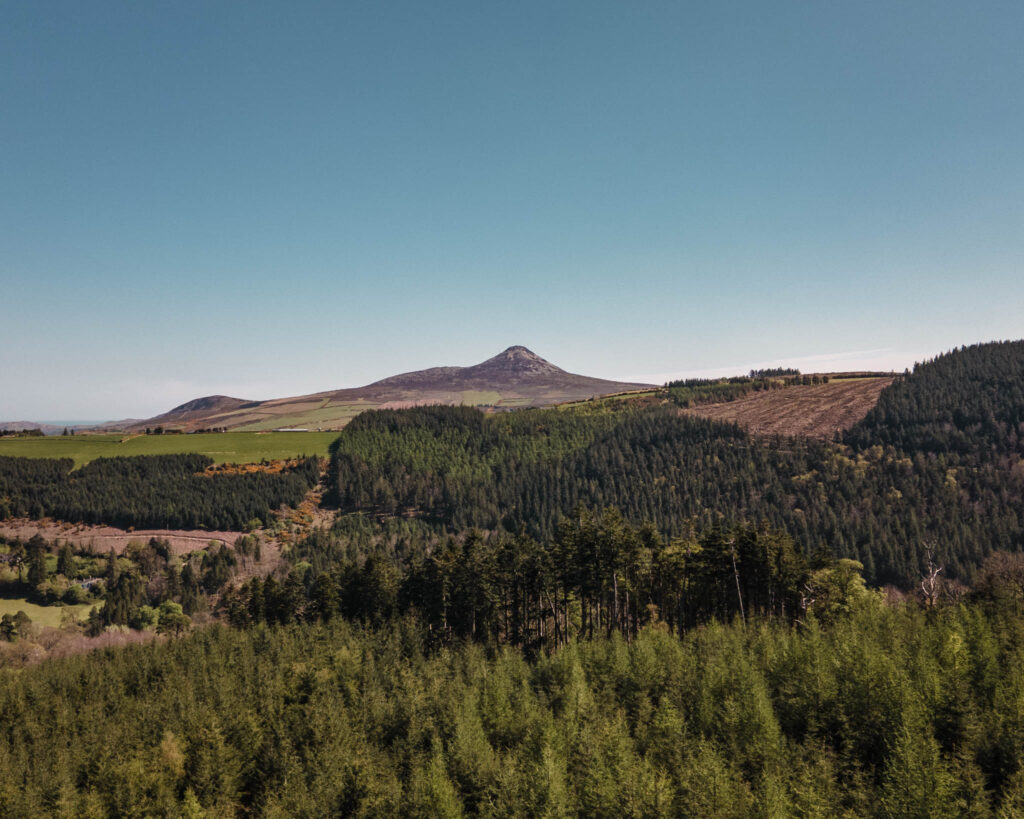 8. The Wicklow Way
The Wicklow Way is the longest marked way trail in County Wicklow and lasts for over 132 kilometres. It can take anywhere from 8 to 10 days to complete depending on your fitness level. The trail begins in Rathfarmnam in County Dublin and continues along to Wicklow hillside all the way to a small town called Clonegal in County Carlow.
Those looking to complete the full trail need to be of a high fitness level and be prepared to camp and walk in extreme weather conditions. Don't worry if you don't want to dedicate a full 10 days to hiking the Wicklow Way as many of the walks mentioned in this post lead through the trail at some point.
More information on the Wicklow Way can be found here.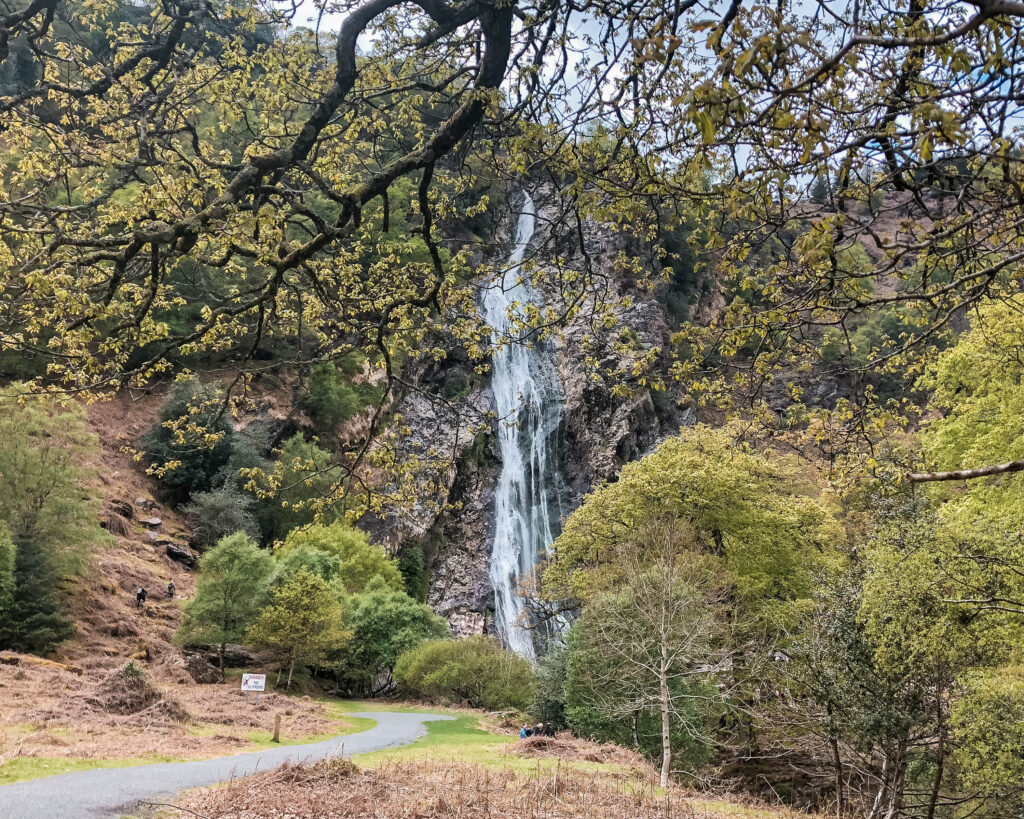 9. Powerscourt Waterfall
Powerscourt Waterfall is one of Wicklow's most iconic spots, and is the backdrop for many Hollywood movies, including the new Disenchanted movie which is currently being filmed. There is an entrance fee into the Waterfall which costs €6.50.
The Waterfall is home to many different walking trails, suitable for all fitness levels, a beautiful river and many picnic spots. It's the perfect place to spend the day in the sun with Family and Friends.
The Powerscourt Gardens are located a 10-minute drive from the Waterfall and cost a further €11.50 to enter. Tickets for the Gardens can be purchased online.
Lakeside Wicklow Walks
Wicklow has more lakes than I care to count. It's one of the most beautiful area's in all of Ireland. Below is a list of some of the best Lakeside walks in County Wicklow.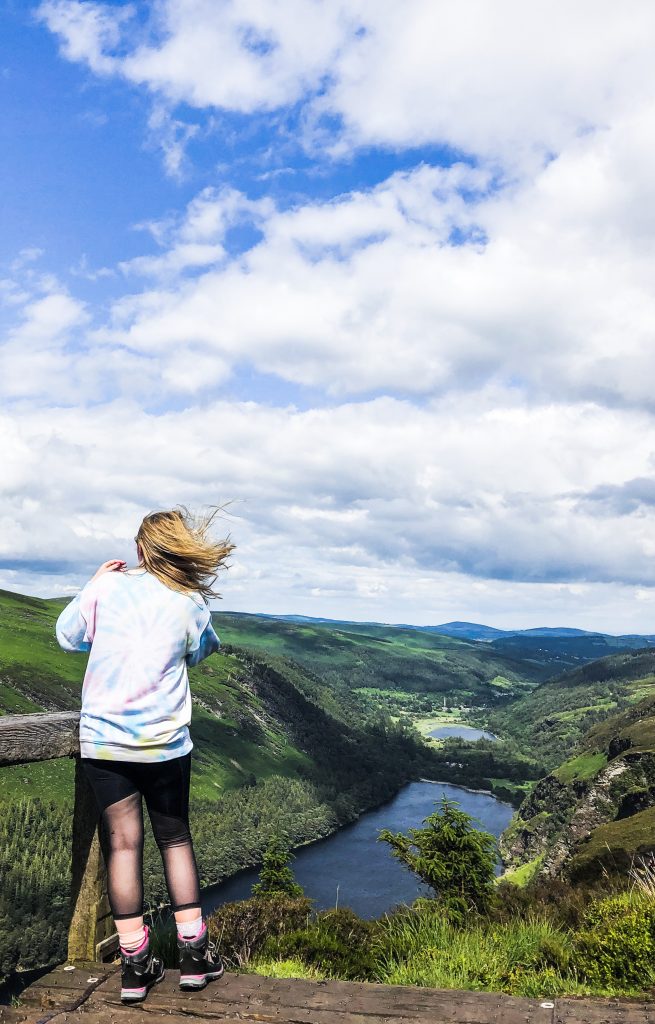 10. Glendalough
Glendalough is my favourite place in all of Wicklow. The scenic glacier lake is the perfect place to spend the day hiking, taking pictures and enjoying the beautiful surroundings. Glendalough is home to many marvellous hiking trails that range in difficulty. Check out my Glendalough Guide for more information on each of the walk.
The most popular trail in Glendalough is the Spinc, this hike takes around 2 to 3 hours to complete. The trail offers phenomenal views of the entire valley, it's possible to see the famous monastery and lakes from up above. The trail itself can be quite difficult and a moderate level of fitness is needed to complete it.
Parking at Glendalough: Please note that parking at Glendalough cost €4 per car. It is possible to park in nearby village Laragh for free.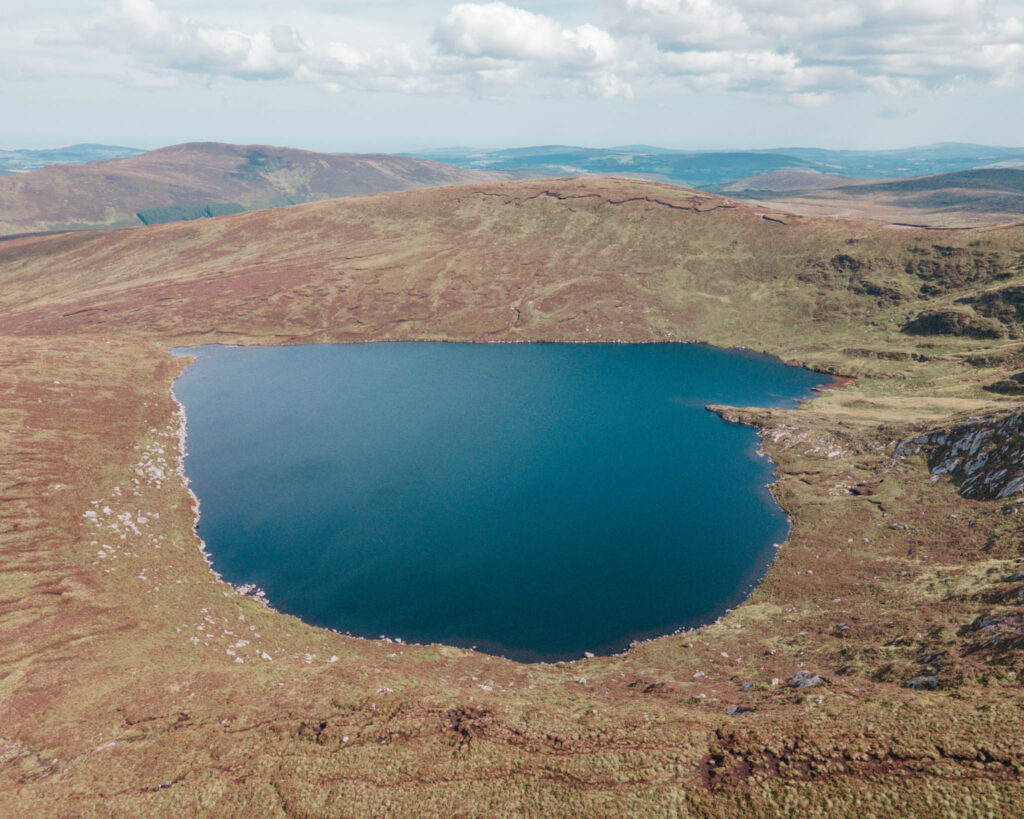 11. Lough Ouler
Lough Ouler, otherwise known as Ireland's heart-shaped lake is tucked away behind Tonelagee Mountain. This trail was made famous on social media back in 2017 and has continued to pop up on our Instagram feed's ever since.
But how do we reach Ireland Heart Shaped Lake? I would like to tell you it is an easy climb but unfortunately, that is far from the truth. The trail begins with a challenge, by crossing quite a heavy flowing river. And once you make it to the other side the terrain remains quite boggy, wet and strenuous. However, the climb is completely worth it once you reach the top and witness the heart shape lake for yourself.
The trail is looped and takes about 3 hours to complete. I'd advise wearing hiking boots as it is unmarked and uneven in places.
Parking at Lough Ouler: Those hoping to hike Lough Ouler can park in the Glenmacnass Waterfall Car Park, Parking is Free and holds about 30 cars.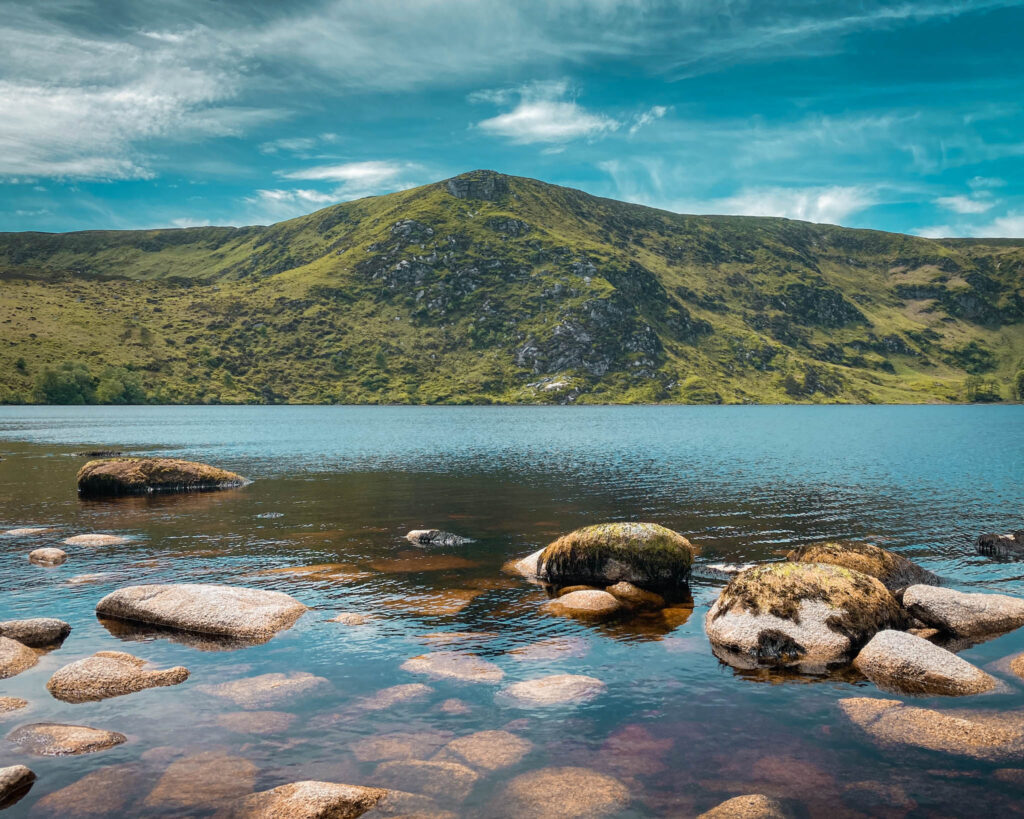 12. Lough Bray
Lough Bray is one of the lakes in Wicklow that you just don't hear all too much about. For some reason, it seems to slip through the grapevine. And honestly, I don't mind. I like to call it my happy place. A place to go and enjoy nature, the great outdoors without having a bunch of people about.
There is a looped trail that follows the cliff edge of both Lough Bray Upper and Lower. The Trail is unmarked and takes about 2 to 3 hours to complete. Just be mindful, that in the wintertime, due to little traffic, the trail can sometimes be hard to find making the descent down the mountain a little more difficult. A high to moderate level of fitness is needed to complete this hike and I'd advise bringing a map and hiking boots.
Just make sure to wrap up warm because this hike tends to be a windy one. Feel free to check out my Ireland packing guide for inspiration.
Parking at Lough Bray: Parking at Lough Bray is free and holds about 25 car spaces.
Coastal Wicklow Walks
Wicklow is known for its extensive National Park, however, what many people forget is Wicklow is also home to a stunning coastline. Below are some of my favourite walks in Wicklow that are by the seaside.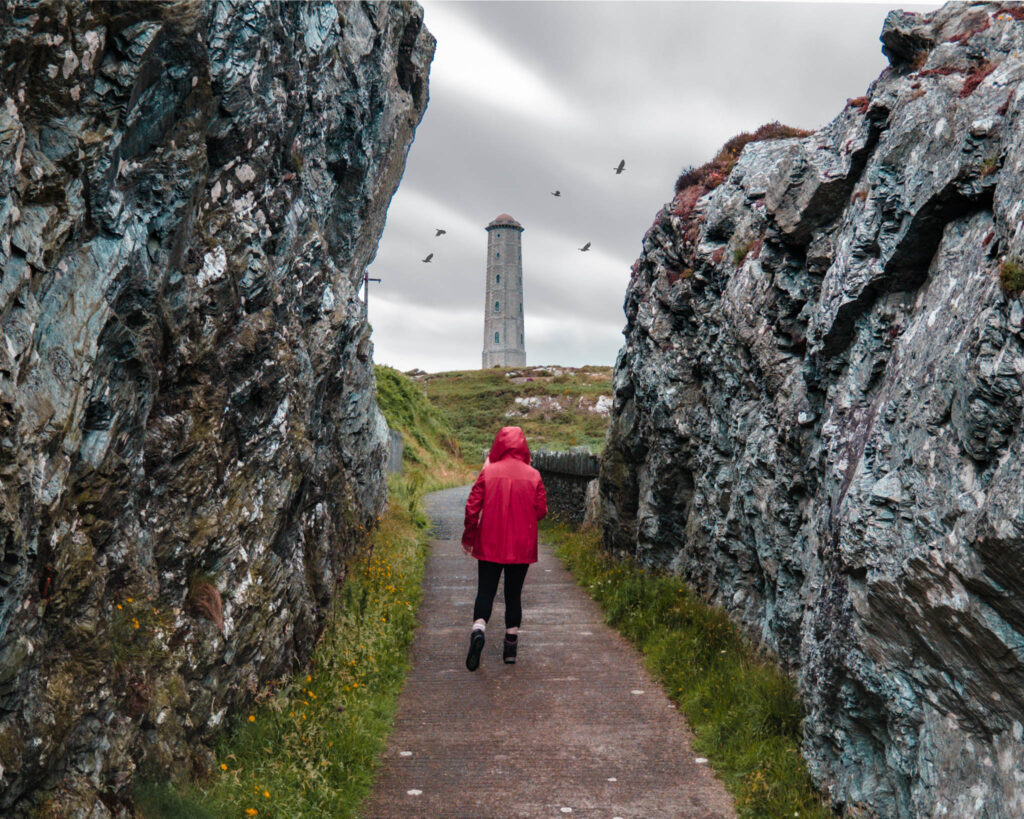 13. Glen Beach Cliff Walk
If you're looking to discover one of Ireland's hidden gems then you need to check out Glen Beach Cliff Walk. Ireland is known for it;s beautiful cliffs such as the Cliffs of Moher, however, there is something special when you have beauty like the Glen Beach Cliff Walk to yourself.
This beautiful stroll is a lot less known than nearby cliff walks such as the Bray to Greystones. However, that does not make it any less beautiful.
The trail follows a narrow path which eventually leads to paved ground. It takes just under 2 hours to walk to the end and back. On the way, you may be lucky enough to spot the seal colony that live among the cliffside. Or, you may even notice the secret lighthouse at the end of the trail.
Parking at Glen Beach Cliff Walk: Parking at Glen Beach Cliff Walk is Free.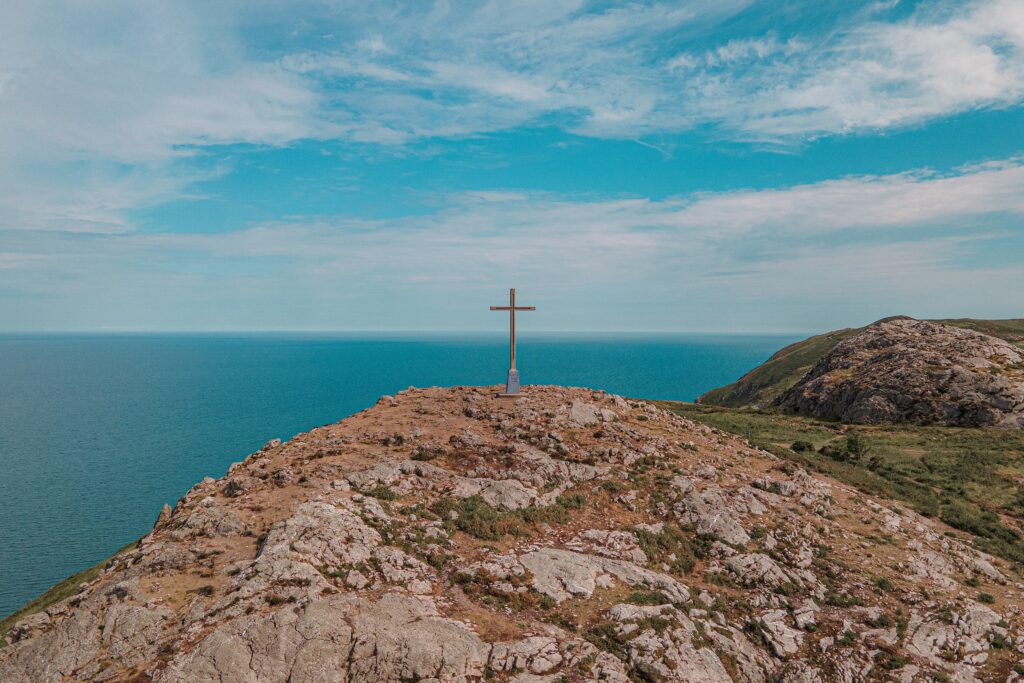 14. Bray Head
Next on our Wicklow walking trails list is possibly one of the most popular walks in the County, Bray Head. Bray Head is a beautiful coastal climb that rewards hikers with an insanely beautiful view of the Bray Promenade and beyond. The walk is popular among those looking to go on a day trip from Dublin and it takes about 30 minutes to reach the top.
Although Bray Head is a rather short hike, it is not for the faint-hearted as it is basically a straight-up incline. However, the views from the top quickly make you forget how out of breath you are.
Parking at Bray Head: Most of those looking to hike Bray Head park along the seafront. This is pay-and-display parking. There is also a paid car park closer to the trail.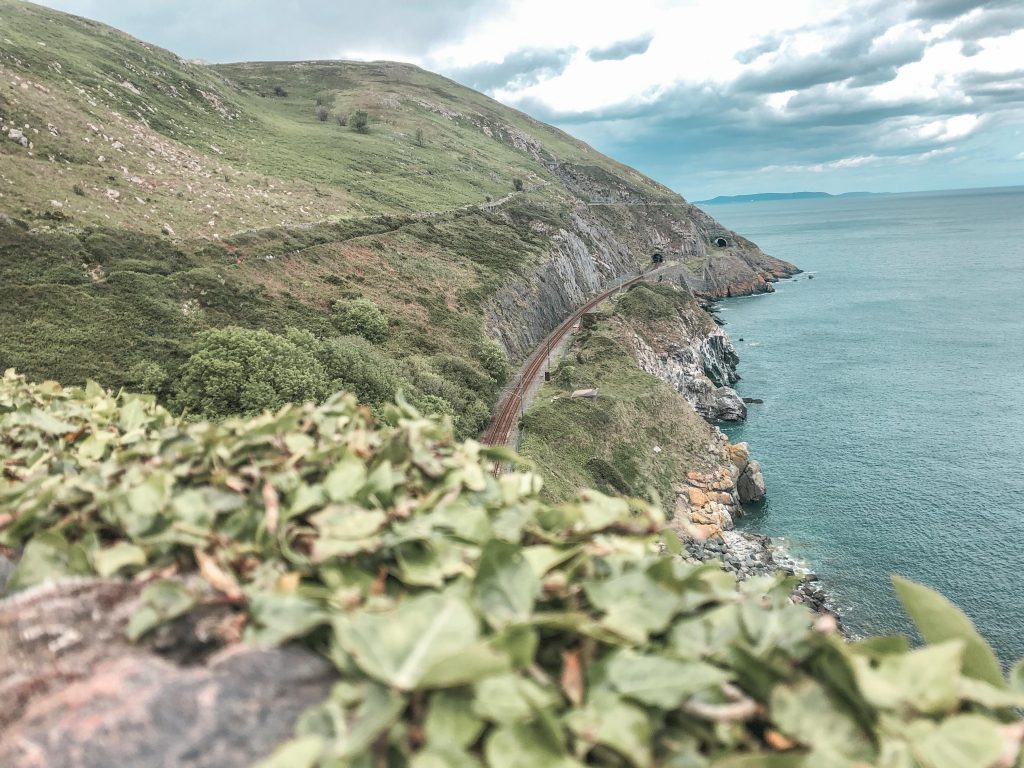 15. Bray to Greystones Cliff Walk
The Bray to Greystones Cliff Walk is another popular trail in County Wicklow. In fact, it is one of the most popular Cliff Walks in Ireland. The walk brings walkers along a stunning coastal path, it is home to outstanding views of the Irish coastline, endless green fields and plenty of wildlife sightings galore. I for one, find myself itching to walk this beautiful coastal route on any hot summers day.
The trail is 15km long and takes 3 to 4 hours to complete the full loop. For those of you not wanting to walk that far it is possible to walk to either Bray or Greystones and return to your car via DART.
The Bray to Greystones walk is the perfect addition for a Dublin Itinerary.
Parking on the Bray to Greystones: Much like Bray Head, most people park along the coastline when walking the Bray to Greystones Cliff Walk. These car spaces are pay and display.
Walks Near Wicklow
We are coming to the end of our Wicklow walks guide, I hope it came in helpful for those of you looking to spend the day out in the great outdoors. Before I sign off on this post, I just want to mention a few of my favourite walks in Dublin that are a short distance from Wicklow.
The Hellfire Club
Cruagh Woods
The Ballycorus Leadmines
Killiney Hill
Howth Cliff Walk