Kerry is known as the Kingdom of Ireland for a reason, a county that is home to drastic landscapes, striking hidden gems and cute villages. Most of those visiting Kerry tend to first set their eyes on the majestic Ring of Kerry, one of Ireland's most popular tourist attractions. However, as a local, I wanted to highlight more of what Kerry offers from sweeping views of the Atlantic Ocean, rolling hills, and an abundance of outdoor activities. In this post, we will look at some of the Top things to do in Kerry.
With 30 destinations in total, I have designed this guide to follow the directions in which the places are found on the map. Therefore, makes it easy for you to create your own personal Kerry Road Trip Itinerary with stunning scenery, vibrant culture, and welcoming locals.
How many days do I need in Kerry?
Now, before we begin, let's discuss an important question, How many days do you need to see all 32 places in this guide? I personally spent 5 days exploring Kerry and managed to visit the majority of the destinations mentioned here. However, I must admit, this was at the peak of summer when the sun sets as late as 10.30 pm. I made sure to get up as early as possible and I did not stop until it was dark. Therefore, for those looking for a more relaxed holiday, I recommend spending 7-10 days in Kerry. Or, pick a few of your most desired destinations to visit.
DO I NEED TO RENT A CAR IN IRELAND?
While renting a car to explore Kerry is most definitely desirable, it is, however, not 100% needed. It is possible to see some of the county's top attractions by booking tours such as this Ring of Kerry tour or this Dingle Peninsula tour which both leave from Killarney Village.
If you do decide to rent a car you can check out Rental Cars Ireland for affordable prices.
1. Ring of Kerry
Let's kickstart this list with one of the most popular driving destinations in Ireland, the Ring of Kerry located on the Iveragh Peninsula. It is a 179-kilometre circular route around Kerry's striking coast, featuring stunning beaches, picturesque villages, and ancient ruins.
Along the route, you will have the opportunity to take in the breathtaking views of the Atlantic Ocean, explore the rolling hills and lush greenery, and experience the unique culture of the region.
For a more leisurely day, you can take a hike along the Kerry Way, a long-distance trail that passes through some of the most beautiful scenery in Ireland. Many of the destinations mentioned on this things to do in Kerry guide are located on the ring.
The Ring of Kerry is truly a unique and beautiful destination and a must-visit for anyone travelling the Emerald Isle.
2. The Gap of Dunloe
The Gap of Dunloe is a stunningly beautiful valley in the heart of Kerry located between the MacGillycuddy's Reeks mountain range and the Purple Mountains. It is about 10km long and can take 4/5 hours to walk out and back. It is, however, possible to turn back at any time. There is also FREE parking available at Kate Kearney's Cottage.
The Gap is renowned for its stunning scenery, with majestic mountains, lush green valleys, and glistening lakes.
It is a popular destination for hike or cycle with many trails to choose from, as well as the option to take a horse-drawn carriage tour.
I only advise driving for those who have experience with Irish roads as it is extremely narrow in places.
3. Killarney National Park
Killarney National Park, is one of the most beautiful places in all of Ireland located on the foot of Killarney town. It should be one of the first places you add to your Kerry Bucket list.
The park is home to incredible scenery, including the iconic Killarney Lakes, the largest of which is Lough Leane.
It is famous for Visitors to explore the park's many trails and pathways, by hiking, fishing, cycling, and horseback riding.
Killarney is also home to various wildlife, including red deer, foxes, and otters, as well as the rare Kerry Slug and Kerry Cattle.
Killarney National Park is one of the most stunning natural areas in Ireland and is a must-see destination for visitors to the Emerald Isle.
---
4. Ross Castle
Ross Castle, located in the Killarney National Park in Kerry, Ireland, is a stunning 15th-century tower house that overlooks Lough Leane.
The castle, built by the O'Donoghue Mor clan, is steeped in history, and visitors are invited to explore its multiple stories, including a banqueting hall, bedrooms, and battlements through a guided tour costing €5 (at the time of writing).
The castle is surrounded by lush green fields and wooded areas, offering a tranquil atmosphere for visitors to walk around and admire the picturesque landscape.
The grounds of the castle also feature a series of stunning gardens, perfect for a peaceful stroll. Ross Castle is an impressive reminder of Ireland's history and a must-see destination for any traveller planning a trip to Kerry.
There is plenty of FREE parking on site.
---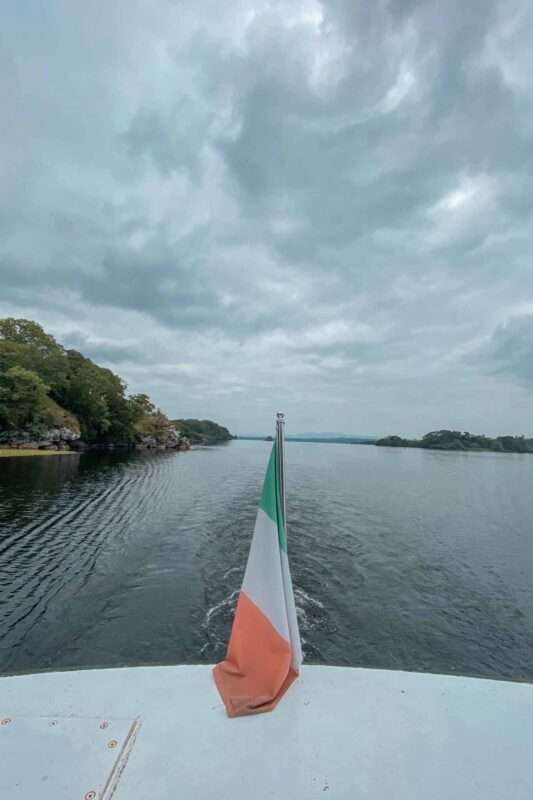 5. Killarney Lakes Boat Ride
If you are looking for a fun way to see the Lakes of Killarney then I definitely recommend checking out the boat tours that leave from Ross castle.
There are a few options, from this one-hour guided cruise where you will glide by the stunning beauty of Killarney's three lakes, Lough Leane, Muckross Lake, and Upper Lake.
The tour takes you past Ross Castle, Innisfallen Island, and other breathtaking views. You will also have the chance to spot some of Killarney's wildlife such as otters and red deer.
Commentary is provided by a knowledgeable tour guide along the way. This is honestly one of my favourite things to do in Kerry!
Or, perhaps you are looking for something different, then consider a boat tour that brings you to Innisfallen Island. Where you spend 30/40 minutes exploring the ruins of the former monastic settlement.
---
6. Killarney Town
Killarney is a vibrant and picturesque town in Kerry and one of my favourites in Ireland!
The town is full of shops and restaurants, and there are plenty of traditional pubs offering live music. Which makes Killarney the perfect stop-off for anyone visiting the National Park or driving along the Ring of Kerry.
Killarney town is also the starting point for many popular activities in the park such as horse riding, golf, fishing and boat trips.
Please be mindful that most parking in Killarney is pay and display. It can also be handy to bring cash as not all machines accept cards.
---
7. Muckross Abbey & House
Another fantastic thing to do in Kerry is visit Muckross Abbey and House. It is a beautiful and historic architectural site within Killarney National Park.
Muckross Abbey and House provide visitors with a unique and beautiful way to explore the history of this region with both guided and self-guided tours. It is important to note that it is only possible to visit the inside of the house with a tour guide.
It is, however, FREE to explore the beauty of the surrounding gardens and the abbey at your own leisure.
Additionally, the visitor centre features a café and gift shop. There is also ample of FREE parking available on site.
---
Enjoying this post? Why not checkout my Things to do in Kerry Youtube Video for a visual representation of Kerry's incredible landscapes. Please don't forget to like, comment and subscribe.
---
8. Torc Waterfall & Cardiac Hill
Torc Waterfall is by far one of the most beautiful places to visit in the Kerry region. It's a truly spectacular waterfall at 120 feet high, it's a lovely place to sit, relax and watch the water drop into a pool below.
The waterfall is surrounded by stunning scenery, with the mountains of MacGillycuddy's Reeks providing a beautiful backdrop.
It takes about 20 minutes to reach the waterfall from the FREE car park, however, don't be tempted to follow google maps directions. They bring you to the Upper Carpark which leads to an indirect route to the Waterfall. You are better off parking your car here instead.
If you are looking to do some more exercise while visiting Torc Waterfall then why not challenge yourself to Cardiac Hill? An iconic mountain peak located next to Waterfall, with a steep incline (as the name suggests) but stunning views of the surrounding countryside from the summit.
---
9. Ladies' View
Ladies View is the ultimate viewpoint of Killarney National Park. It offers breathtaking views of the highlights of the region such as the Lakes of Killarney, Macgillycuddy Reeks mountain range (the highest mountain range in Ireland), as well as the islands of Innisfallen and Dinis.
It's the perfect spot for a picnic (especially with an Avoca store in the car park) or a quiet moment of reflection and appreciation of the stunning nature that surrounds you. Ladies View is an ideal spot to take a break and soak in the stunning scenery.
As it is a popular spot, it may be hard to get parking, especially on a summer's day. In this case, I recommend driving a little further along the Ring of Kerry. There is a newly renovated car park a further 2-minute drive away offering the same iconic view from a slightly different angle.
---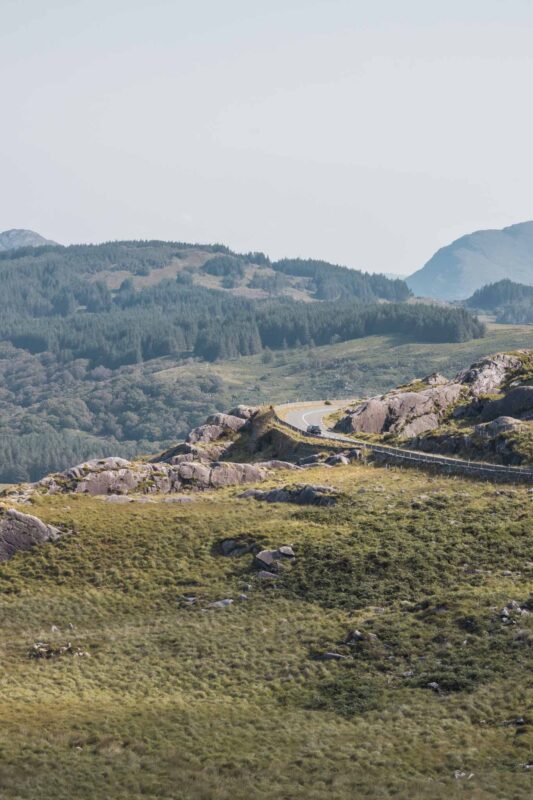 10. Molls Gap
Another great place to visit in Kerry is the incredible Molls Gap, Located just a short 8-minute drive from Ladies View. It is a driving experience like no other!
You will get the chance to experience the breathtaking scenery of the MacGillycuddy Reeks mountain range as you wind your way through the picturesque mountain pass.
The drive is also full of twists and turns, making for a thrilling ride.
Perfect for those looking to take a moment and appreciate the beauty of Ireland.
---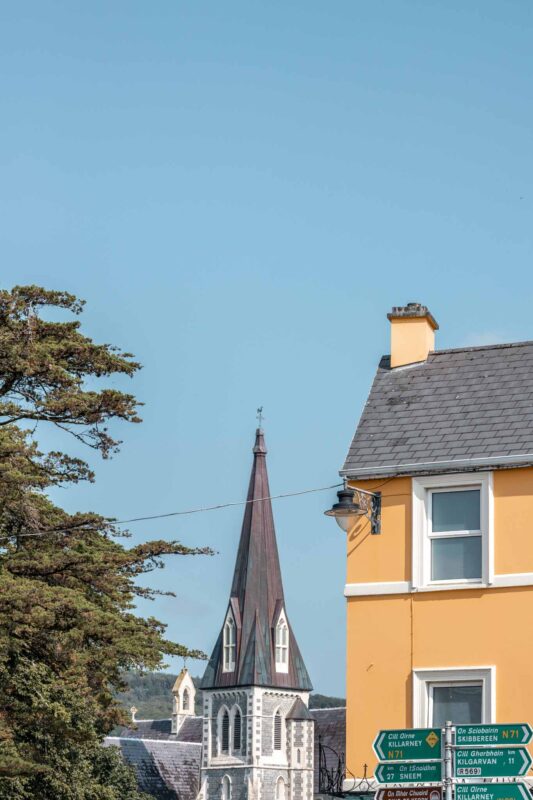 11. Kenmare
Kenmare is a picturesque and vibrant town located on the Ring of Kerry. It is renowned for its charming streets, lined with brightly coloured buildings, and for its friendly and welcoming locals.
Music is a major part of the culture in Kenmare, with traditional Irish music playing in most pubs and live concerts taking place throughout the year.
When it comes to things to do, the town offers plenty of options. Visitors can take a scenic stroll along the Kenmare River, visit the local craft shops and galleries, take part in a cooking class or explore the stunning local landscape.
There is also a range of outdoor activities, including fishing, kayaking, cycling and horse-riding, making Kenmare a great destination for an active holiday.
Kenmare is also a wonderful town to base yourself in if you plan to spend a few days exploring Kerry. while it is not as popular as Killarney, it is definitely more affordable.
Places to stay in Kenmare
Budget-Friendly Stay: Rockcrest House
Mid-Range Stay: The Kenmare Bay Hotel & Leisure Resort
(I have stayed here before and could not recommend it more)
High-End Stay: Park Hotel Kenmare
---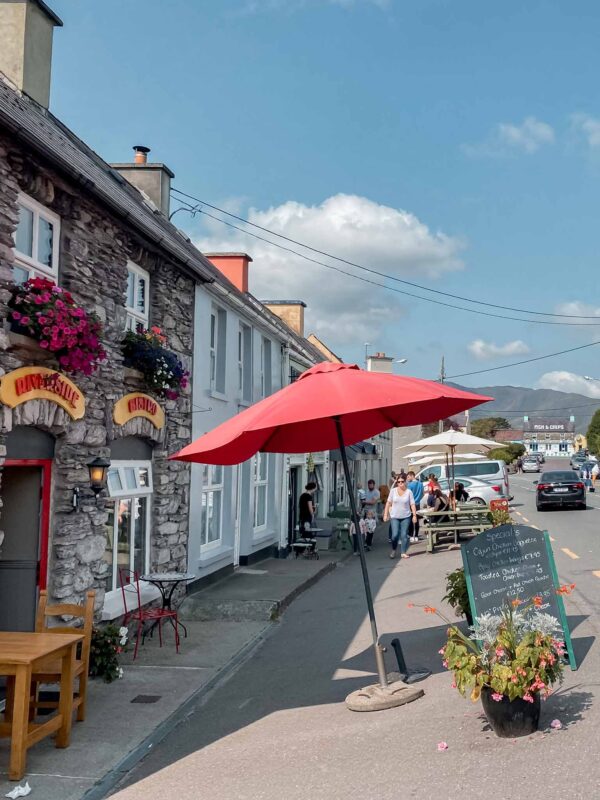 12. Sneem Town
Sneem Town is a picturesque village in Kerry, and far less busy than the likes of Killarney and Kenmare.
The vivid green hills and the blue waters of the Kenmare River provide a stunning backdrop to the town, while the traditional cottages add a unique charm.
The town is also home to many traditional pubs, shops, and restaurants, making it a great option for some relaxation while driving along the Ring of Kerry.
There is plenty of parking throughout the town, making it the perfect spot to stop for a breather.
---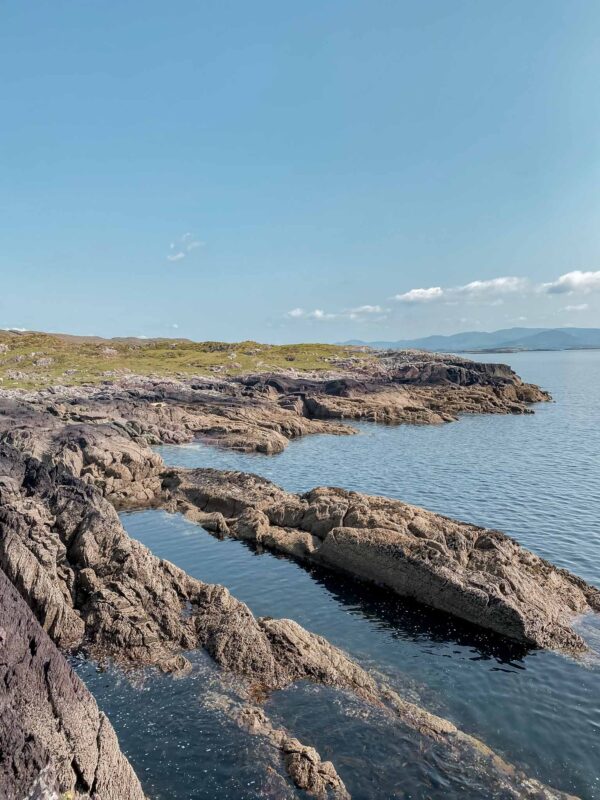 13. Gleesk Pier
Gleesk Peir is one of those places that will take your breath away. A true Irish Hidden Gem, located a short drive from Sneem Town.
Home to crystal clear water, lush green landscapes and scenic backdrops.
Gleesk pier is also home to one of Ireland's two carol beaches. It is a really unique experience to pick the carol up in your hand and admire all the unique designs and patterns.
For anyone looking to take part in adventure activities while visiting Kerry I definitely recommend going coasteering with Wild Water Adventures at Gleesk Pier.
---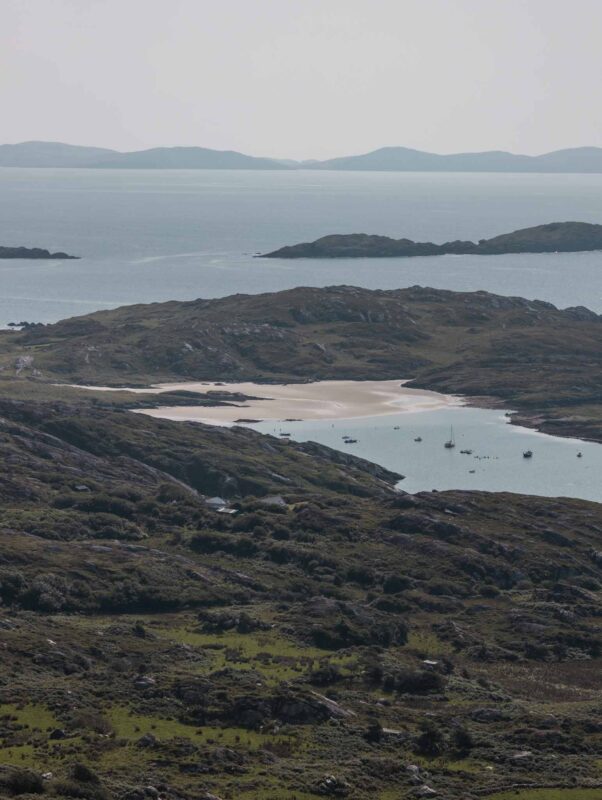 14. Skellig Ring
So, we all have heard of the Ring of Kerry at least once, but most do not know about the extension of the route, the Skellig Ring. A 180km scenic drive that will take your breath away.
Driving along the Skeillg Ring will take an extra 1 hour and a half but I promise it is 110% worth it.
The Skellig Ring is home to some truly unique beauty, from astonishing cliffs, white sand beaches and picturesque towns.
As the Ring of Kerry is the main star of this part of Kerry the Skeillg ring is far less busy, meaning you could have half the stop-offs to yourself.
---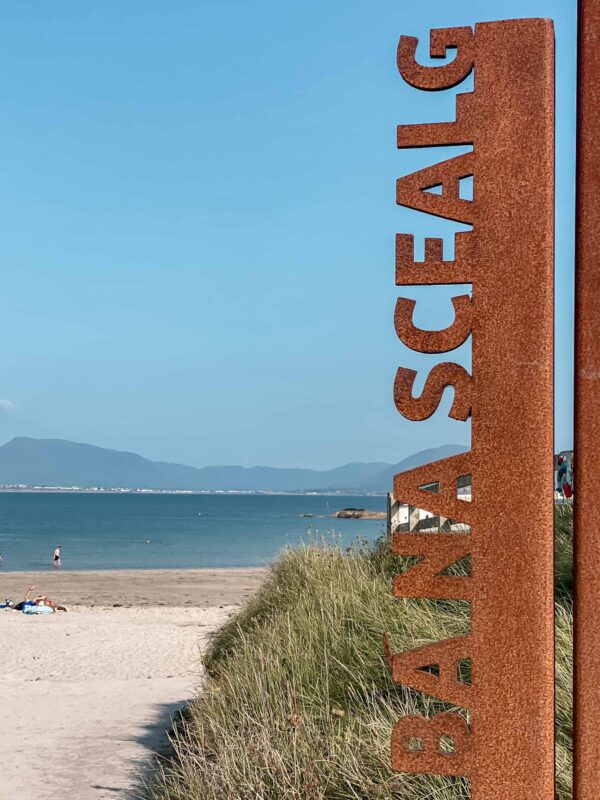 15. Ballinskelligs Castle & Beach
One place I recommend stopping on the Skeillg Ring is the beautiful Ballinskelligs Castle and Beach.
Home to a historic ruin dating back to the 15th century, it is a well-preserved example of an Irish tower house.
The castle is located on a prominent ridge overlooking Ballinskelligs Bay, and it is surrounded by a deep ditch. Visitors can explore the interior of the castle and admire its intricate architecture.
It is a great place to visit for anyone looking to explore the history and beauty of Ireland. Or, simply have a nice relaxing beach day.
---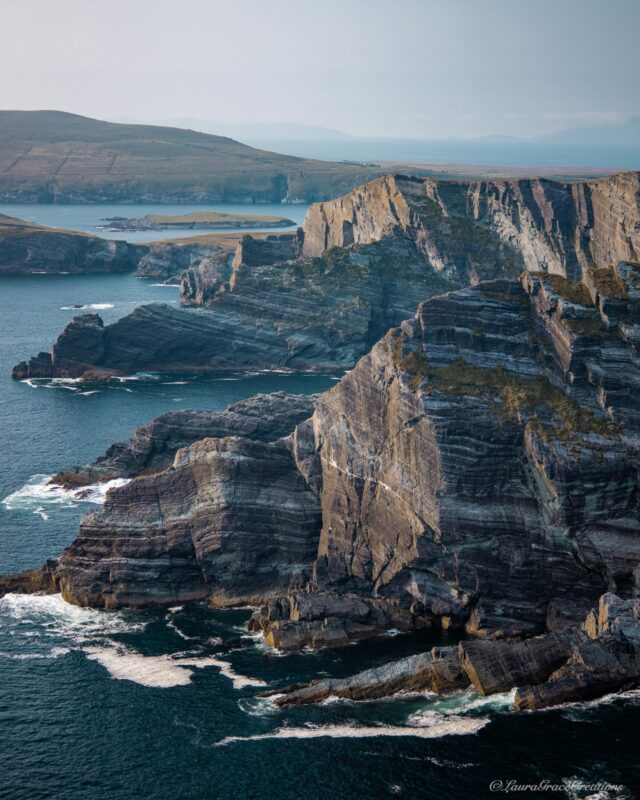 16. Kerry Cliffs
In my opinion, one of the most beautiful places to visit on the Skellig Ring is the amazing Kerry Cliffs. I could sit for hours and watch the waves crash against the cliffside.
While the cliffs are nowhere near as popular as the iconic Cliffs of Moher, they have their own unique and striking beauty. They are also a great way to marvel at the beauty of the Irish landscape without having to deal with a large group of tourists.
There is parking onsite and it cost €5 per vehicle, but I think it is completely worth it.
On a clear day, you can even spot the Skellig Islands in the distance. Whether you come for a stroll, to take in the views, or to take some stunning photographs, the Kerry Cliffs are a must-see for anyone visiting Kerry.
---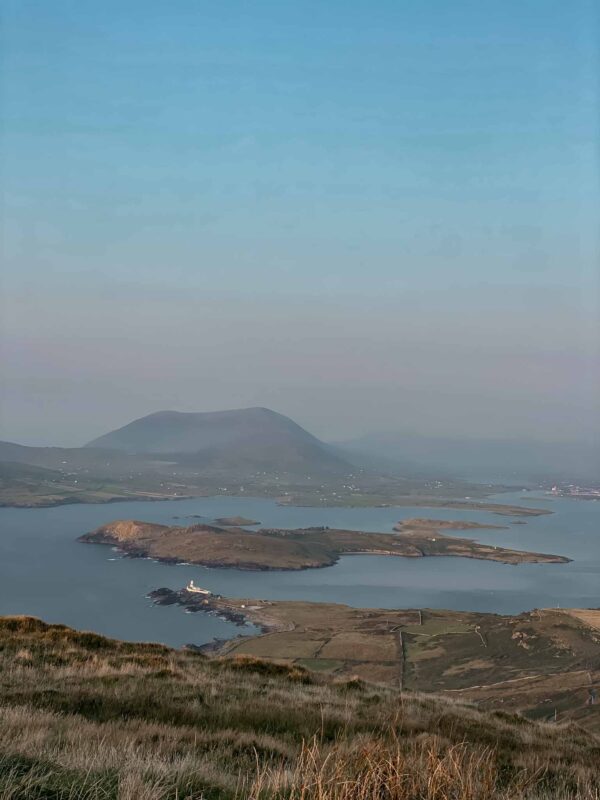 17. Valentia Island, Skellig Ring, Kerry, Ireland
I wish I had spent more time exploring Valentia Island. It is honestly such a stunning place, with a variety of activities and landscapes to explore.
The island is known for its epic views, excellent beaches and wildlife spotting opportunities. Knightstown Beach is a spot great for swimming on a summer's day.
The fishing village of Portmagee is located on the island and is home to some of the freshest seafood in the area.
The island is a great destination for anyone looking to explore the beauty of Ireland and get away from the hustle and bustle of everyday life with an off-the-beaten-path location.
---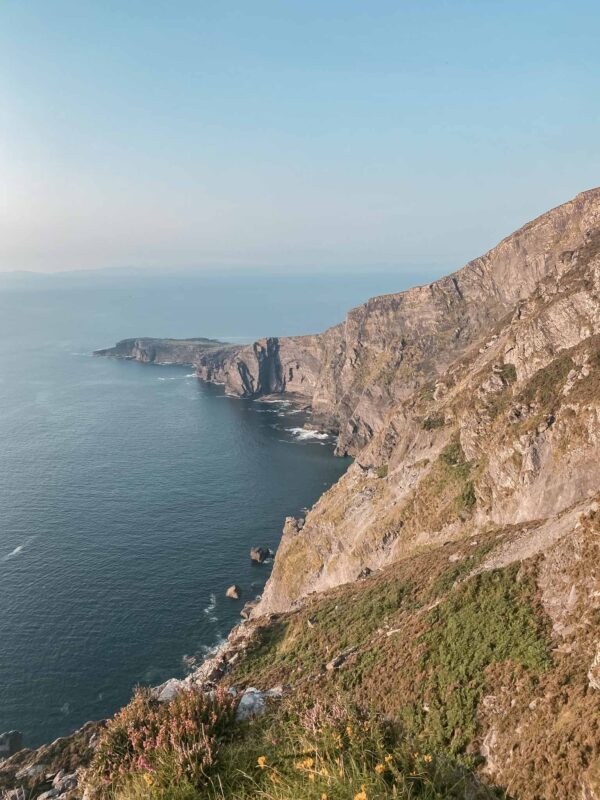 18. Geokaun Mountain and Cliffs, Kerry, Ireland
The Geokaun Mountain and Cliffs are located on Valentia Island, from the cliffs you have fantastic views of the Wild Atlantic Waves crashing against the rocks.
The mountain is free to explore, and there is a car park for visitors to use, which costs €3 per vehicle.
The mountain is a great place for nature lovers to explore and is a popular spot for hikers and climbers alike.
The cliffs are also a lovely place for sunset providing incredible views of the ocean and surrounding area.
The landscape is wild and rugged, with jagged rocks and dramatic cliffs. It is also constantly changing with the tides and the wind, making it a great spot to visit over and over again.
---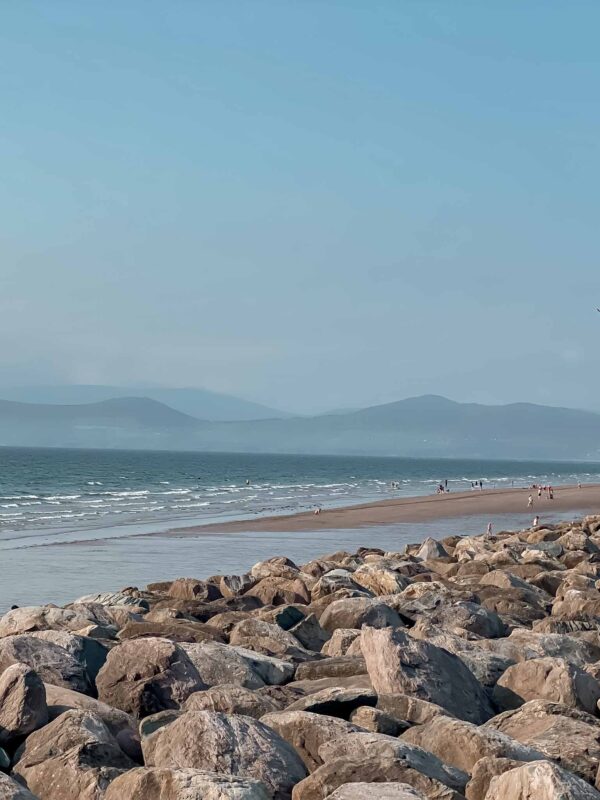 19. Rossbeigh Strand
Rossbeigh Strand is our final stop on the Ring of Kerry. The perfect destination for a post-road trip swim.
It is a popular beach for locals and tourists alike and provides a beautiful backdrop for a variety of activities. The beach is a long stretch of golden sand and is surrounded by rolling hills and dunes.
There are tonnes of things to do at Rossbeigh Strand from swooning, kayaking and surfing. There are even surf schools available in the summer months.
It is also a lovely spot for a sunset walk to watch the sky change colours and relax against the ocean.
It's a great destination to add to your Kerry Bucket List!
---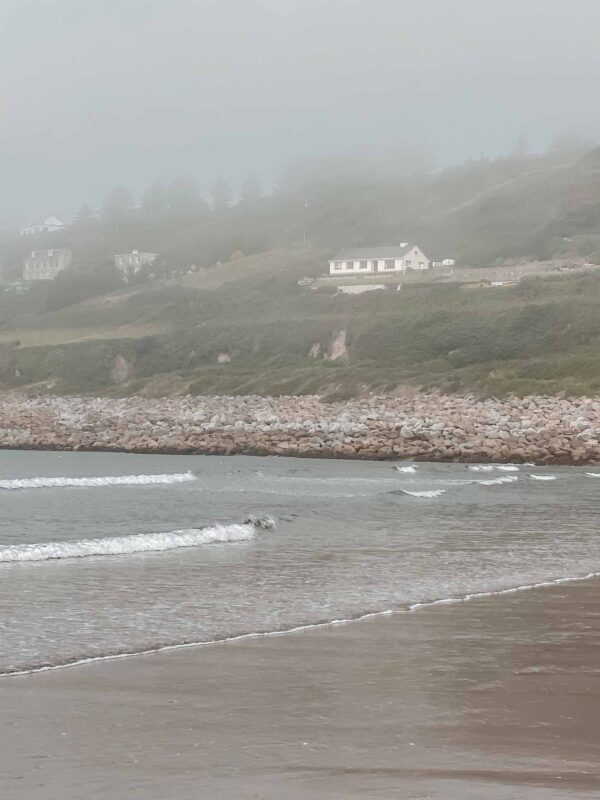 20. Inch Beach
Inch Beach is definitely a nice place to visit for anyone planning a trip along the Dingle Peninsula.
The beach is the perfect place to relax and enjoy the beauty of the Irish coast with its beautiful white sand and crystal blue waters.
Even when the weather not playing ball, as seen in the picture to the left.
If you are looking to take a breather on your Kerry Trip, I recommend spending a few hours at Inch Beach, maybe bring a picnic to sit back and relax on the sand.
---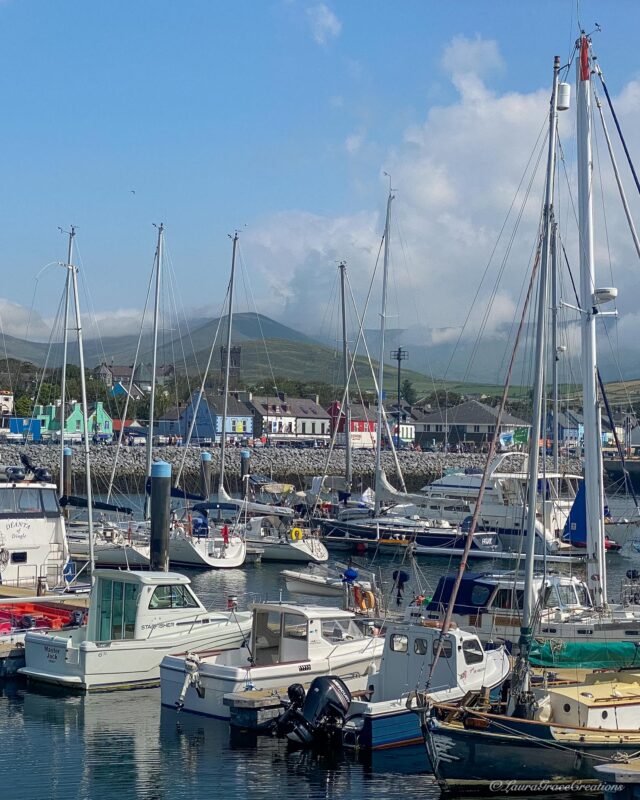 21. Dingle Town
Dingle is one of the most famous towns on Ireland's Wild Atlantic Way. The town is known for its stunning natural beauty, with the Dingle Peninsula providing a picture-perfect backdrop.
One of the main attractions in Dingle Town is the vibrant and bustling atmosphere that can be found along the streets. Here, visitors can find a variety of shops, restaurants and bars, offering a unique mix of traditional, modern and international flavours.
There is plenty of paid parking options, so visitors can easily explore the town's sights and attractions. However, it is important to note that most machines only take cash!
Dingle recently said goodbye to one of their most friendliest resident, Fungie the Dolphin. He was loved by all Irish people and a tragic loss to the country and the town. While in Dingle, I recommend supporting the locals in and way you can as fungie was a big part of their lives and culture.
---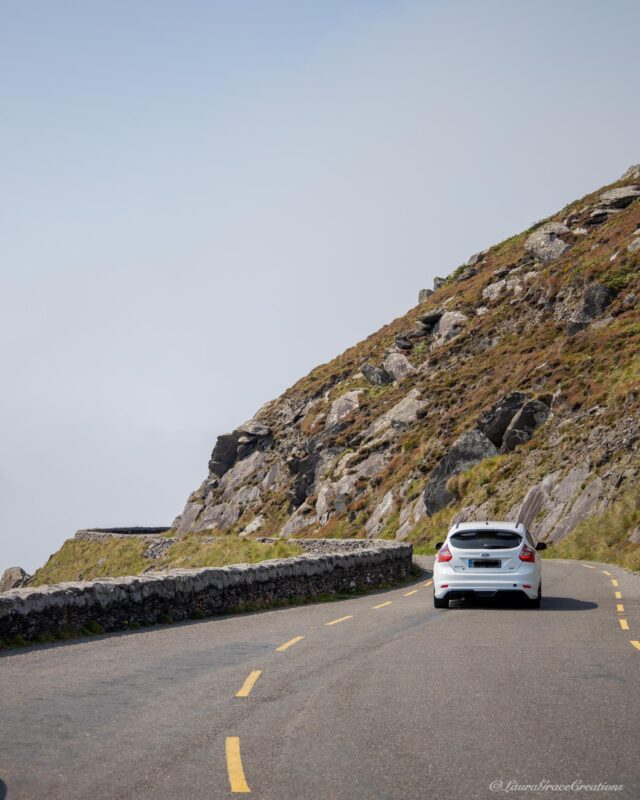 22. Slea Head Drive
Slea Head Drive is a scenic and breathtaking route that stretches along the western coast of the Dingle Peninsula.
The drive is 35 kilometres long and takes approximately 1-2 hours to complete, depending on the number of stops you decide to take.
Along the drive, you can admire the rugged landscape, the sandy beaches and the crystal clear waters of the Atlantic Ocean.
Stop-offs also include ruins of ancient beehive huts, which are also found on Skellig Micael.
Other highlights include picturesque villages with plenty of opportunities to sample some of the delicious food and drinks that the region has to offer.
---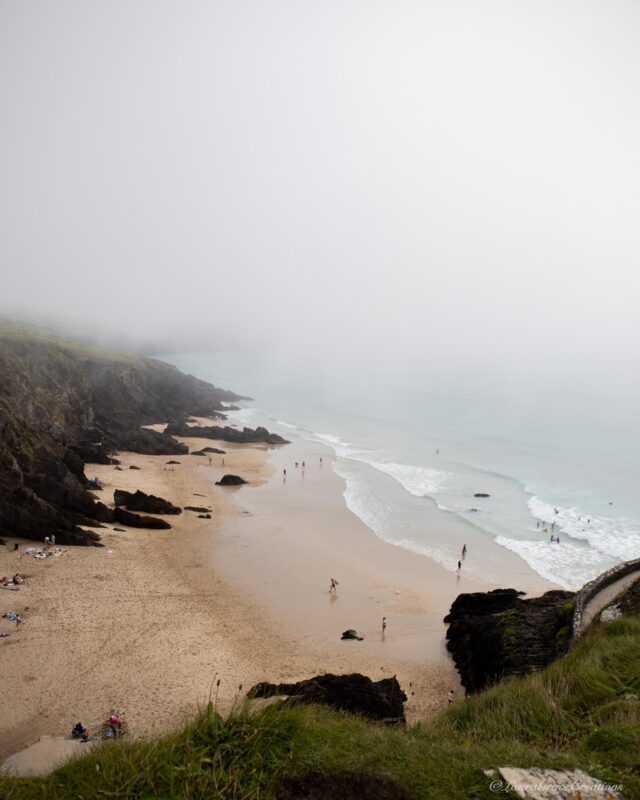 23. Dunmore Head & Coumeenoole Beach
If you are looking for hikes to do in Kerry, then I recommend Dunmore Head. It takes about 2-3 hours to complete. The hike begins at the Lighthouse, which happens to be the most westerly point of Ireland and offers stunning views of Ireland's Wild Atlantic.
The trail continues along the cliff edge until it reaches the stunning Coumeenoole Beach, which is a lovely place to sit, relax and soak up the beautiful landscape.
Like many Irish landscapes, Dunmore Head is a famous backdrop for the movies "The Force Awakens" and "The Last Jedi," where it acted as the planet Ahch-To, the location of Luke Skywalker's first refuge.
It's the perfect place for Star Wars fans to visit to experience the beauty of the rugged Irish coastline and a sense of awe while they stand on the same ground that the world's most famous Jedi Knight once called home.
---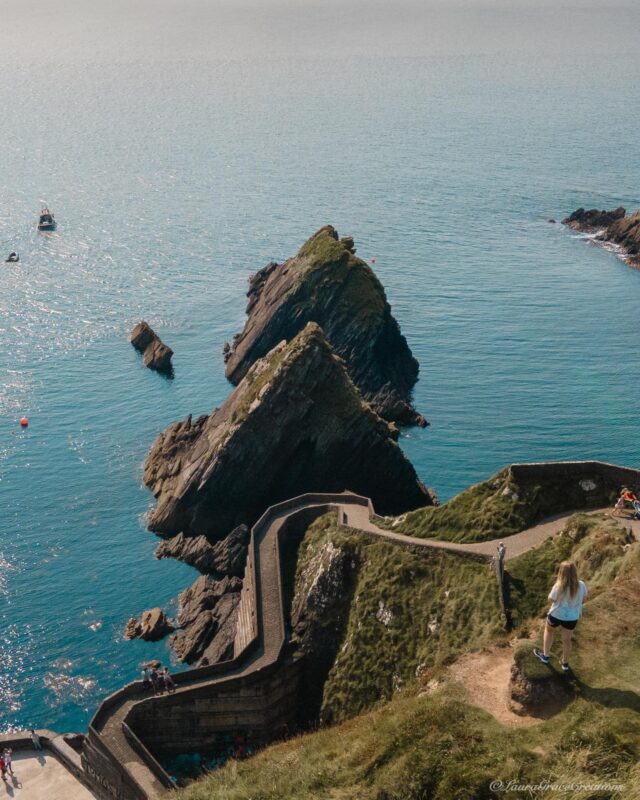 24. Dunquin Pier
Dunquin Pier is a dramatic cliffside sea stack located at the tip of the Dingle Peninsula. The pier is surrounded by breathtaking views of the Atlantic Ocean and is the ideal spot for fishing, sightseeing, and strolling.
It is also an iconic spot for taking photos and capturing the beauty of the area. And don't forget to look down because the water is crystal clear.
Much like Dunmore Head, Dunquin Pier is famous for its appearance in the Star Wars movie The Last Jedi. During the movie, Rey and Luke Skywalker take a journey to the island of Ahch-To, which is represented by the Blasket Islands seen in the distance.
It is also possible to take a boat tour over to the nearby islands and explore the breathtaking scenery.
Dunquinn is a great spot to look for some wildlife in the area, such as sheep on the cliffside.
Make sure to add Dunquin to your list of Things to do in Kerry!
---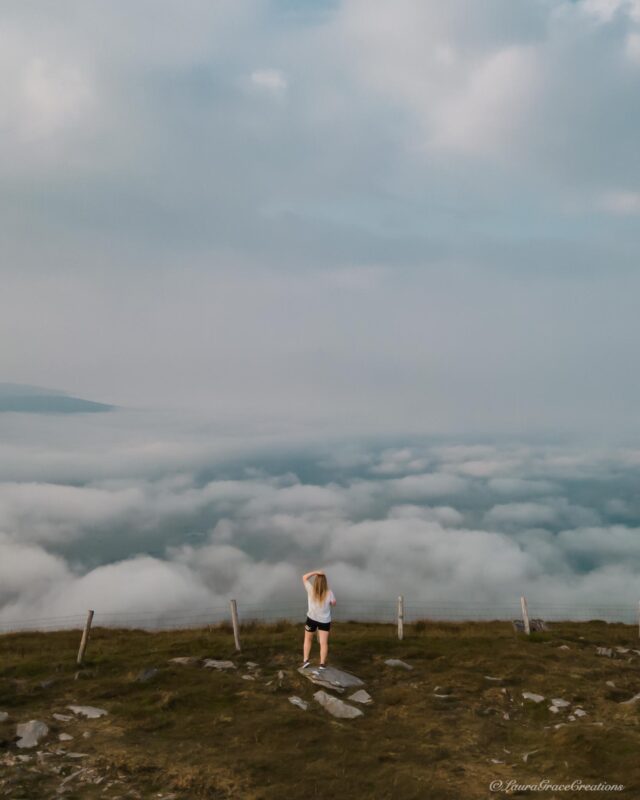 25. Conor Pass

Conor Pass is the highest mountain pass in Ireland, standing at an elevation of 932 metres above sea level. The pass is known for its scenic views and winding road.
The pass is a popular tourist destination in Ireland, offering breathtaking views of the surrounding landscape. It is a great way to experience the beauty of the Irish countryside.
The road is a single lane, and is full of twists and turns, making it a thrilling drive. BUT…it is not for the faint-hearted as turning around is basically impossible. So, please only drive if you are a confident driver.
On a clear day, the mountains of Dingle, the Atlantic Ocean, and the Blasket Islands can be seen from the top. The pass is by far one of the best places to visit in Kerry.
---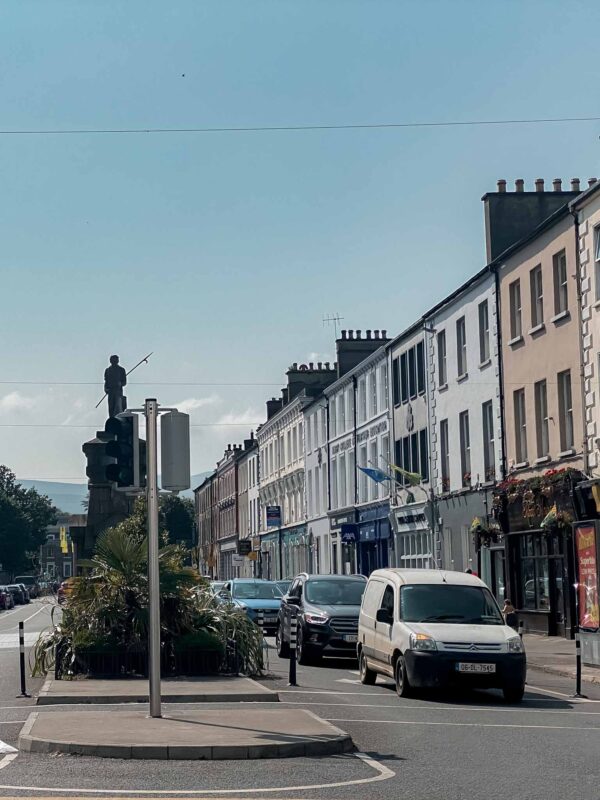 26. Tralee
Next on the list of things to do in Kerry, is Tralee. The largest of the Kerry Towns, with more mainstream shops and large supermarkets.
Tralee is a good place to base yourself if you plan to spend a few days in Kerry without moving accommodations as it is kind of the middle ground for exploring Dingle, Killarney and the more Nothern parts of Kerry.
Tralee is a vibrant town that offers a bustling town centre but also a peaceful surrounding countryside.
Tralee has something for everyone. Whether you're looking to explore the ruins of the old Tralee Castle, relax on the beach, or enjoy some of the town's nightlife.
---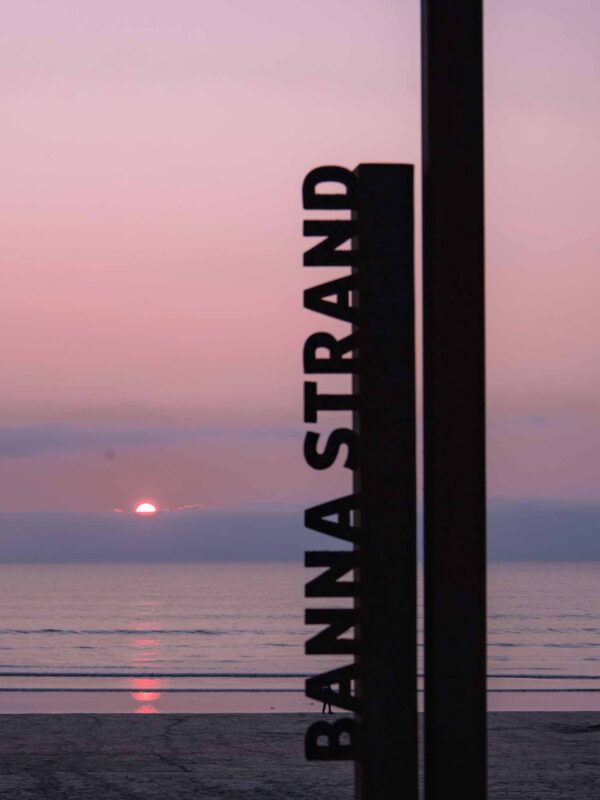 27. Banna Strand
Banna Strand is a lovely picturesque beach not too far away from Tralee Town. It is a popular swimming spot in the summer months and there is a lifeguard on patrol at this time.
It is a long white sand beach with plenty of room to go for a walk on a hot summer's day.
There is FREE parking on site, however, with the beach's popularity, it can be hard to find a space when it is busy.
Anyone planning to visit Banna Strand while in Kerry I definitely recommend visiting at sunset. As the views are incredible.
---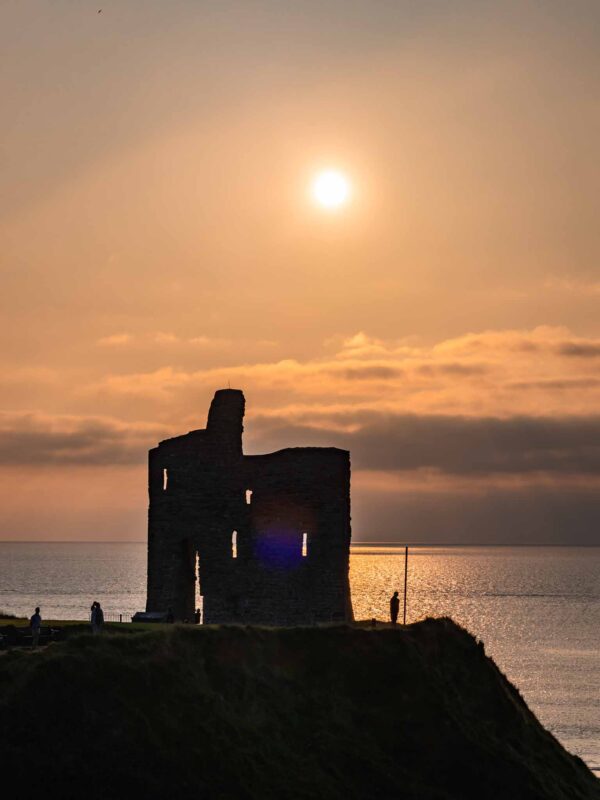 28. Ballybunion
Ballybunion is one of the most beautiful seaside towns in all of Kerry. Renowned for its stunning beaches and cliffside walks.
The town is home to beautiful white sandy beaches, perfect for sunbathing and swimming. It can get particularly busy in the summer months.
There are also many things to do in the area, such as exploring the quaint shops and restaurants or taking in the views of Ballybunion Castle as the sun sets.
Ballybunion is a lovely town to stop in while visiting Kerry.
---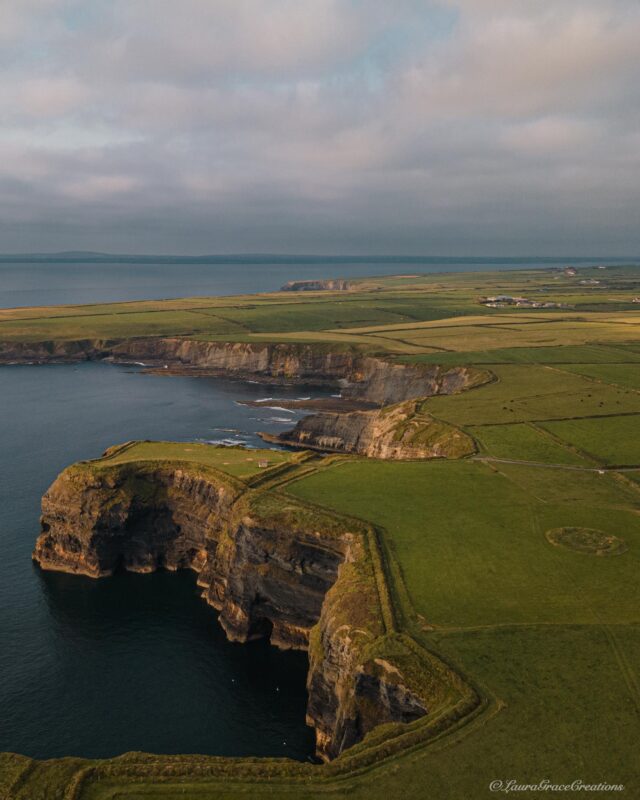 29. Bromore Cliffs
Bromore Cliffs are an incredible natural wonder and far less known than other cliffs in Ireland. However, that does not take away from their beauty.
Located just past the town of Waterville, these stunning cliffs are the perfect spot to take in the dramatic views of the Atlantic Ocean.
The cliffs are a short drive from the town, with parking available for a small fee. From the car park, you can take a short walk to the edge of the cliff and take in the breathtaking panoramic views. It is important to note, I as a 5f3 woman struggle to see over some areas of the cliffs. However, there are some, viewing platforms available.
I definitely recommend visiting Bromore Cliffs to see the rugged shoreline and rocky outcrops. It is a great spot to spend a day exploring, taking photos, and enjoying the fresh sea air.
---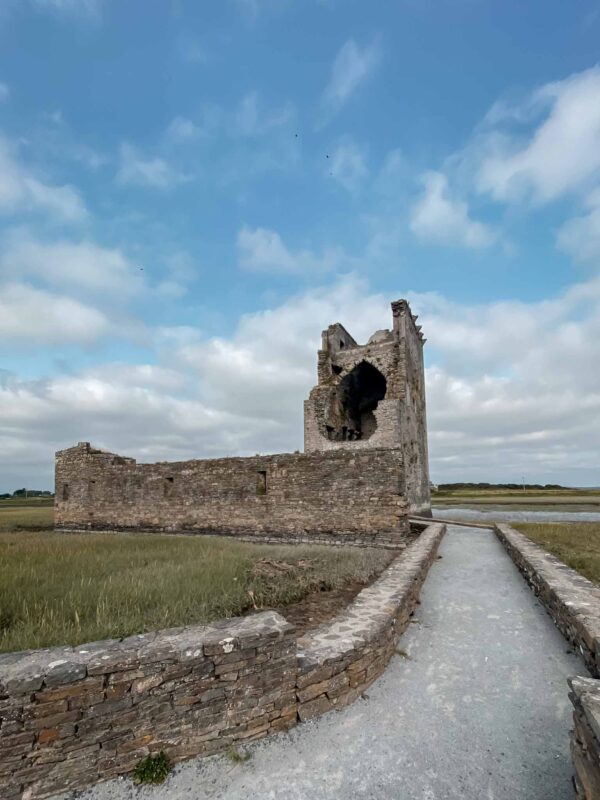 30. Carrigafoyle Castle
Carrigafoyle Castle is a beautiful 15th-century castle located in Kerry. Built by the O'Connor Kerry family, it sits atop a hill overlooking the Shannon Estuary and has become an iconic landmark of the area.
The castle was strategically important during the Elizabethan wars, and was famously besieged in 1580 by Sir William Pelham's forces.
Despite being defended by the Earl of Desmond and his followers, it eventually fell to the English and was briefly used as a prison before being abandoned.
Today, the castle has been restored and is a popular destination for tourists who can explore its many features and take in the breathtaking views of the estuary.