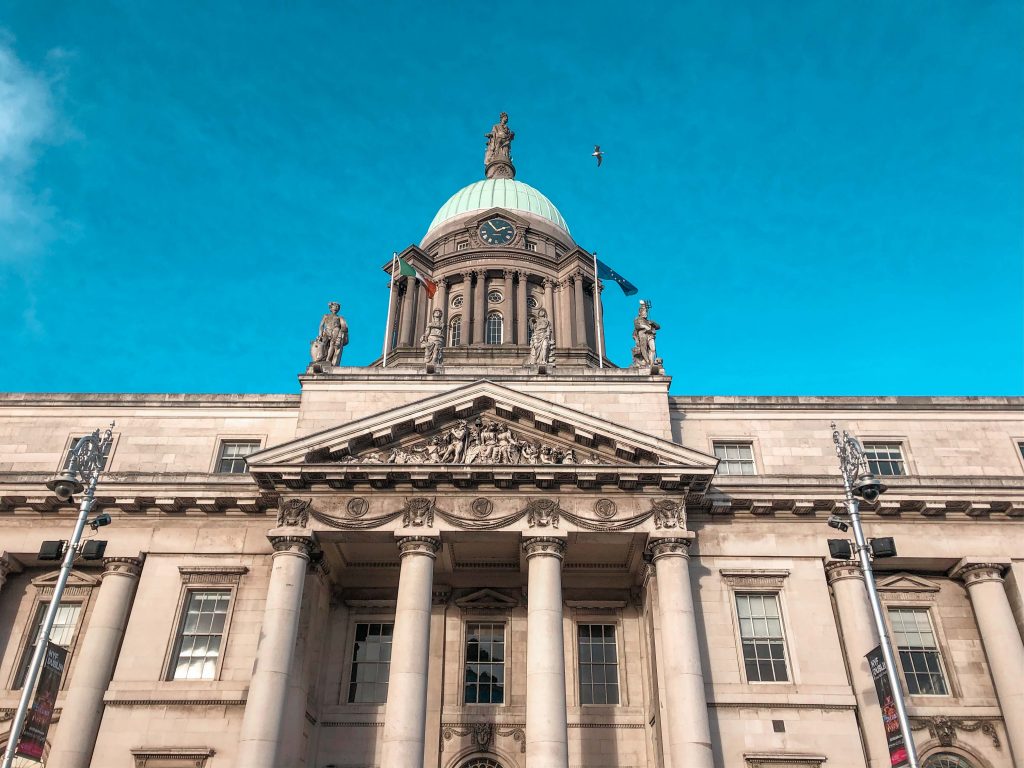 2 Days in Dublin: How to Spend the Weekend in Ireland's Capital
As an Irish girl, I pride myself in knowing all there is to know about Ireland's capital city. And quite frankly, for such a small place there is so much to see and do. I'd imagine planning your first trip to Ireland can be quite a daunting task but lucky for you I have come to the rescue. I have designed this 2 days in Dublin itinerary to make your trip as carefree as possible.
So, let's dive deep and discover the best things to do in Dublin.
but first… I want to answer some of the most frequently asked questions before any trip to Ireland's capital.
How to get from Dublin Airport to the city?
The most common way to get into Dublin city centre from the Airport is via Air Coach. The journey takes around 25 minutes and it is €12 for a return ticket.
The 41 bus is also a great option for those on a budget looking to get from the Airport to the city centre. The route runs 24hours and tickets can be purchased using a leap card.
How to get around Dublin
Public Transport is the easiest way to get around the city. Services include the bus, Luas and the DART. The easiest way to pay is via the leap card click here to find tourist rates.
Dublin Bikes is another great way to get around the city. It's FREE for the first 30-minutes. Download the app here (Android/IOS).
Getting a Taxi is another option, however, they can be rather expensive. If you need a taxi it's best to download the FREE Now app (Android/IOS).
Local Tip: To hail a taxi or stop a bus (at bus stops), you must place your hand out towards the road. Otherwise, they will drive on by.
Where to Stay for two days in Dublin?
Ok, so due to the fact that I live a 30-minute drive from Dublin city centre, I can not advise places to stay down to my own personal experience. In saying that, I will point you in the right direction in terms of Budget.
Budget-Friendly Hostel: Abigail's Hostel
A Good Location Hotel: The Moxy Dublin City Hotel
A Good Location/Trendy Apartment: Locke Zanzibar Aparthotels
Now, I know they are all rather expensive, your stay a little further outside the city you will for sure get a better deal. Some areas with good public transport routes include Rathmines, Terenure, and Dundrum.
Where to stay in Dublin Pricing Map
Is it possible to see Dublin in 2 days?
There is so much to see and do in Dublin. You could honestly spend weeks exploring the beautiful city and surrounding county. However, with that being said, most people do not have weeks and two days in Dublin is plenty of time to see the city's highlights and a hidden gem or two.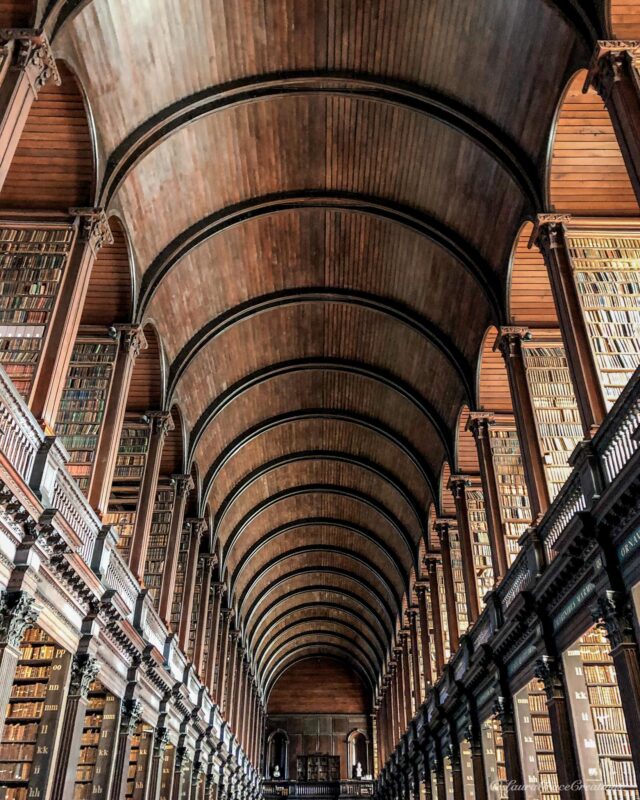 Stop 1: Trinity College & The Book of Kells
The first stop on our two days in Dublin is none other than Trinity College. Trinity is Dublin's leading university with buildings dating back to the 16th century. It truly is a lovely place to visit and admire the architecture. It also gives many visitors serious 'Harry Potter' vibes.
I'd suggest having a walk around the college grounds before visiting the famous 'long room' and the 'book of kells'.
Once you have finished exploring the Trinity campus head over to the library for a famous view of the 'long room'. On-site lies the 'Book of Kells' exhibition along with the opportunity to see the book on display.
Local Tip: The Book of Kells isn't always visible, so be sure to ask before purchasing your ticket.
Price: Tickets range from 11 to 14 euros.
Opening Times: Open from 9.30am to 5.00pm (times may vary).
Suggest Duration: 1 hour and a half
---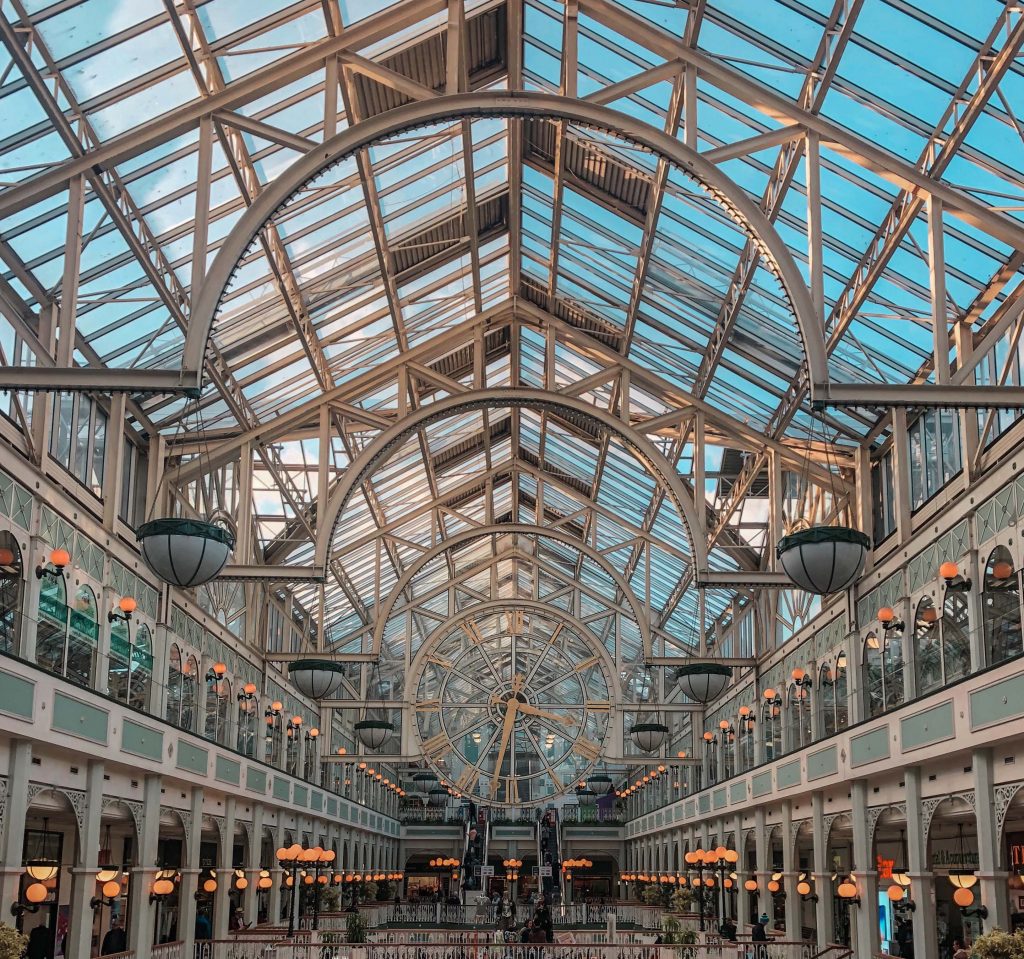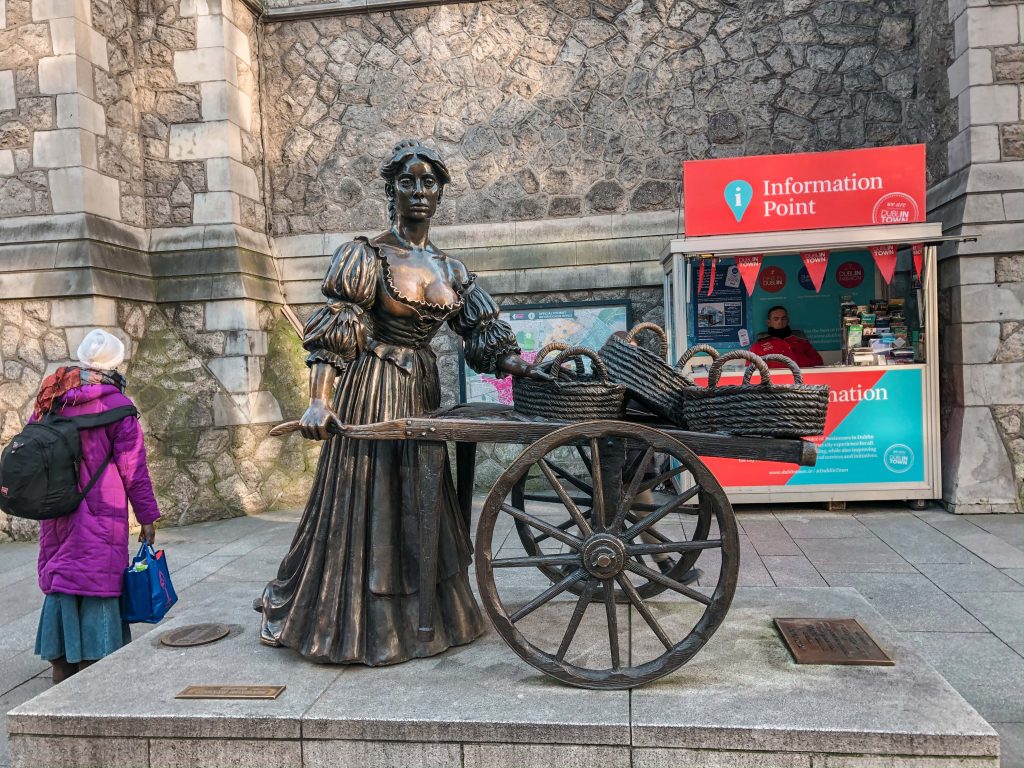 Stop 2: St. Stephens Green, Molly Malone & Grafton Street
Next, it is time to explore the Grafton Quarter. Start off by having a stroll around the beautiful St. Stephens green park.
And don't forget to pop into the nearby shopping centre for an interior treat!
Then walk down through Dublin most famous shopping area, Grafton Street. One of the best free things to do in Dublin is watch the talented buskers bring the street to life.
A short walk from Grafton Street lies Dublin's most famous statue, the Molly Malone. Which lead to one of the countries most iconic songs.
Subject to Irish folklore, the song tells a tale of a 17th-century woman who worked hard on the streets of Dublin, only to die at a young age.
'In Dublin's Fair City where the girls are so pretty, I first set my eye's on sweet Molly Malone. As she wheeled her wheelbarrow, Through the streets broad and narrow, Crying "cockles and mussels, alive, alive, oh"
---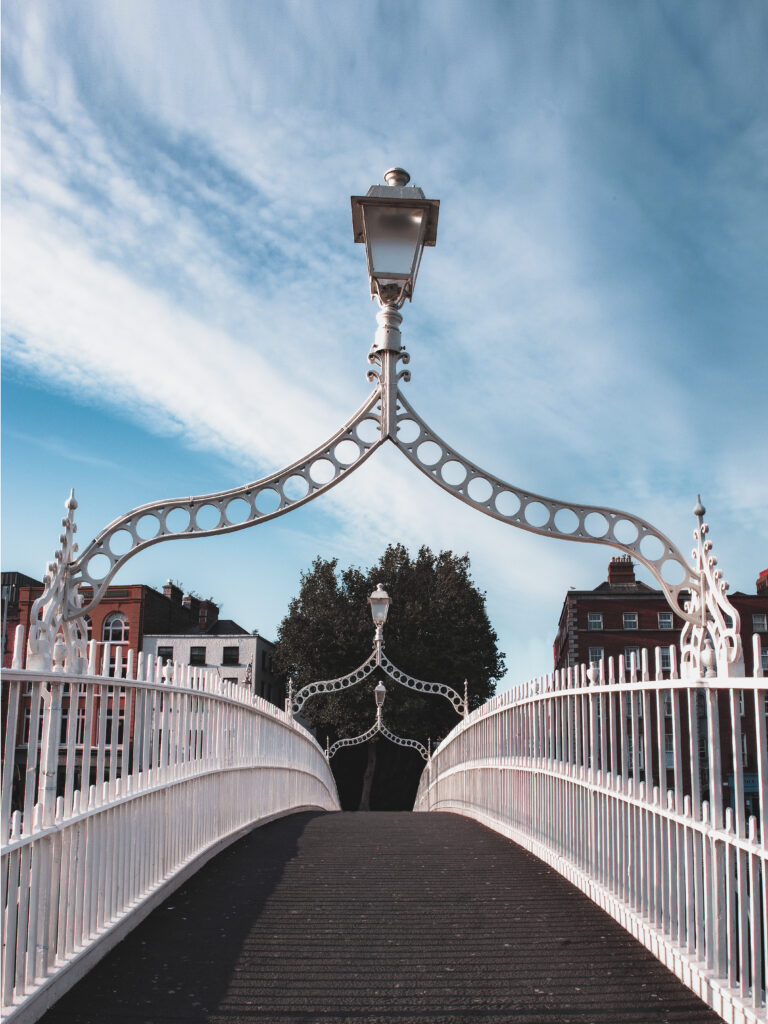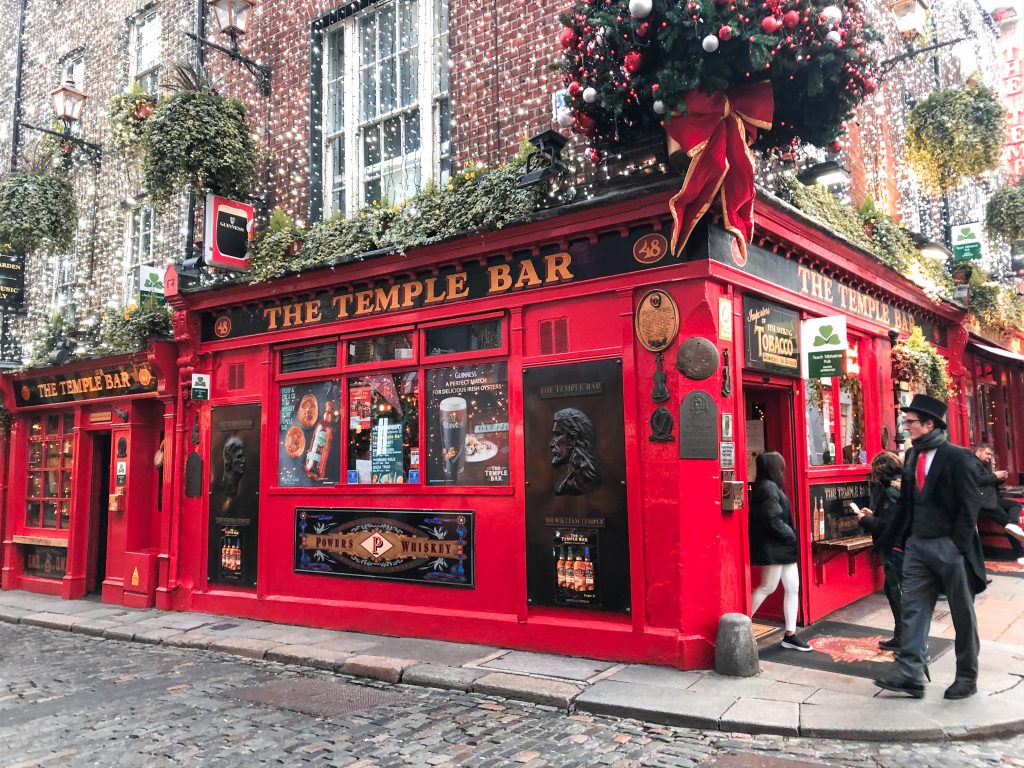 Stop 3: Temple Bar & The Ha Penny Bridge
Now, as a local, I avoid Temple Bar at all costs when it comes to having a drink. It is extremely touristy and well, drinks are extremely overpriced.
However, with that being said, it is a cute little area of Dublin that has a lot of Irish character, like cobblestone streets, thrifty shops and live music.
At this stage of the day, you may be feeling a bit peckish. I suggest the Elephant Castle if you are in the mood for delish chicken wings or Mad Egg for the chance to design your own cheesecake.
A short walk from Temple Bar lies one of the most iconic spots in the city, the Ha Penny Bridge.
The famous pedestrian bridge was built back in 1816 and was originally named the 'Liffey Bridge'.
The bridge was nicknamed Ha' Penny Bridge due to the toll passengers had to pay to cross it.
This is a landmark you will want to get a picture with.
---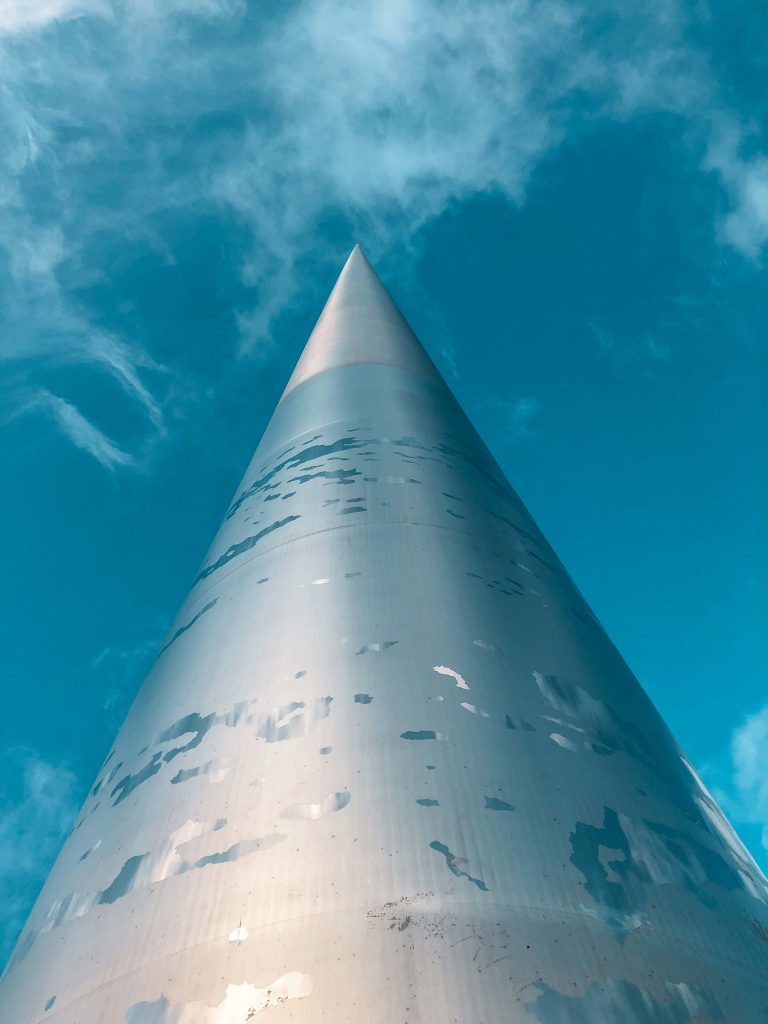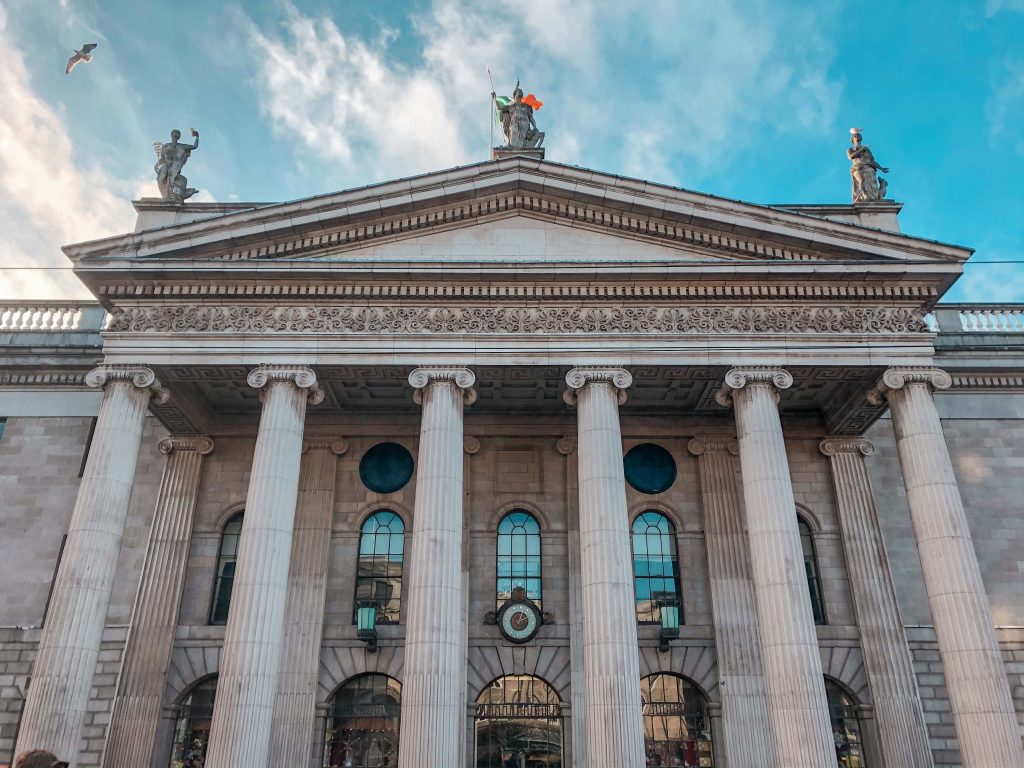 Stop 4: The GPO and The Spire
The GPO short for 'Generally Post Office' was one of the leading buildings in the 1916 rising, the fight that evidentially grated Ireland its independence.
If you look really carefully, the bullet shot markings from the war can be seen on the building to this day.
If you like history, there is an interactive self-guided tour is offered on-site for €14.00.
As you walk down O'Connell Street you will notice Ireland's tallest landmark, the Spire.
The Spire was created back in 2003. Originally, the Irish did what we do best and made several comedic jokes about what was soon to become one of the city's most known landmarks.
With that being said, I have personally grown to love the spire. It's ideal when lost in Dublin, just knowing even with my poor navigation skills, if I walk towards the spire I will eventually end up on O'Connell Street.
Or, the fact that many years later it is still subject to Irish banter…like turning it into a giant lightsaber for the launch of the Star Wars: The Force Awakens movie.
---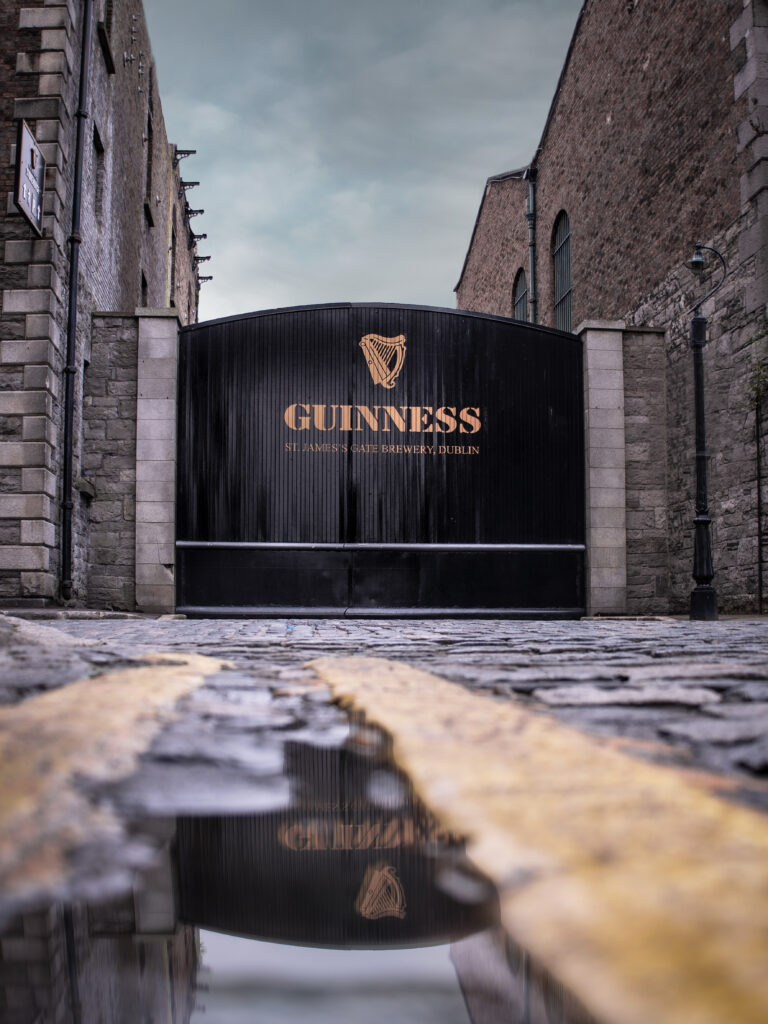 Stop: 5: The Guinness Storehouse
The next stop of the day is by far the best attraction in Dublin, The Guinness Storehouse. And don't worry you don't have to like Guinness to enjoy the experience.
The Storehouse allows you to embark on a 7-storey self-guided tour. You will learn all there is to know about how the 'good stuff' is made.
You will even have the opportunity to pour your own pint. You can also have a picture of your face imprinted don't the foam. Now, that's pretty cool.
At the top of the Storehouse, lies the Gravity Sky Bar. A class viewing platform that offers panoramic views of the city. I 100% recommend a visit to the Guinness Storehouse on any visit to Dublin.
---
Stop 6: The Choice is yours
For the final attraction of the day, I wanted to give you two options, the first being one of the most unusual things to do in Dublin. The second is one of the best Free things to do in Dublin.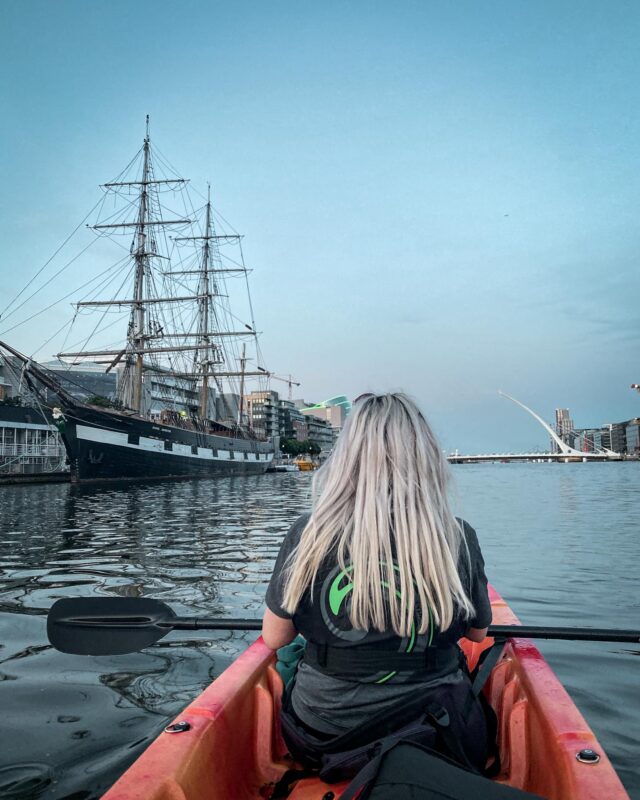 Option 1: Music Under the Bridge
City Kayaking offers a truly unique experience for those visiting Dublin with their Music Under the Bridge tour.
Hop in a kayak and travel down the River Liffey. The tour stops beneath the bridges to hear a musical performance from a local musician.
This is also a great way to see Dublin from a different perspective. To get a photo with some of the cities iconic landmarks from the waterfront.
The Liffey isn't exactly a dream place to kayak, but I can assure you, you do not get wet in the process.
The tour lasts for 2 hours in total and sometimes you can see kickass sunsets!
---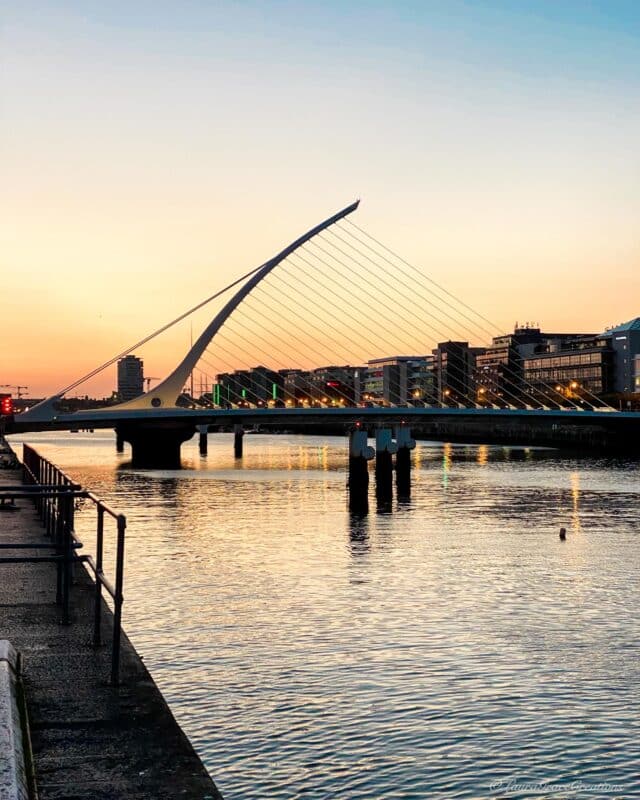 Option 2: Watch the sunset at the Samuel Beckett Bridge
If you don't feel like paddling in a kayak, then I have another great option for you!
One of the best places to watch the sunset in Dublin is located right in the city centre.
The Samuel Beckett Bridge is a great spot to catch the sky changing from morning to night.
Sit along the River Liffey and watch the world go by.
Once it is nightfall, the convention centre lights turn on and reflect upon the river.
---
Dublin 2 Day Itinerary Map & Suggested Time Table
Suggested Timetable

9.00am Trinity/Book of Kells

11.00am Stephens Green, Grafton Street & Molly Malone

12.30pm Temple Bar, Lunch & Ha Penny Bridge

2.00pm GPO & The Spire

3.30pm Guinness Storehouse

Evening Activity
– Music Under the Bridge
– Samuel Beckett Sunset
Weekend in Dublin: Things to do at night
Temple Bar is the typical spot where tourists go to hear some traditional Irish music with a modern twist. And while the area is rather overpriced it is one of the only places in Dublin to get a stereotypical 'Irish Experience'.
Across the street from Temple Bar is Dame Lane you will also find some traditional tunes being played here. It's slightly cheaper, only slightly though. You may even find a local or two dancing about.
Dawson Street is the place to go for a nice chill place to have a few drinks with the possibility of having a little boogie as the night progresses.
If you are looking to dance the night away and party to the early hours of the morning then Harcourt Street is the spot for you. The street is home to popular nightclubs such as Coppers, Dicey's and Krystal.
Local Tip: Coppers can get a little crazy, especially in the later hours.
If you are looking for a bit more of a sweet drink, check out Pygmalion or Capitol Lounge.
Not Mad on Drinking?
If drinking isn't your scene, why not consider going to see a comedy gig in Vicar Street. Or, visit one of Dublin's best-hidden gems, the Stella Cinema, a vintage cinema complex that transports you back in time.
Also, don't rule out Temple Bar or Dame Lane. It is still possible to enjoy traditional Irish music without feeling the need to have an alcoholic beverage.
Dublin for a Weekend: Day 2
On our 2nd day in Dublin, we are going to explore some of the remaining top attractions in Dublin before heading on a day trip to Howth.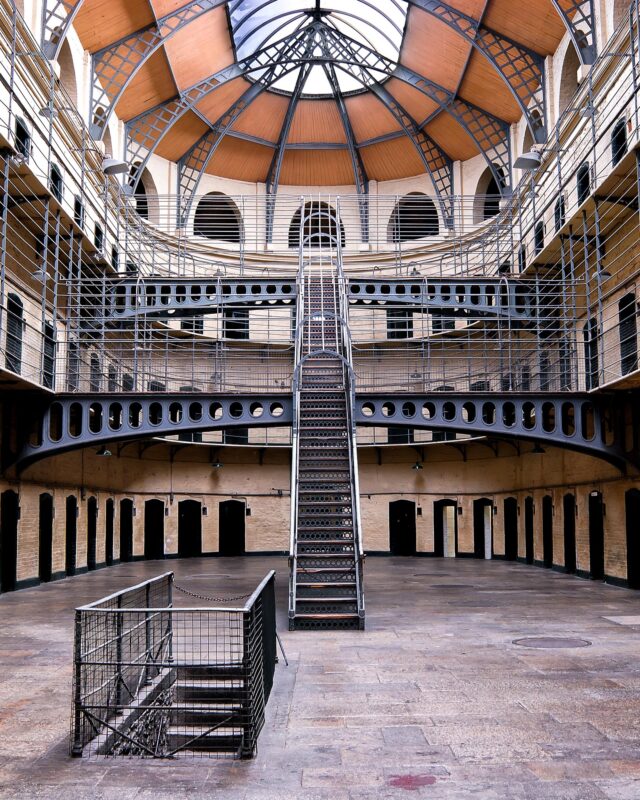 Stop 1: Kilmainham Gaol
Kilmainham Goal played a major role in Ireland's fight for independence and is certainly a must-see attraction when visiting Dublin.
Kilmainham was used to house some of Ireland's most famous figures during the Irish Civil War, the Anglo Irish War, and 1916 rising. The jail was patrolled by British troops and saw the execution of my political Irish leaders.
However, the range of crimes the prisoners committed varied deeply with some being sentenced for the likes of robbing a loaf of bread. Whereas, others were on trial for murder.
Kilmainham Gaol closed its doors as a prison back in 1924 and now serves as an interactive museum for people to learn about Ireland's troubled past.
Opening Times: The Gaol is open from 9.30am to 6pm
Duration: I recommend 1 hour and a half to explore Kilmainham Gaol.
Price: This AWESOME experience will set you back €8 and is totally worth the money!
Local Tip: Kilmainham Jail is an extremely popular attraction and often books well in advance. However, cancelled tickets are released each morning between 9:15am-9:30am.
---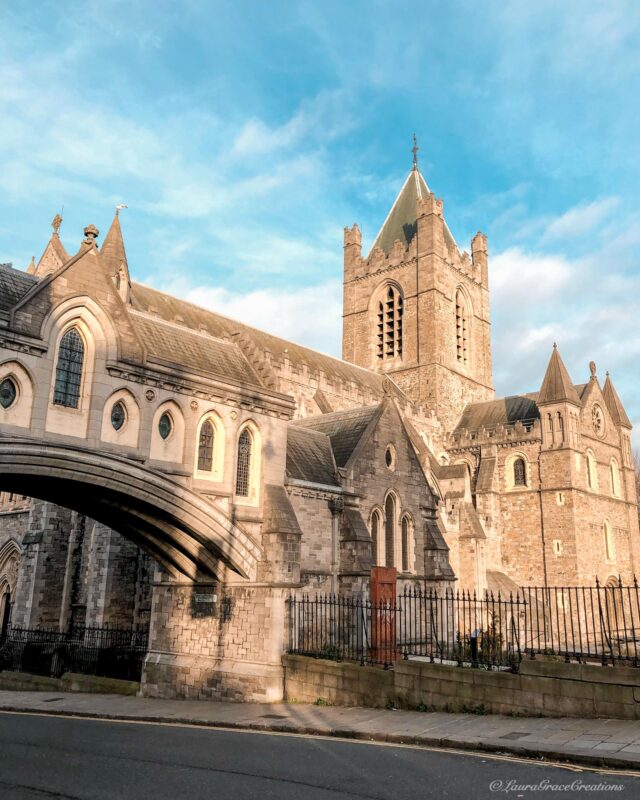 Stop 2: Christchurch, St. Patrick Catedral & Dublin Castle
When you're finished in Kilmainham Gaol, hop on the 69 or 79 bus towards Christchurch.

Have a stroll by 3 beautiful landmarks, Christchurch, St. Patrick Catedral and Dublin Castle.
While all buildings offer tours, I recommend admiring them from the outskirts as there is still plenty more to do in Dublin.
Both Christchurch and St. Patricks Cathedral are two medieval churches in Dublin. The exterior of both buildings is truly beautiful.
As far as Irish Castles go, Dublin castle is very un-castle like (on the outside that is). Nonetheless, the non-castle looking exterior doesn't take away from the significance Dublin castle has on the cities history. Even to this day, the building is still used for both government and public events.
---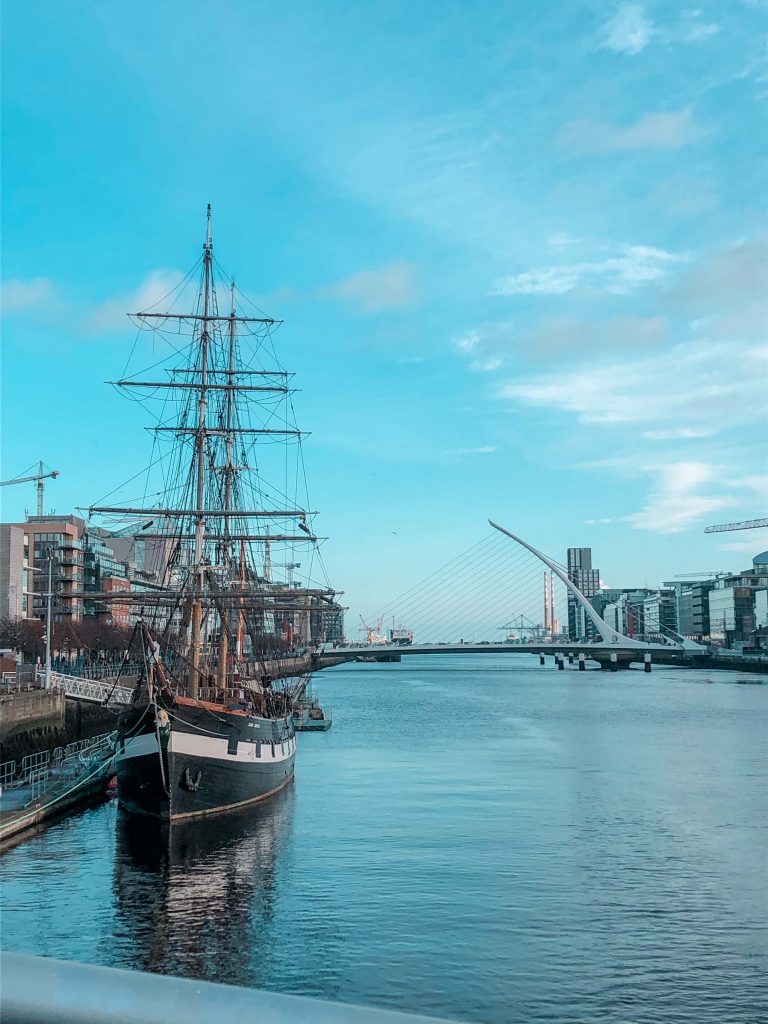 Stop 3: The Jeanie Johnstone & Epic Museum
The Jeanie Johnston & EPIC The Irish Emigration Museum are both located within minutes of each other. Making them the perfect 2 spots to visit in one go. They also offer a combined ticket combo for €24.50 for adults.
A replica of the Jeanie Johnston lies on the banks of the River Liffey. The tall ship was used during the famine to sail voyages between Co. Kerry and Quebec in Canada.
The tour brings visitors onboard the famous Famine ship and tell's the story of Ireland's past.
The Epic Irish Emigration Museum is an interactive museum that gives you the opportunity to go back in time and learn about the lives of those who lived during the famine.
---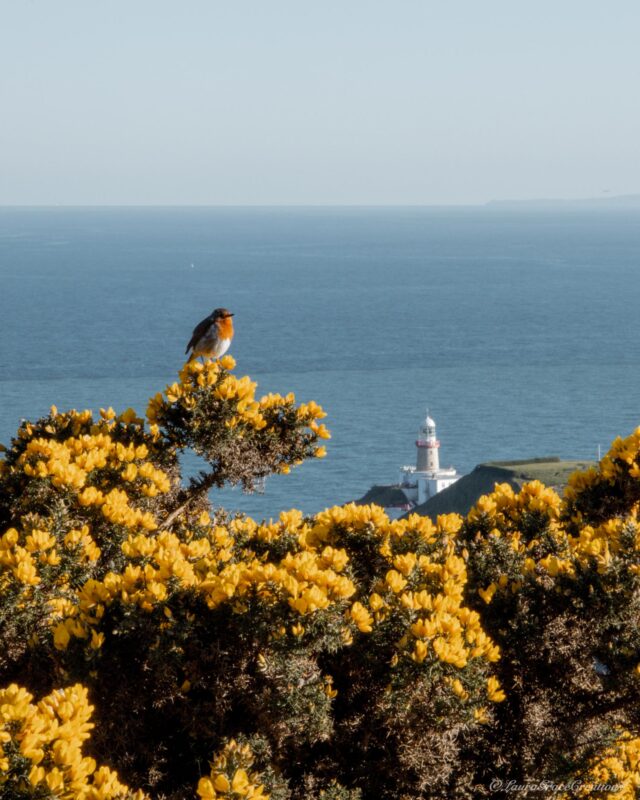 Stop 4: Howth
The next stop takes us on a mini Dublin Day Trip to the beautiful seaside town, Howth.
Before you begin to explore the stunning coastal area, head over to Póg for some delicious food!
After lunch, head towards Howth Head for beautiful views of Dublin's coastline. The Howth Head walk is one of the most beautiful cliff walks in Dublin.
Once you have finished taking in the views make your way back to the West Pier.
I'd advise taking part in the beautiful Howth cliff cruise. This tour allows you to see Howth from a whole new perspective.
They also offer sunset tours!
Dublin in a Weekend: Day 2 Suggested Timetable and Map
Suggested Timetable
9.00am Kilmainham Gaol

11.00am Christchurch, St. Patrick Catedral & Dublin Castle

12.00pm The Jeanie Johnstone & Epic Museum

2.30pm Póg for lunch

3.30pm Howth Head

5.30pm Howth Cliff Cruise
What to pack for Dublin
Packing for Dublin can be difficult due to the Irish weather being so unpredictable. That is why I have highlighted below the tops things you need to bring on your trip to Dublin. Check out my Ireland packing guide for a more detailed list.
When is the best time of year to visit Dublin?
If you are looking to make the most of the weather then July and August is the best time to visit. However, these are also the busiest time of the year.
June and September are off-peak months, yet, the weather is still dry for the most part and relatively warm for Irish standards. Locals joke that these are the two sunniest months of the year because it is exam season in June and the kids return to school in September.
Halloween is also a great time to visit Dublin as the holiday originated in Ireland. There are many Halloween celebrations that take place across the country.
November/December time is the best to visit for those looking to explore the Christmas Markets. The Irish love Christmas and the city is dressed up in beautiful lights.
In March we celebrate St. Patrick's Day, and while it is a super busy time to visit Ireland. It is also a really fun time to visit!
Have more time in Dublin?
If you have more than 2 days to spend in Dublin then you are in luck because there are still plenty more things to do. Dublin is a great place to kick start a one week trip in Ireland. Or, if you are limited for time, you can use Dublin as a base and explore some more of the country by going on Day Trips. I have highlighted below some of the best Day Trips and Walks to enjoy while staying in Dublin.
Best Day Trips from Dublin
The Causeway Coast is the perfect place to visit on a Day Trip from Dublin. Explore the beauty of Muendem Temple, enjoy the Giants Causeway Walk and cross the daunting Carrick a Rede Rope Bridge.
Just a 50-minute drive from Dublin is the wonderful Wicklow National Park. It is common for tourists to go on a day trip to Glendalough to discover some of the best walks in Wicklow.
One of the most popular Day Trips from Dublin is none other than the iconic Cliffs of Moher. It takes 3 and a half hour to drive to a small town called Doolin in County Clare. From there you can enjoy the Cliffs of Moher Walk and visit Ireland's leading attractions for FREE. If you would like to dive a little further off the beaten path then consider checking out some more of Ireland's beautiful cliffs, like Slieve League or Kilkee.
If you are looking for a day trip that is a little bit off the beaten path then consider climbing Ireland's Stairway to Heaven. The trail grew in popularity over the years due to social media, however, not many use Dublin as a base to hike it.
Walks in Dublin
Perhaps you want to explore some more of County Dublin, then consider giving some of these beautiful walks ago.
The Hellfire Club sit on the foot of the Dublin Mountains, the trail takes 30 minutes to reach the summit and overs insane views of Dublin and beyond.
Another amazing hike with an epic view of Dublin is Ticknock. It takes around 40 minutes to reach the top, it is also an amazing place to watch the sunset!
A beautiful walk near Dublin that is easily accessible via public transport is the Bray to Greystone Cliff Walk. This one is perfect for those who want to spend the day out by the sea.
You could even spend the day taking in the beauty of Kiliney Hill.
Thanks for reading!
I hope you enjoyed this post and have an amazing time on your trip to Ireland. If you need any help with your planning feel free to message me on Instagram or Facebook 🙂
LIKE THIS POST? PIN ME FOR LATER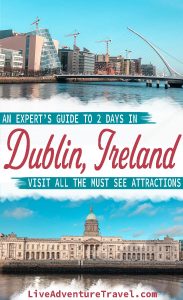 Disclaimer: This post contains affiliate links meaning I may make a small commission at no extra cost to you 🙂