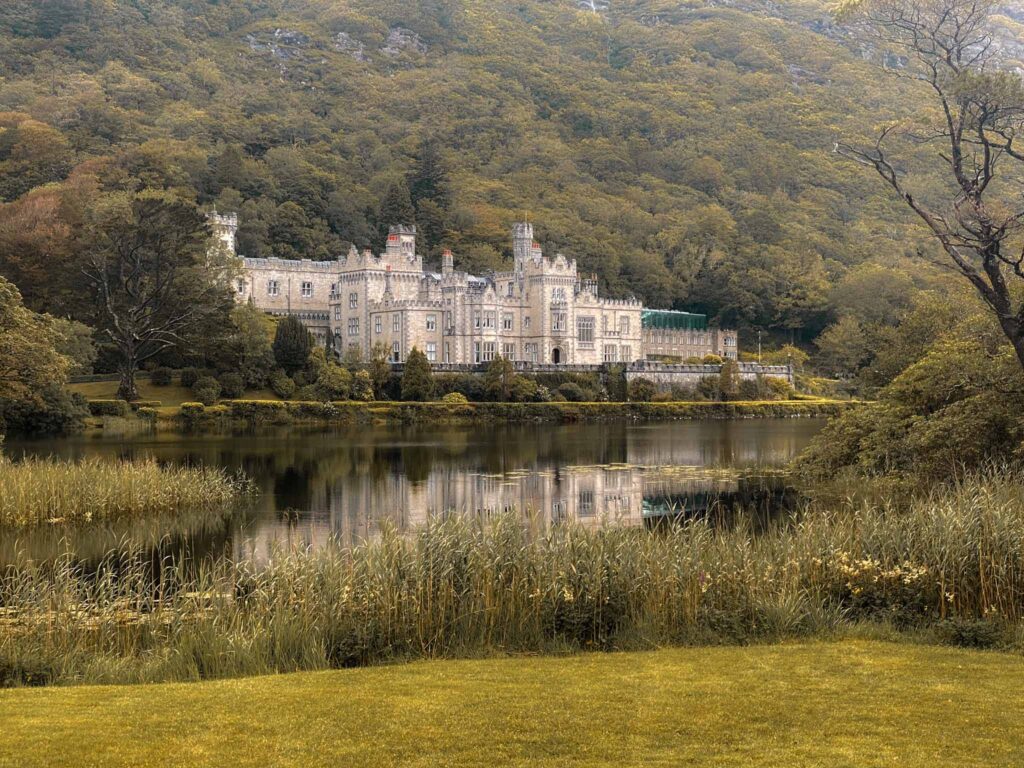 21+ Best Day Trips from Dublin: A Local's Guide
Planning a trip to Ireland for the first time can be a scary and overwhelming experience. Especially when your time is limited. It's common for tourists to stay in Ireland's capital city, Dublin and not venture further afield. And while there are many things to do in Dublin, Ireland has so much more to offer from roaring coastlines, ancient ruins and beautiful hiking trails. The good news is, one of the best things about Ireland is the Country's small size. This means that tourists can visit some of the most famous attractions in under three hours. This post will highlight some of the best day trips from Dublin.
Now, don't get me wrong, I am not recommending basing yourself in Dublin for the duration of your Ireland Trip. However, if you are limited on time and only have 3/5 days to explore the beauty of the Emerald Isle, perhaps having Dublin as your base may not be a bad idea.
As an Irish girl, I want to show you some of the best Dublin Day Trips on offer. Ensuring you can catch a glimpse of Ireland's Beauty in a short time frame.
Dublin Day Tours or Self Drive?
Now, before we dive deep into the best Days trips from Dublin we must answer the most important question. Should you book a day tour or set out on your own self-drive adventure. Below I will highlight the pros and cons of each.
Day Tours from Dublin are they worth it?
I personally believe that booking a day tour from Dublin is possibly the best option for those who only have limited time to spend in Ireland. If you are planning to base yourself in Dublin for the duration of your Ireland trip then a day tour is more than likely the best option for you. I say this because Dublin is quite an easy city to get around. Therefore, a rental car is not really needed for the days you intend to spend in the city. Booking a prearranged tour takes the stress out of having to drive on Irish roads and avoids the extra expense of renting a car as day tours are generally quite affordable.
The only con I can think of when booking prearranged tours is limited flexibility to explore. When you book onto tours you typically have a timetable that you must go by. This leaves no room for spontaneous stop-offs or extra time to explore an area you really enjoy.
Is it better to go on a Self Drive Day Trip from Dublin?
Going on a Self Drive Day Trip from Dublin is perfect for those who intend to rent a car on their trip to Ireland. Self-drive trips offer more flexibility, a wider range of destinations and the opportunity to explore more of the country's hidden gems.
Please note if you do decide to go on a self-drive day trip from Dublin, it is important to familiarise yourself with Irish Roads. Particularly, those in the countryside, they can get narrow at times and caution is needed when driving on them.
Would You Prefer a video guide?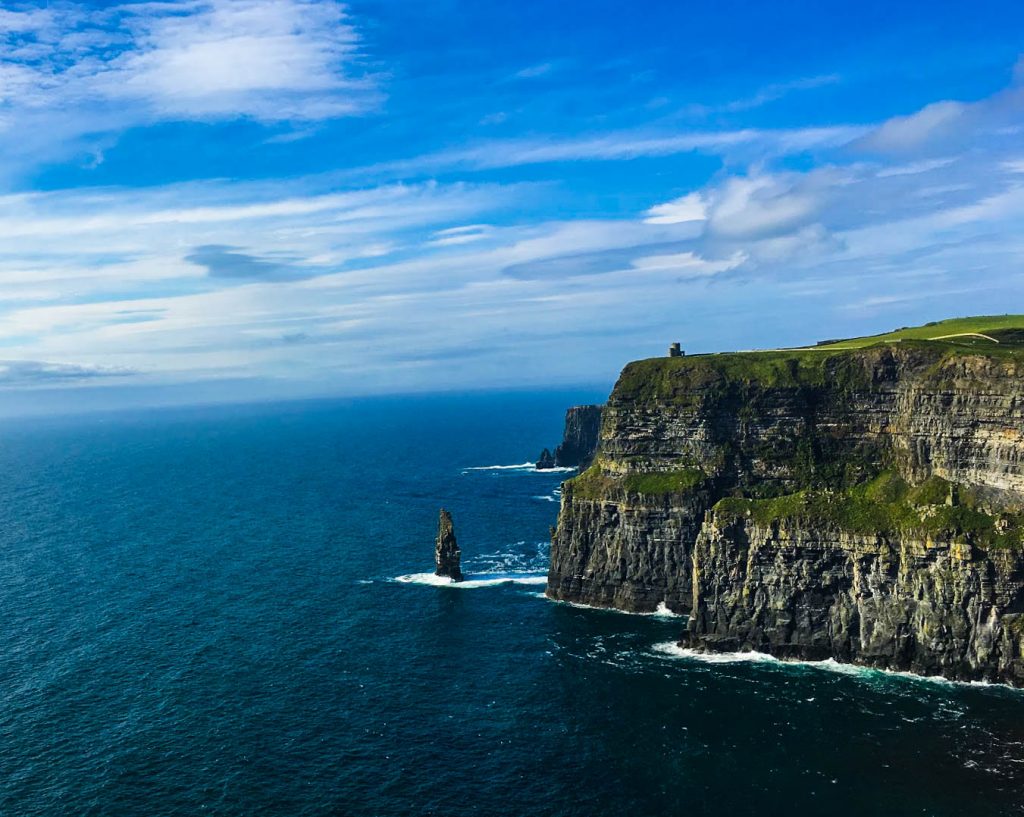 1) Cliffs of Moher, County Clare
It's only right to start our Best Day Trips from Dublin post with arguably the best thing to do in all of Ireland. Now, while Ireland is home to some outstanding coastal cliffs, none can compete with the Cliffs of Moher's popularity.
The Cliffs are the face of Irish tourism and are visited by over 1.5 million people each year. Making them the most visited tourist attraction on the island. So, if you are planning a short trip to the Emerald Isle, then the Cliffs of Moher might just be on the top of your bucket list.
The good news is, the Cliffs of Moher are located just a 3-hour drive from Dublin making them reachable for those hoping to catch a glimpse of Ireland's most iconic attraction.
The Cliffs stand 390ft above sea level and are home to over 20 species of birds, including Puffins! Visitors can enjoy a scenic walk along the cliff, explore the interactive visitor centre and watch the Wild Atlantic Waves crash beneath them.
Just make sure to dress up warm because the cliffs are known for being a tad bit windy. Check out my Ireland Packing Guide for inspiration.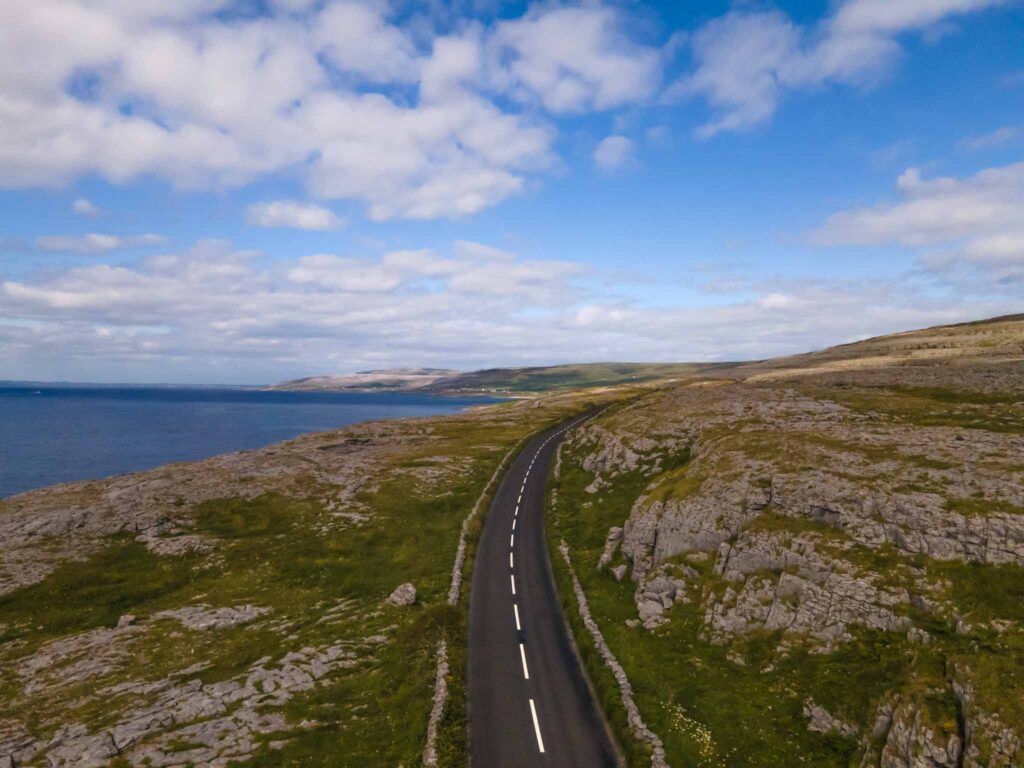 2) The Burren, County Clare
Not too far from the Cliffs of Moher lies the Burren National Park. The Burren is home to some of the world most unusual rock formations. Its name can be taken quite literally as it is adapted from the Irish Word Boíreann which translates to rocky place.
There are many things to do and see while visiting the Burren, including breathtaking walks, coastal drives and historic sites. It is easy to spend the day getting lost in the National Park.
However, if you are stuck for time is it is possible to take part in a combined day trip including both the Burren and the Cliffs of Moher.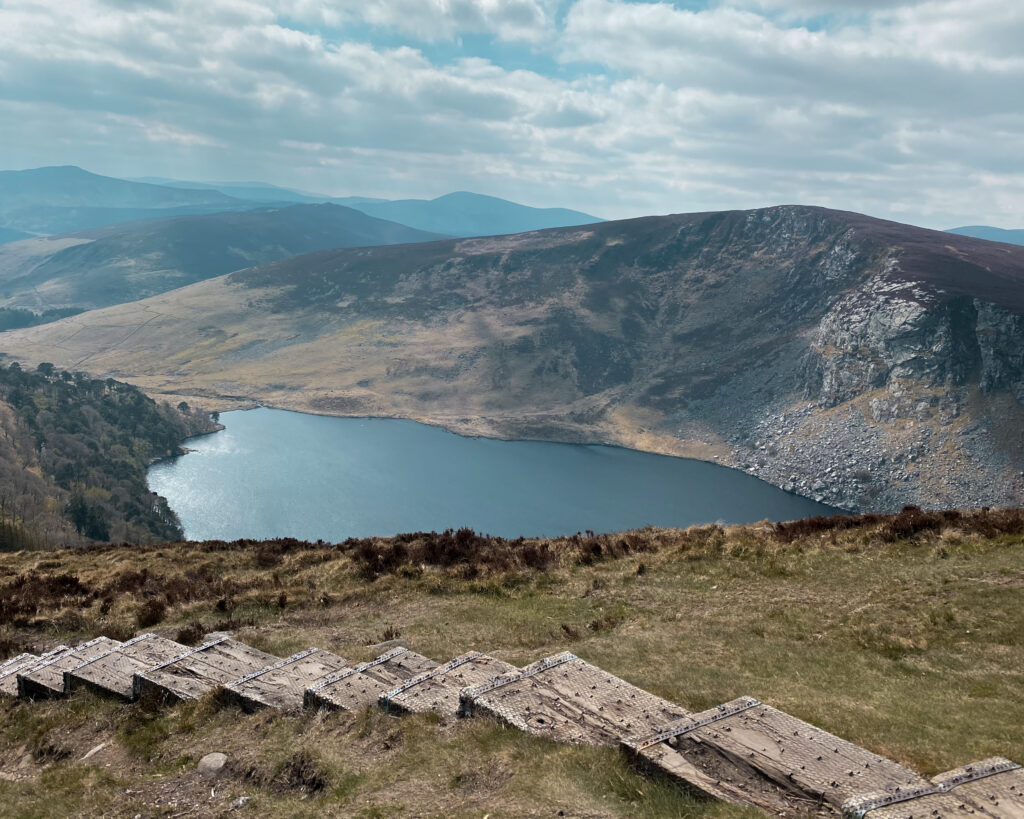 3) Wicklow National Park
Next on the list is one of my favourite places in all of Ireland, Wicklow National Park. This is the perfect place for anyone looking to go on a Dublin Day Trip within close distance to the city centre.
Wicklow is located just a short 1-hour drive from Dublin City and is home to some insanely beautiful hiking and walking trails. County Wicklow is known as the Garden of Ireland and with famous locations such as Glendalough and Powerscourt, it is easy to see why.
If time and budget allow the best way to see Wicklow National park is by renting a car. However, no need to worry, as it is also possible to see the park highlights with a Day Tour from Dublin.
Check Out Wicklow Day Tours Here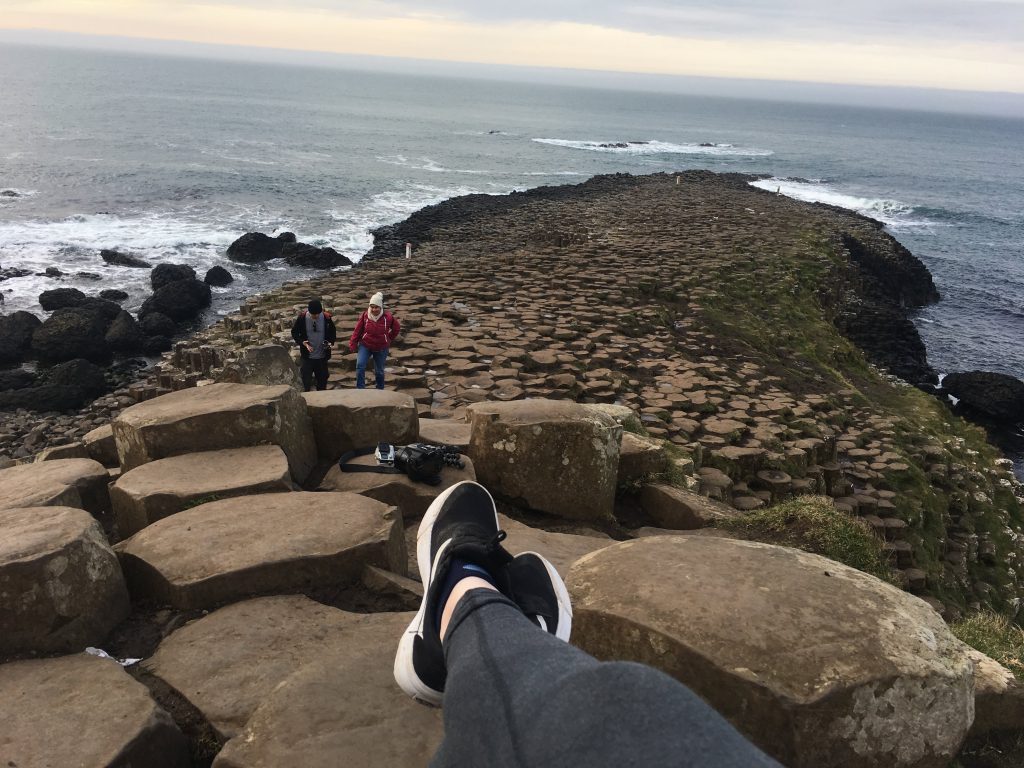 4) Giants Causeway, County Antrim
Next on the list is none other than the famous Giants Causeway, located in County Antrim. The Giants Causeway is a 3-hour drive from Dublin city and is one of the most popular attractions on the island. The causeway is so popular that it is visited by over 1 million people each year.
It is a truly unique place, made up of interlocking basalt columns, a result of an ancient volcanic eruption. The story behind the Causeway is subject to Irish myths and legends but it is said to be created by two Giants Finn McCool who lived off the Irish coast and Benandonner who lived off the Scottish Coast. Both Giants were said to have got into a disagreement, resulting in McCool tearing off large parts of the coast and throwing them across the Irish Sea to make the causeway.
The Causeway Coastal Route is also famous for being the filming location of the popular TV series Game of Thrones.
Click Here to Book Your Giants Causeway and Game of Thrones Day Trip
Planning a Trip to Ireland? SUBSCRIBE for a FREE PDF full of Local Tips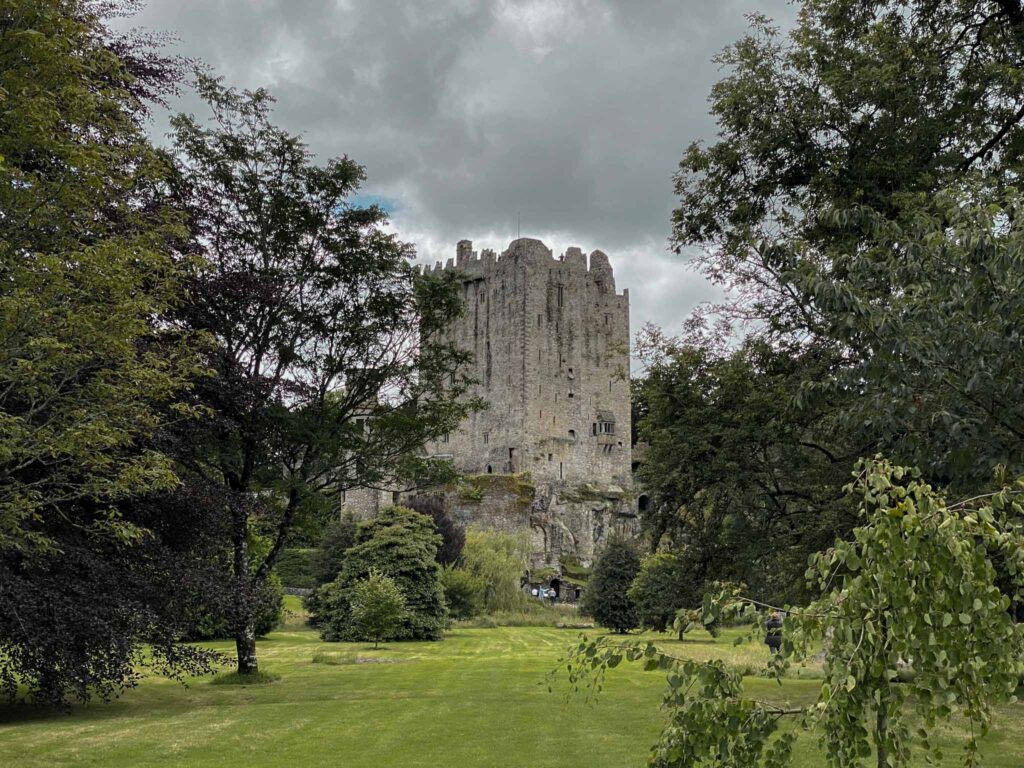 5) Blarney Castle, County Cork
Blarney Castle and Gardens is one of the most popular castle ruins in the country, located in County Cork. It takes under three hours to reach the attraction from Dublin, making it the perfect location for a day trip.
The castle is famous for being home to the Blarney Stone which is said to give those who kiss it the Gift of the Gab, aka, skills of flattery. Although kissing the stone seems like an easy task, I can ensure you it is not. I gave it ago only a few months ago and due to the location of the stone, it is actually quite a terrifying experience. Feel free to check out my cork youtube video to understand more.
Even if you opt-out of kissing the stone, a trip to Blarney is a must. It's a beautiful place to explore and relax for the day.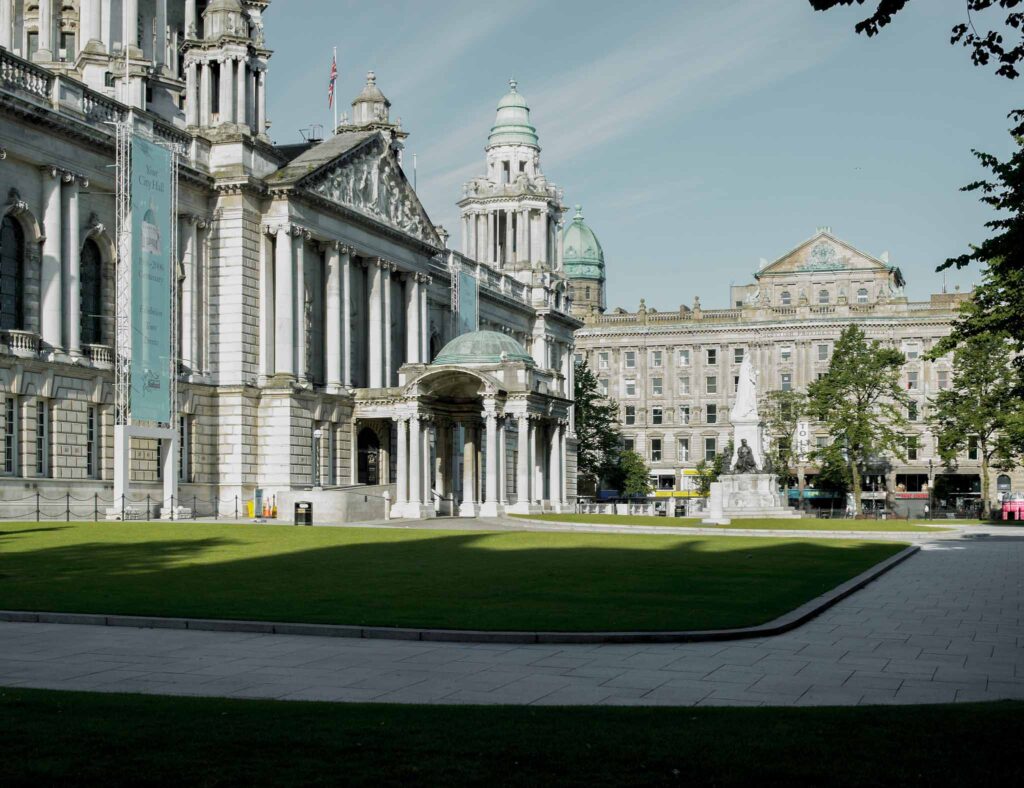 6) Belfast City & The Titanic Experience
If you would like to explore the birthplace of the most famous ship in the world, the Titanic, then Belfast is the day trip for you. The iconic city is just a two-hour drive from Dublin and is full of history and charm.
The most popular thing to do in Belfast is to take part in the Titanic Experience. The self-guided tours bring visitors on a journey with nine interactive galleries where they can discover the 'sights, sounds, smells and stories of the ship'.
Belfast is also a popular destination for those who are looking to shop, explore the causeway coast or check out famous filming sites for the Game of Thrones.
7) Galway City
One of my favourite cities in Ireland is Galway. The city has a charm like no other. Famous for its live musical performances which brings the streets to life or its friendly locals who are more than happy to help passers-by. Everyone loves Galway and you will too if you choose to visit on a day trip from Dublin.
Most Day Tours to Galway from Dublin include stop-offs at the Cliffs of Moher which means you can tick two major places off your Ireland Bucket List in one day.
While in Galway make sure to check out the wonderful sites such as Eyre Square, The Spanish Arches and Salthill. You may even be brave enough to go for a swim in the Irish waters 😉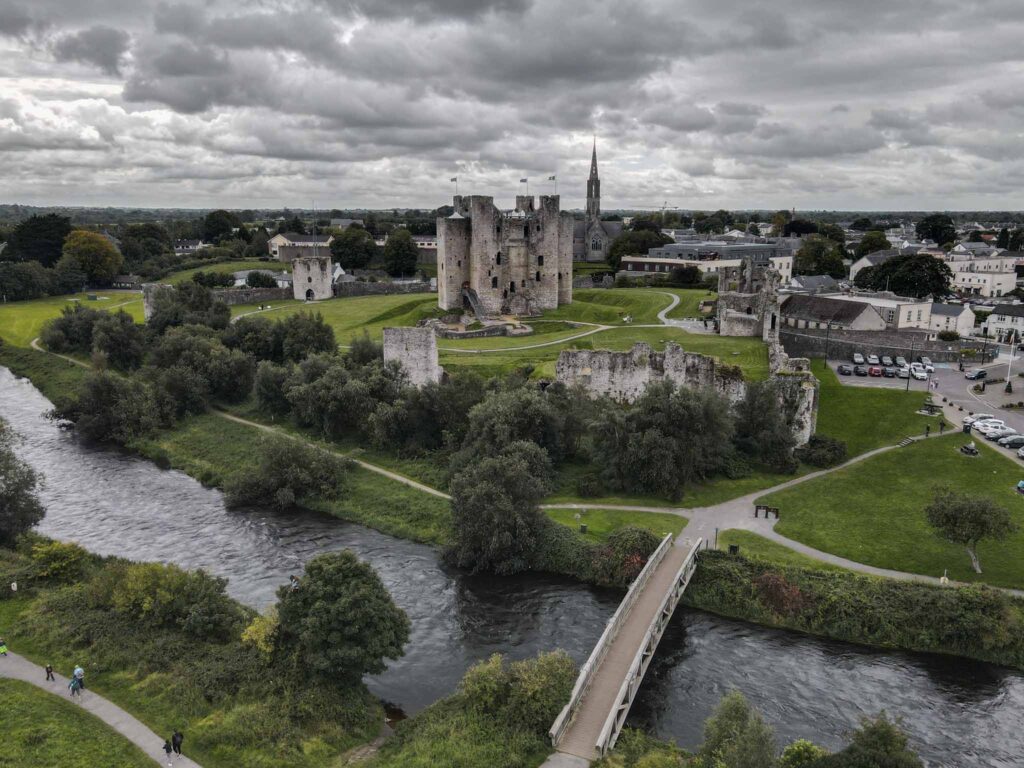 8) Boyne Valley, County Meath
Spend the day exploring the ancient ruins of the Boyne Valley in County Meath. This area is one of the most historic places in Ireland and is home to famous ruins/sites such as Newgrange, Trim Castle and Slane.
County Meath is less than an hour drive from County Dublin making it the perfect location for those wanting to go on an easy Dublin Day Trip.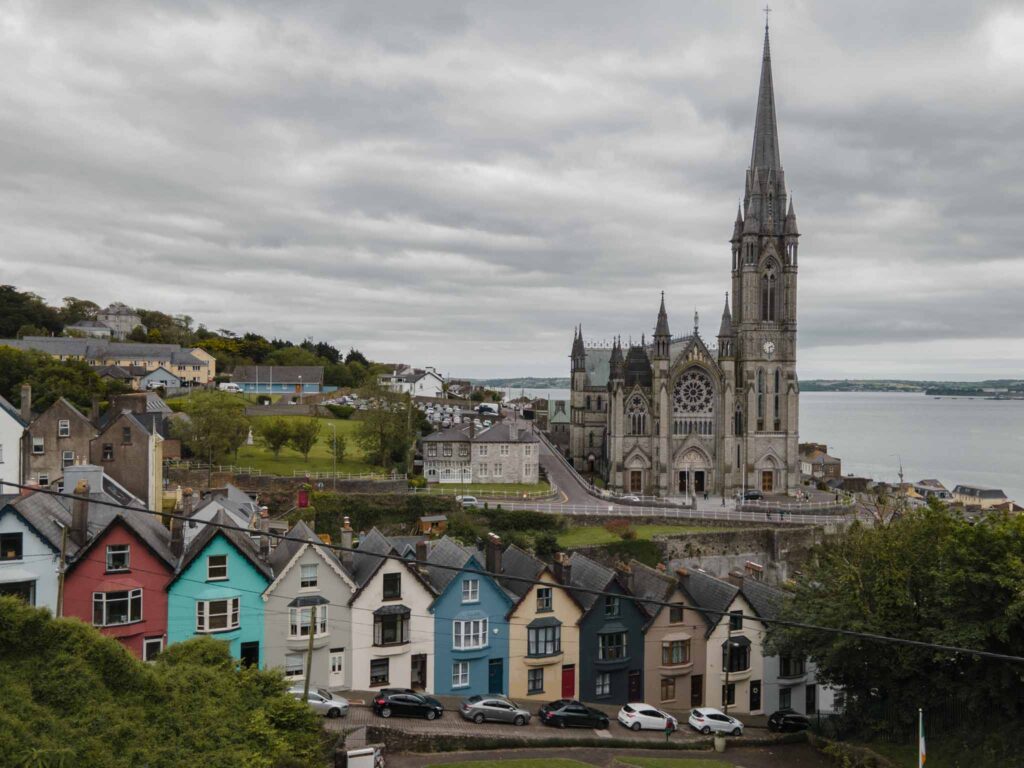 9) Cobh, County Cork
Next on our Dublin Day Tours list is one of my favourite towns in Ireland, Cobh. This stylish little town is located in County Cork and is famous for being the final port call for the Titanic.
It's weird but this cute little Irish town has an uncanny resemblance to the famous US city, San Francisco. Cobh is home to the deck of cards houses that resemble the painted ladies, Spike Island which has a similar past to Alcatraz and the town is rather hilly in places ?
Cobh is a lovely place to spend the day soaking up Irish History, eating in the many beautiful cafes/restaurants or venturing out to explore spike island. No matter what you decide to do you will love exploring Cobh.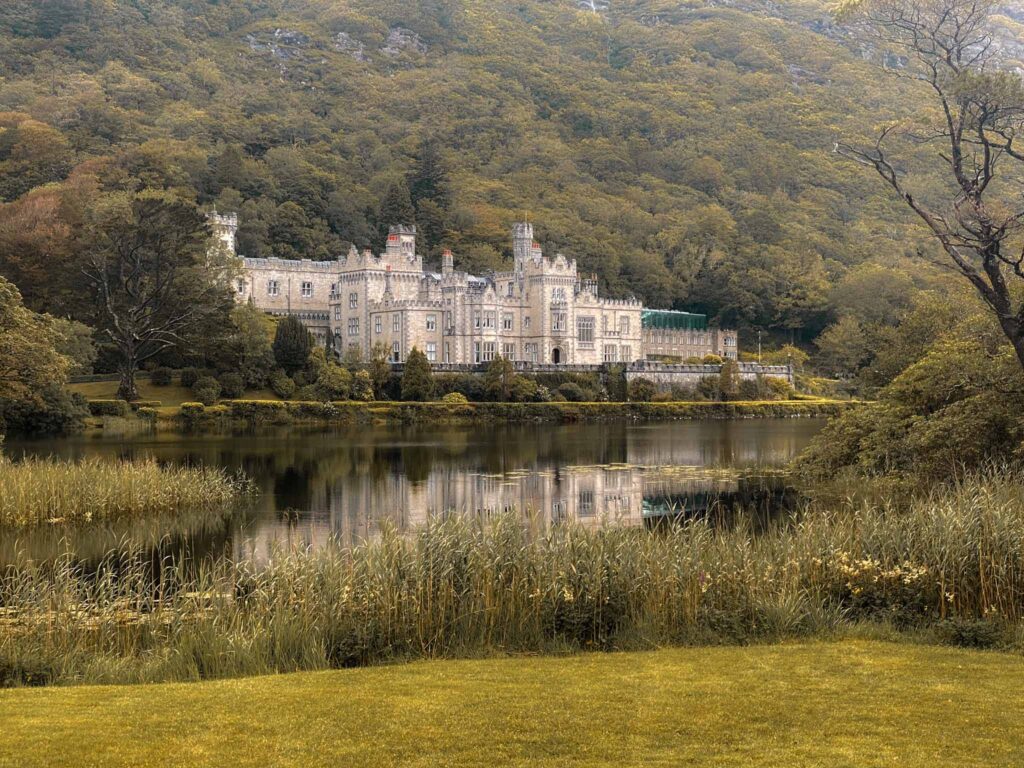 10) Connemara, Galway
Connemara is one of the most beautiful places in all of Ireland. I always say if I had to choose to go anywhere on the island in the rain I'd choose Connemara. The area's beauty shines no matter the weather.
Some of Connemara's highlights include Kylemore Abbey, Pine Island View, Diamond Hill and Clifden. Although it is impossible to see all of which Connemara has to offer in just one day, I still think it is worth the day trip.
Please note the drove from Dublin City to Connemara takes around 3 and a half hours. So, make sure to bring plenty of water and snacks.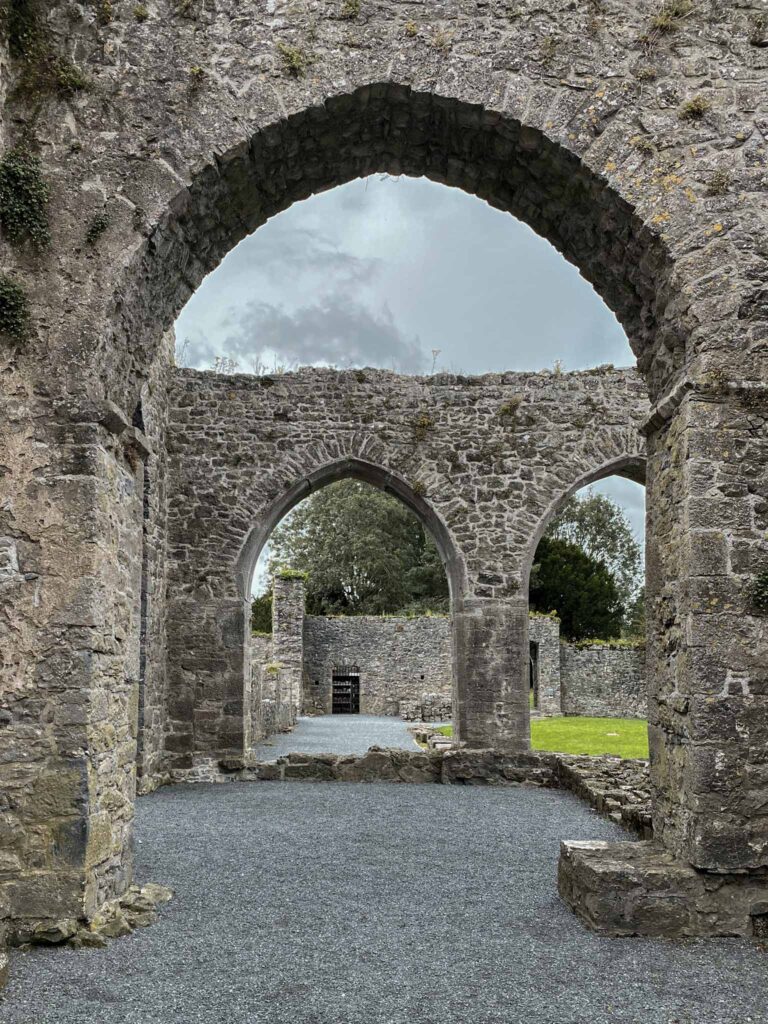 11) Kilkenny
Kilkenny is another one of Ireland's charming cities and walking around it will make you feel like you have stepped into a real-life fairytale. The city is home to one of the countries most iconic castles and beautiful grounds. It's common for locals and tourists alike to sit down on the grounds and watch the world go by.
The wider county of Kilkenny also has a lot of places that are just waiting to be explored. Some of my favourites include Kells Priory, Jerpoint Abbey, Inisteogue and Woodstock Gardens. Unfortunely, I don't know of any tours that visit the wider county. Therefore, a car is needed to visit these attractions.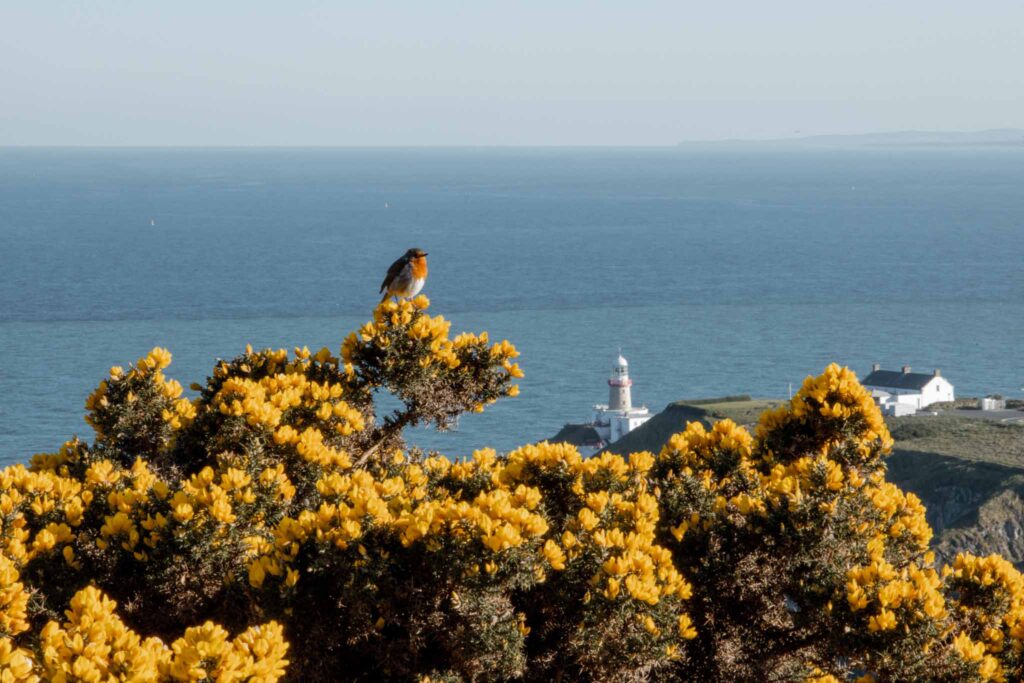 12) Howth, Dublin
Now, while the next destination on the list is still technically in County Dublin. It is far enough away from the City Center to be considered a day trip. Howth is a fantastic place to visit for those looking to escape the hustle and bustle of the city without having to travel too far.
The stunning coastal town is accessible via public transport and is only a 30 minute DART ride from the City Center.
Those visiting Howth typically enjoy taking part in the coastal cliff walk, going for a stroll down the pier or visiting the nearby Malahide Castle. While an organised day tour is not needed to visit Howth there are a number of tours available for those who would sooner have their day trip preplanned.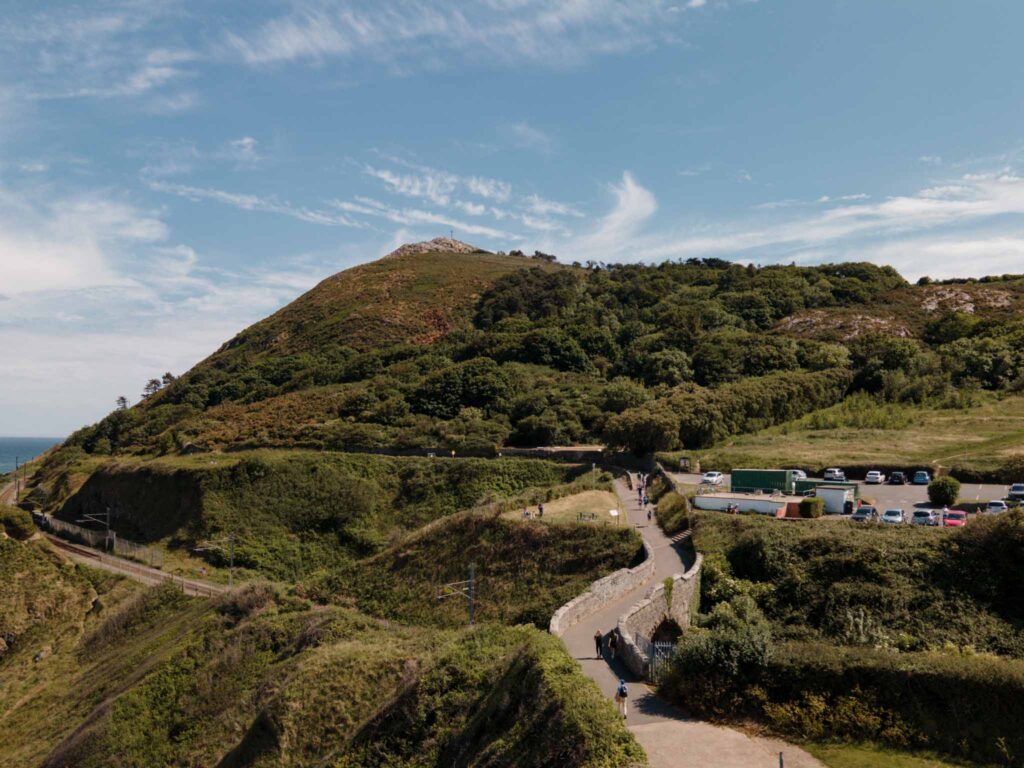 13) Bray, Wicklow
Another popular destination for those looking to day trip from Dublin is Bray in County Wicklow. The seaside town known for being starting point for the popular Bray to Greystones Cliff Walk.
If you don't feel like walking 15km you can opt into hiking Bray Head instead. Although, it is a much shorter walk but more on the challenging side as the trail consists of a steady incline for about 30 minutes.
Bray is also a popular spot for those looking to grab a bag of chips and go for a coastal walk down the promande.
Bray is easily accessible via public transport and it takes 40 minute to reach for the city center.
Self-Drive Dublin Day Trips
The next few spots on our Dublin day trip list are unfortunately best visited by car due to poor levels of public transport or lack of day tours on offer. As a result, many of these spots are lessern known.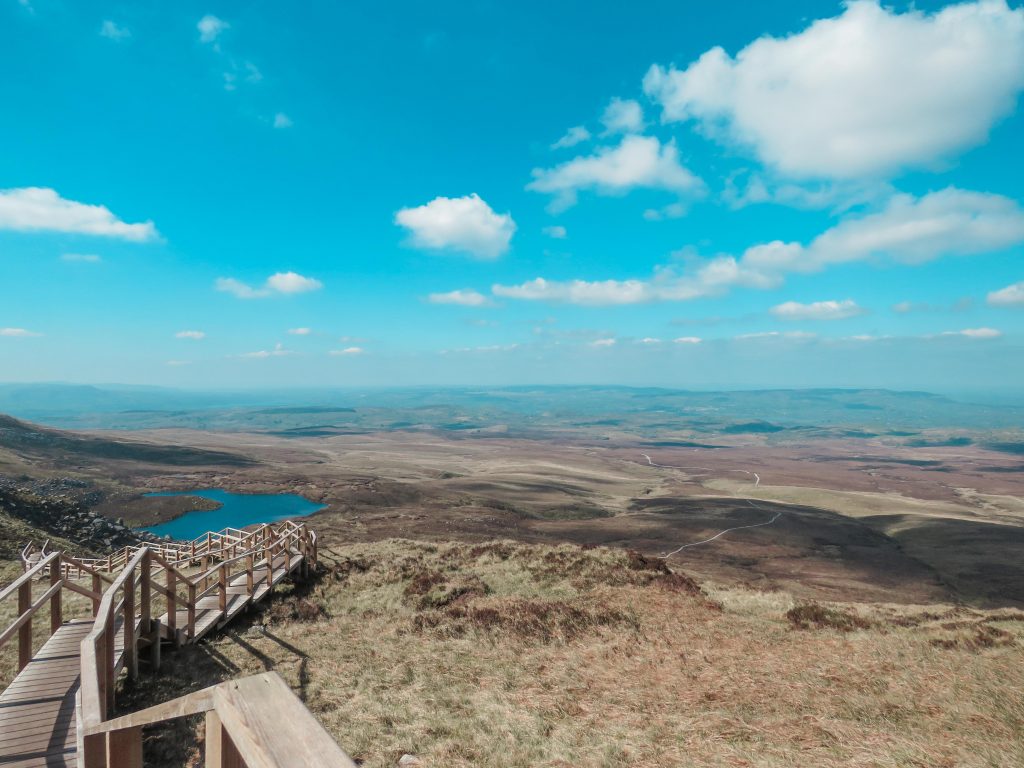 14) The Stairway to Heaven Ireland, County Fermanagh
The Stairways to Heaven Ireland has become increasingly popular thanks to social media and it is no wonder as the trail is absolutely beautiful.
The hike begins on a gravel path with a boardwalk later forming and extending into a Stairway. The stairway consists of 450 steps that reach the summit of Cuilcagh Mountain.
The hike takes a total of four hours to complete and offers amazing views of Fermanagh and beyond. Leaving walkers feeling as if they are ON TOP OF THE WORLD.
The stairways are one of my favourite walking trails in Ireland. One I recommend time and time again.
The stairways are just over a 2-hour drive from Dublin, directions can be seen on Google Maps.
* Tours to the Stairway to Heaven have stopped since March 2019. I will update this post if the tours start back up again in the future*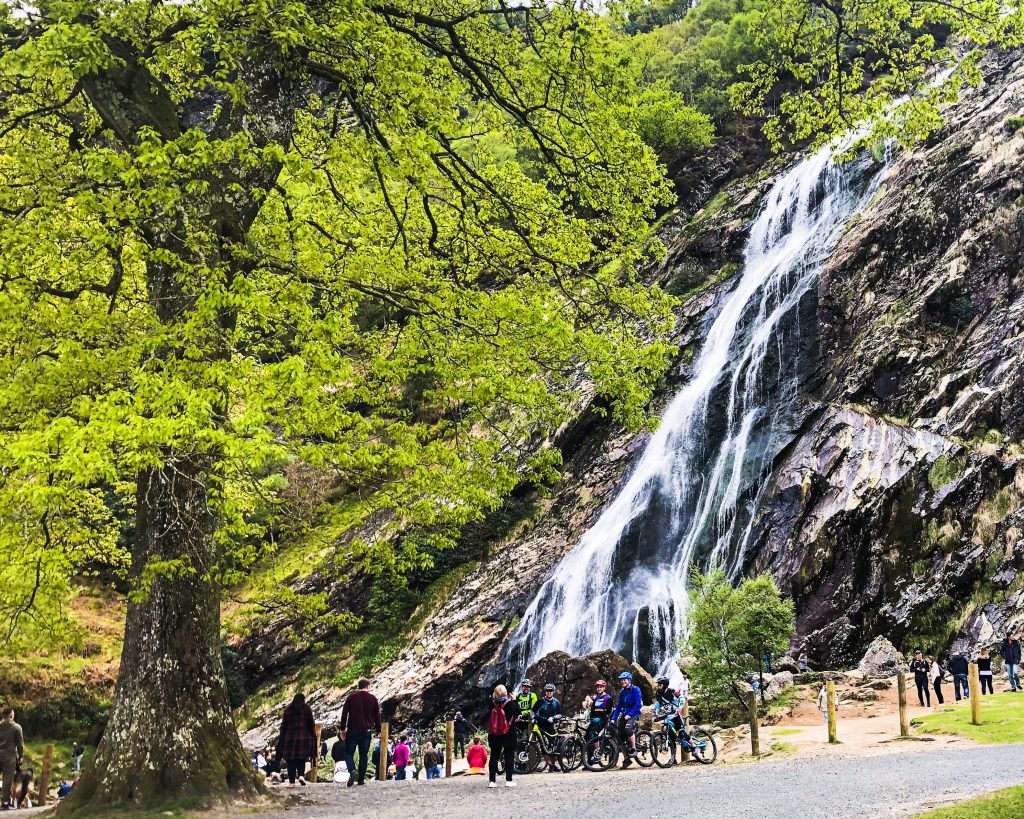 15) Powerscourt Waterfall, County Wicklow
If you are a little stuck for time and are looking for half day trips from Dublin. Why not try Powerscourt waterfall?
Powerscourt is Ireland's second highest waterfall at 398ft and is only a 40-minute drive from Dublin City Centre (Google Maps Directions). The waterfall is the ideal location to capture some picture-perfect images and enjoy nature at its finest. Powerscourt offers many short trails around the waterfall and the Dargle river for visitors to enjoy.
It is also a popular spot for a portable BBQ! This is one of my favourite things to do while at Powerscourt. Lunch with a view, what more can one ask for?
The Powerscourt estates are located nearby and are home to a golf course, beautiful gardens and a stunning view of the great sugar loaf. Please be mindful that it cost 6 euro per adult to enter the waterfall but it is 100% worth it.
Nearby Powerscourt Waterfall lies Crone Woods, this is one of my favourite walks in Wicklow as it delivers an alternative view of the Waterfall and is far less busy than the official grounds.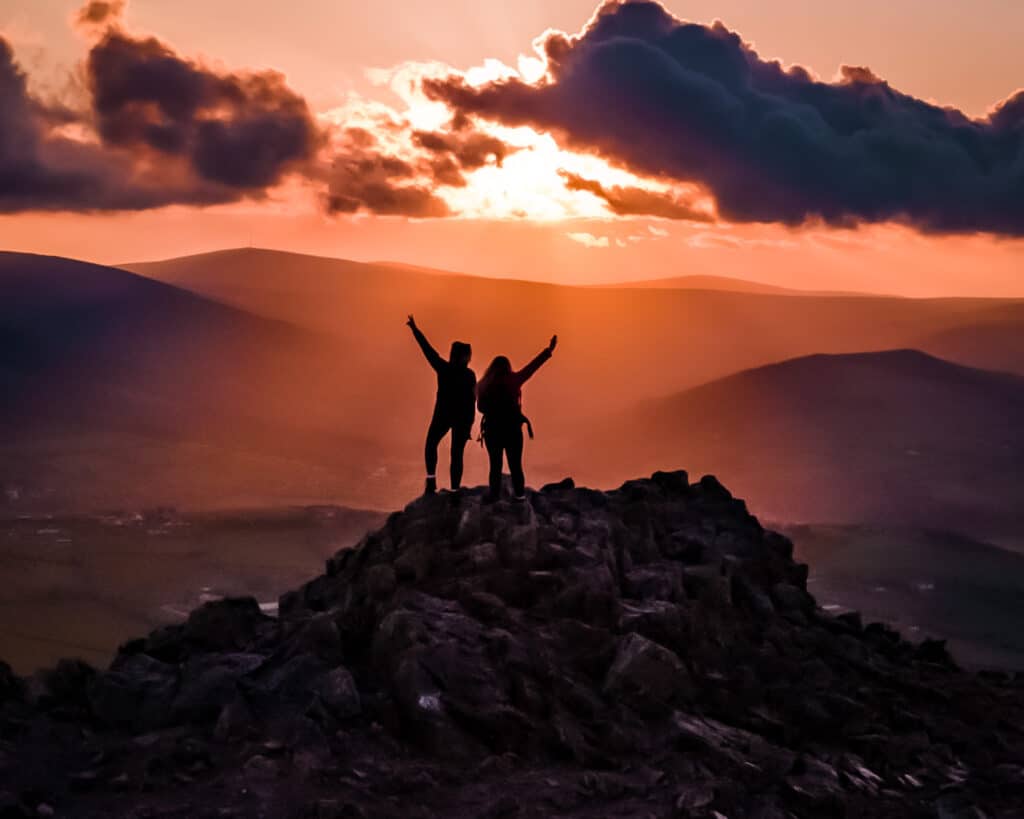 16) The Great Sugar Loaf, County Wicklow
The Great Sugar Loaf is another fantastic half day trip from Dublin for those travelling by car. The Sugar Loaf is an isolated mountain that can be seen all over east Wicklow.
The hike takes 1 hour to climb the shorter route and 2 and half hours to hike the longer trail.
The top of the mountain presents views of the Irish Coast, endless green fields and a wider view of the Wicklow mountain range.
The Sugar Loaf is a 40-minute drive from Dublin city centre (Google maps directions) and there is free parking onsite. At the moment, there are no bus routes operating via the sugar loaf.
Feel Free to Check Out my Sugar Loaf Youtube Video for a closer look into the hike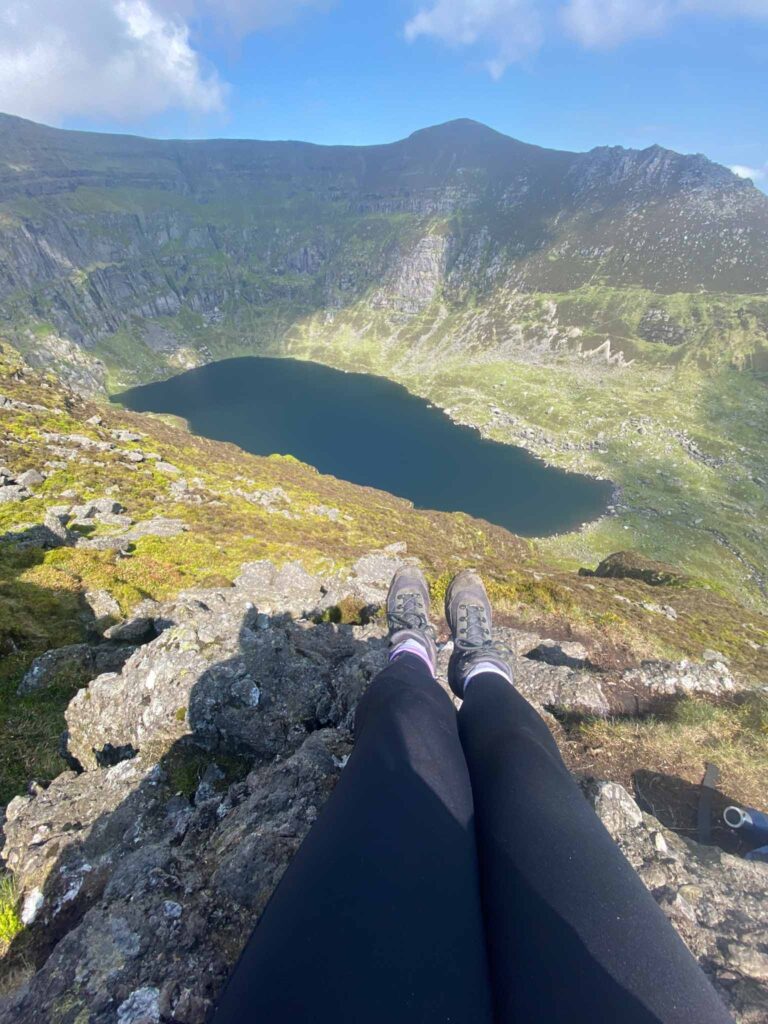 17) Coumshingaun Lake, County Waterford
Another great day trip from Dublin for nature lovers is Coumshingaun Lake in County Waterford. This stunning trail is not for the faith hearted as it is quite steep and narrow in places. However, if you are will to brave it you will be presented with outstanding views of Coumshingaun and the surrounding Comeragh mountains.
Coumshingaun Lake is a 2 hour drive from Dublin and there is a free car park onsite. Just be mindful that the car park has the tendency to fill up early, especially on bright sunny days.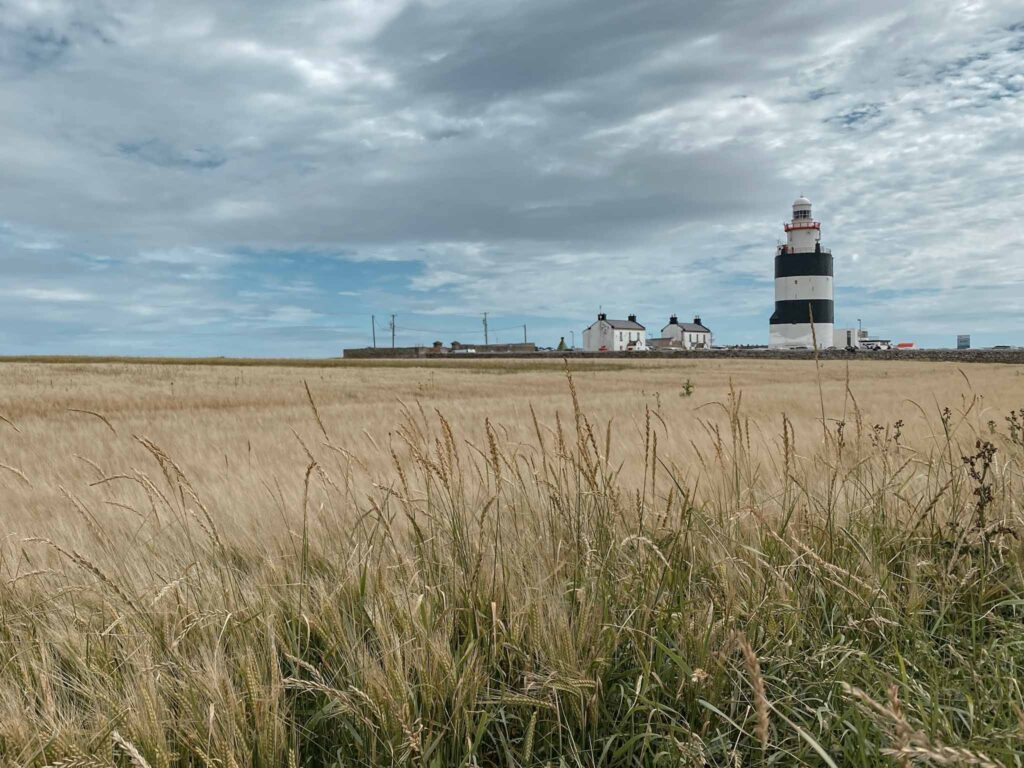 18) Hook Head, Wexford
I love making my way down to Hook Head in County Wexford. Hook Head is a 2 and a half hour drive from Dublin and is home to stunning coastal views and walks.
It is home to Hook Lighthouse the second oldest operating lighthouse in the world. It is also a common place to go sea kayaking.
If you want to extend your Wexford road trip further than Hook Head consider heading towards Dollar Bay and then onto Tintern Abbey.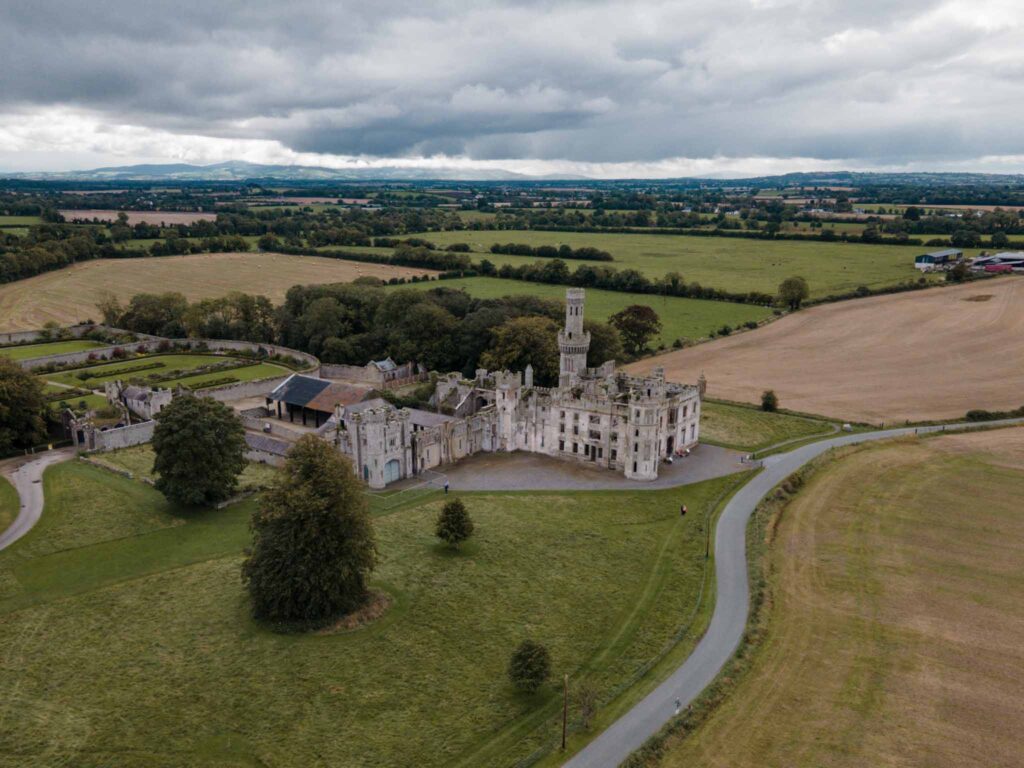 19) Carlow
A Road Trip to County Carlow is not something you typically hear people talking about when discussing Dublin Day Trips. However, with Carlow's close proximity to Dublin, it would be a shame to miss out on some of Ireland's hidden gems.
Here are some of my favourite spots in County Carlow:
Ducketts Grove
Brownshill Dolmen
Delta Sensory Gardens
Carlow Town (for a bite to eat)
Oak Park Forrest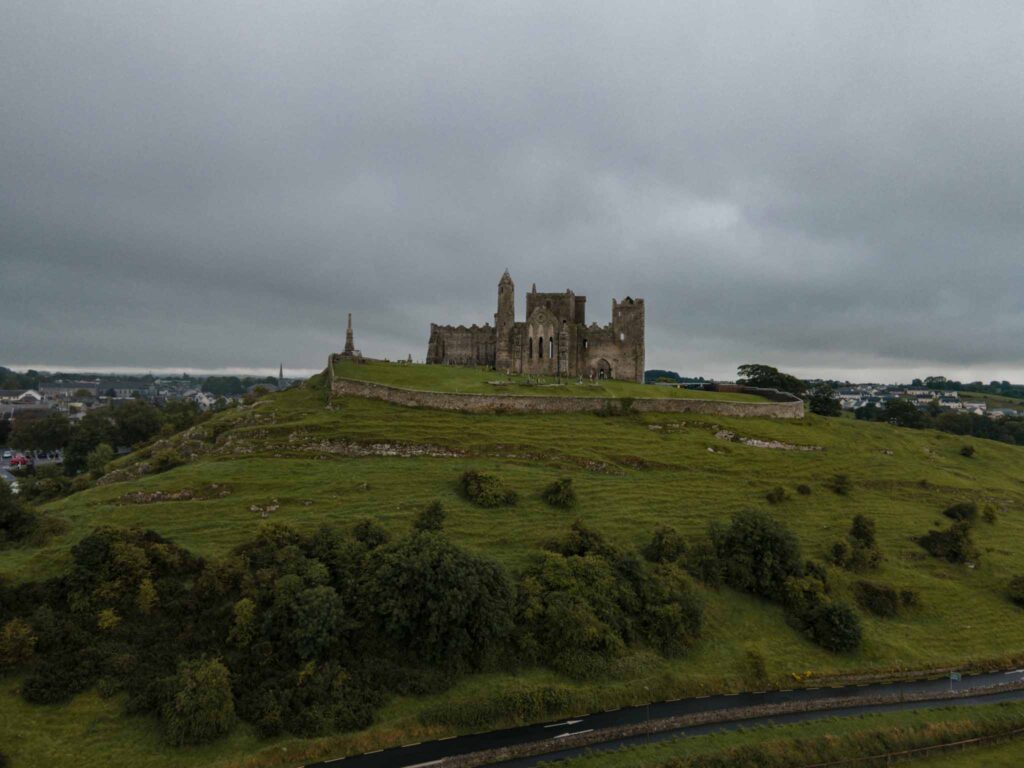 20) Rock of Cashel, Tipperary
I was surprised to find that there are not any day tours from Dublin to the famous Rock of Cashel in County Tipperary. This is the most famous ruin in all of Ireland and home to a rich historic site.
While visiting consider stopping by nearby Hore Abbey. You could even spin by Kilkenny on the way back to Dublin.
Both attractions are located under a 2 hour drive from the City.
21) Brittas Bay Beach, County Wicklow
Ok, so it is not often that Ireland gets sunny weather but when we do, a day at the beach is an absolute must. The only problem is, Dublin beaches tend to be extremely crowded on a hot day. The crowds kinda ruin the relaxed vibe.
However, with that being said. Brittas Bay located just outside Dublin is the perfect place for a summers day. The sandy beach stretches for miles and is the ideal location to top up the tan lines.
The summers paradise is a 1-hour drive from Dublin city centre and costs 4 euros for parking (Google Maps Directions).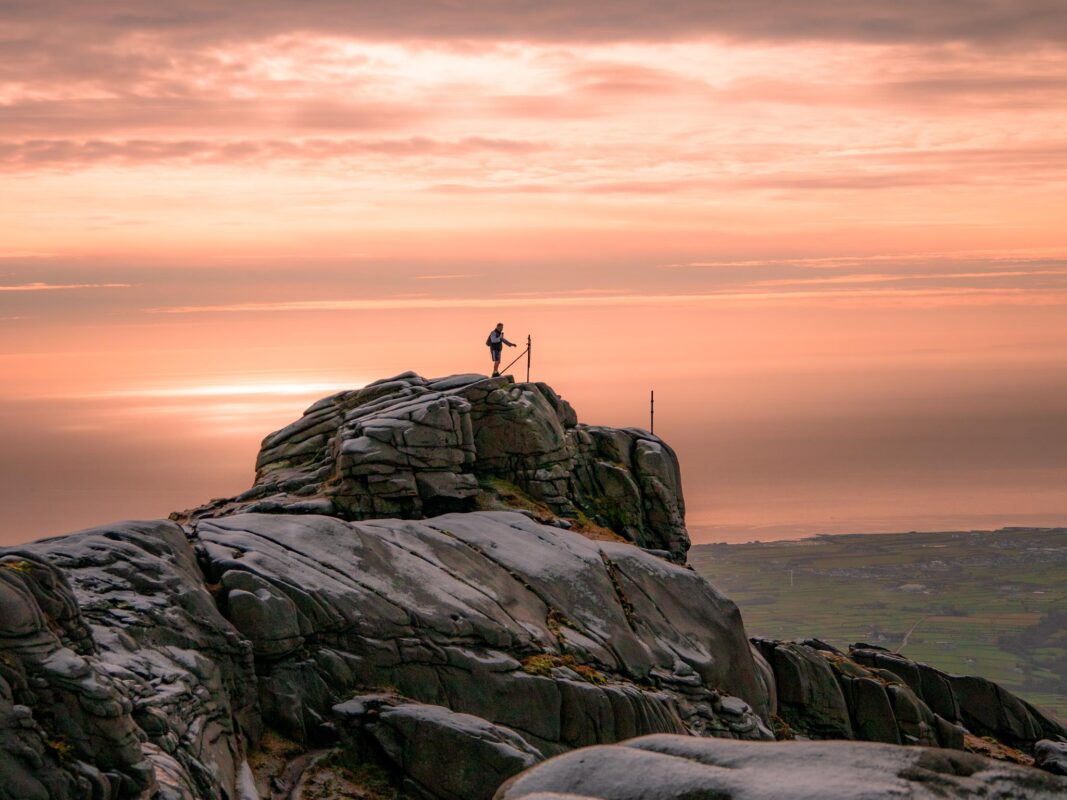 22) The Mourne Mountains, County Down
A hiking trip to the Mourne Mountains is one of my favourite day trips from Dublin. It takes about 1 hour and 45 minutes to reach the Mournes by car meaning you can easily leave the city early in the morning and be hiking in the mountains by mid-morning.
They offer a range of hiking trails suitable for all levels of fitness and experience. From the challenging climb to the summit of Slieve Donard, the highest peak in Northern Ireland, to the more leisurely trails around Tollymore Forest Park, there's something for everyone to enjoy. The stunning scenery, fresh mountain air, and sense of adventure make the Mourne Mountains an unforgettable experience and a great way to recharge your batteries before heading back to the city.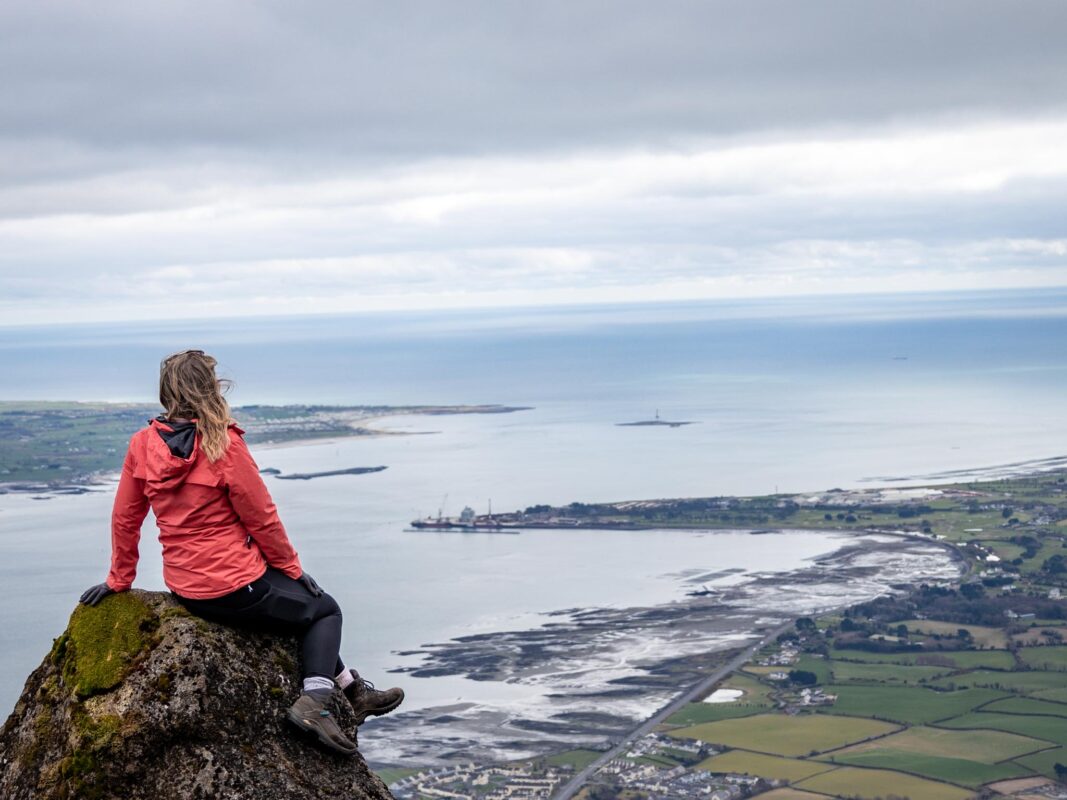 23) Slieve Foye, County Louth
If you're up for an adventure and looking to explore some of Ireland's hidden gems then hiking Slieve Foye is an absolute must! As someone who's always on the lookout for new experiences, I can personally vouch for how amazing this hike is.
The Cooley Mountains are just a 90-minute drive from Dublin, making it a convenient day trip. The hike itself is moderate to difficult, with a number of route options, spanning from 40 minutes (lower loop) to 3 hours but the stunning views from the summit are totally worth it.
From the top, you can see miles of rolling hills, the Irish Sea, and even parts of Northern Ireland and Wales on a clear day. Trust me, this is an adventure you won't want to miss out on!
Disclaimer: Please note that this post contains affiliate links which means I may make a small communion at no extra cost to you.