Ireland is home to the longest coastal route in the world, the Wild Atlantic Way. For such a small country that is a pretty big record to hold. It's the reason why millions fly to Ireland each year, all wanting to catch a glimpse of the roaring coastlines, breathtaking cliffs and ancient historic sites. Today, we are going to have a look at the very last section of Ireland's Wild Atlantic Coast. The perfect starting point to an Ireland Itinerary. So, without further ado, here are the top things to do in West Cork.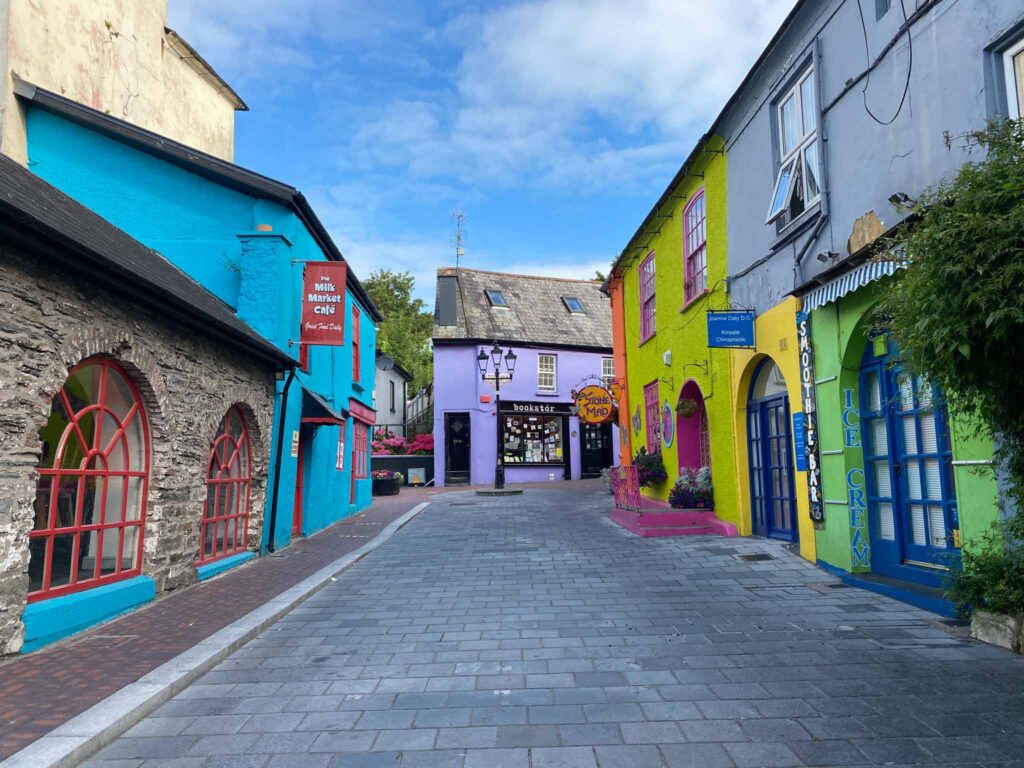 1. Kinsale
Next on the list for West Cork things to do in none other than Kinsale. This beautiful coastal town is the perfect place to spend the evening admiring the bright colourful buildings or going for a stroll along the harbour.
Kinsale is known for its friendly locals, delicious food and nearby activities. It is also a great place to spend the night before setting off on a Wild Atlantic Road Trip.
2. Charles Fort
If you are looking for places to visit in West Cork then Charles Fort is an amazing place to add to your list. The fort was built in the late 17th century and is shaped like a star.
The ruin also hosts some fantastic views of Kinsale Harbour and surrounding areas. Admission costs 5 euro's per person and in my opinion is definitely worth the visit.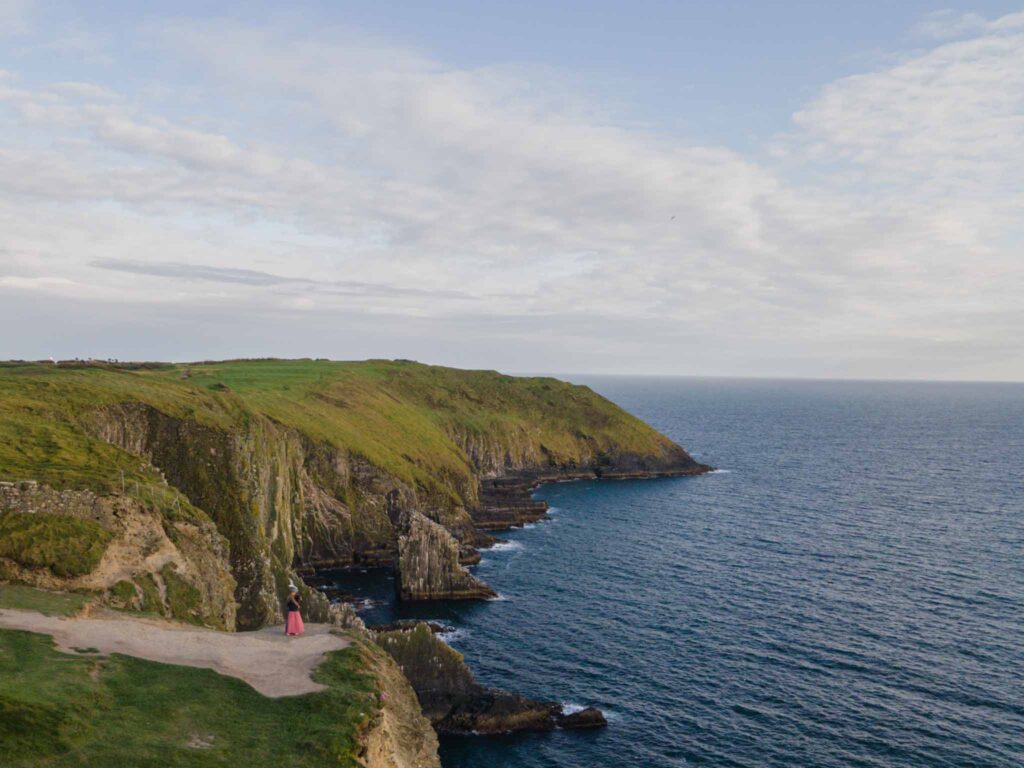 3. Old Head of Kinsale
Next on our list of West Cork Attractions is the Old Head of Kinsale. A beautiful viewpoint located a short 20-minute drive from Kinsale town.
Access to the Old Head is restricted due to it being the site of a private golf course. However, it is possible to park at the Old Head Cark Park and walk to the viewing point which hosts phenomenal views of the Wild Atlantic, Impressive sea stacks and there is usually thousands of seagulls flying about.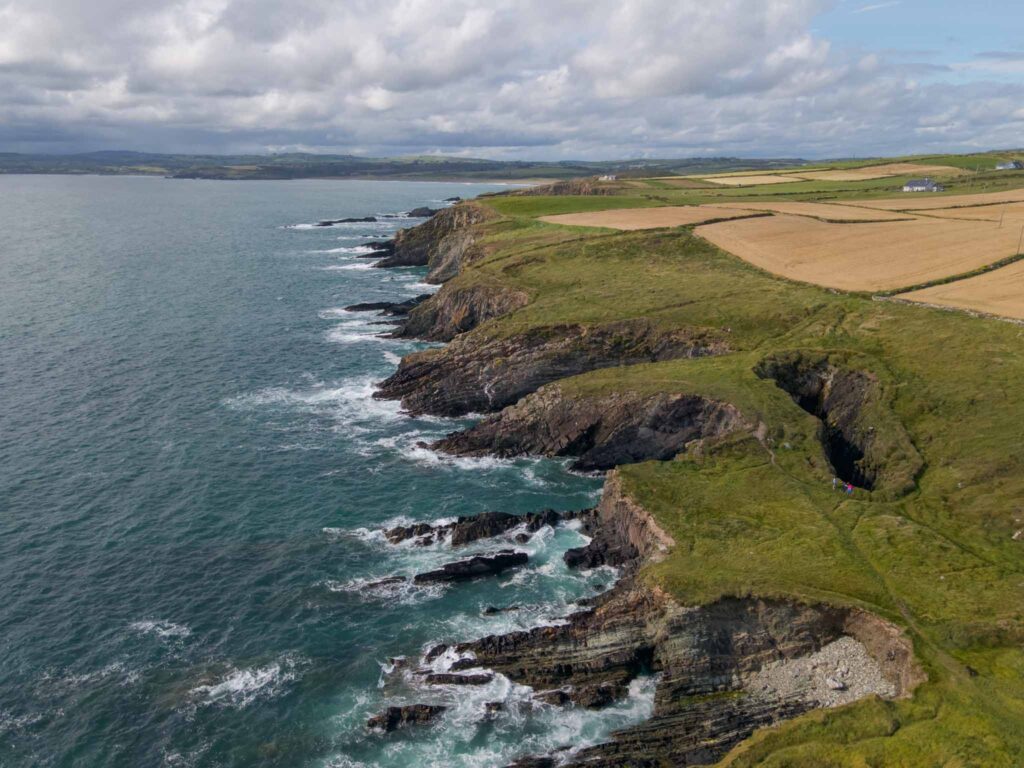 4. Galley Head
Galley Head is one of my favourite places to visit in West Cork. There is something special about this area. It's said to be one of Ireland's hidden gems.
Once again access to the head is limited however it is possible to enjoy a nice coastal stroll along the cliff edge.
We did come across a huge blowhole while walking so make sure to watch out as you explore the beautiful scenery.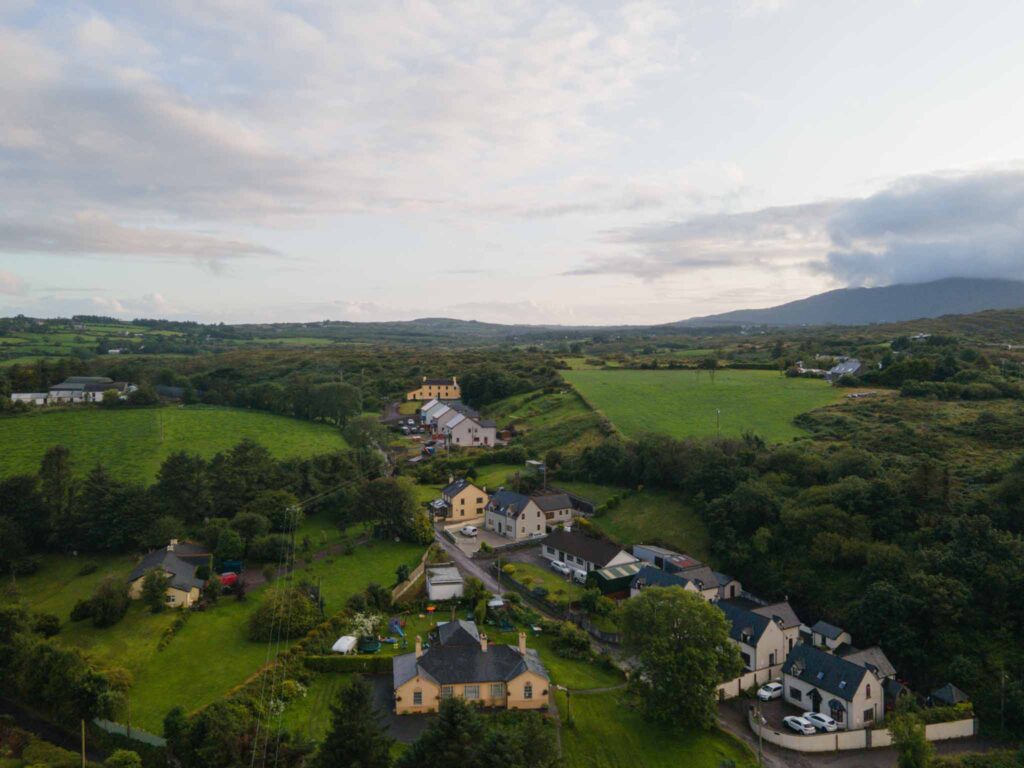 5. Ballydehob
Ballydehob is a small town not too far from Lough Hyne. Is a lovely place to base yourself while on a road trip around the Wild Atlantic Way in Cork.
Although the town is small there are a good few places to eat out, enjoy some live music and relax for the evening.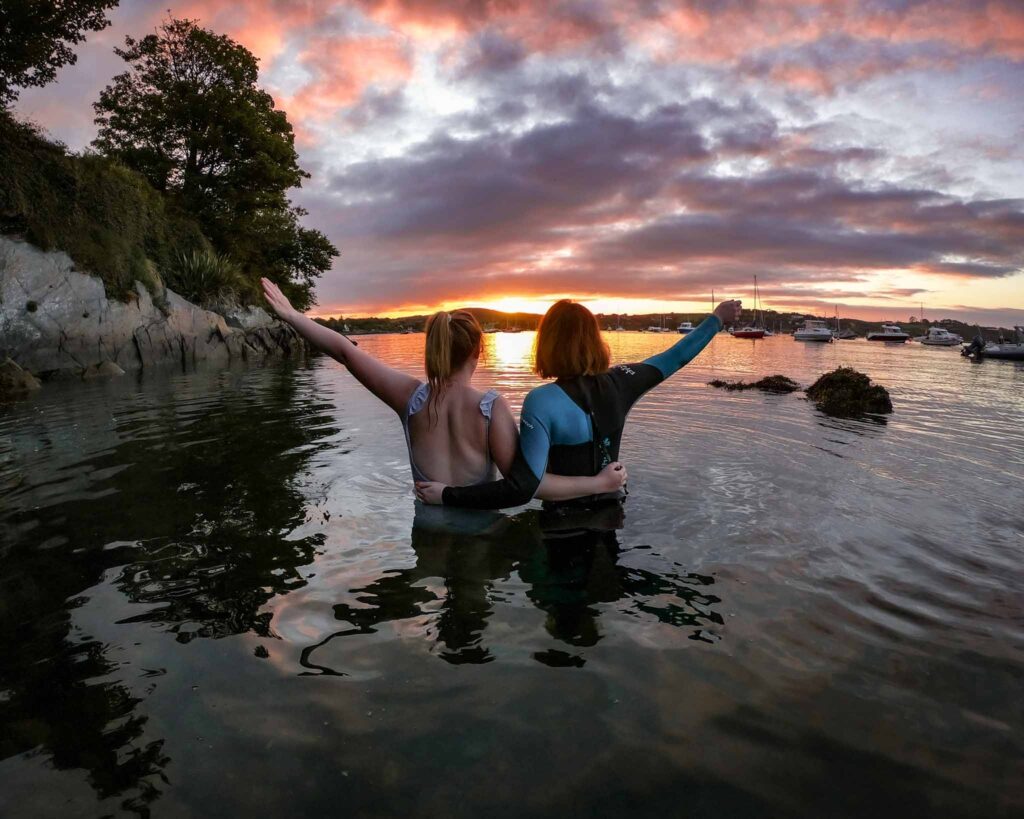 6. Schull
Schull is a small coastal town, the perfect place to stop off for the night when driving along the Wild Atlantic Way. Here, you will find nice places to eat, swim and enjoy the relaxing vibe.
If you decide to stay overnight in Schull I recommend waking up bright and early to catch the sunrise at the harbour. It's a truly remarkable spot. You may even be brave enough to test the Irish waters 😉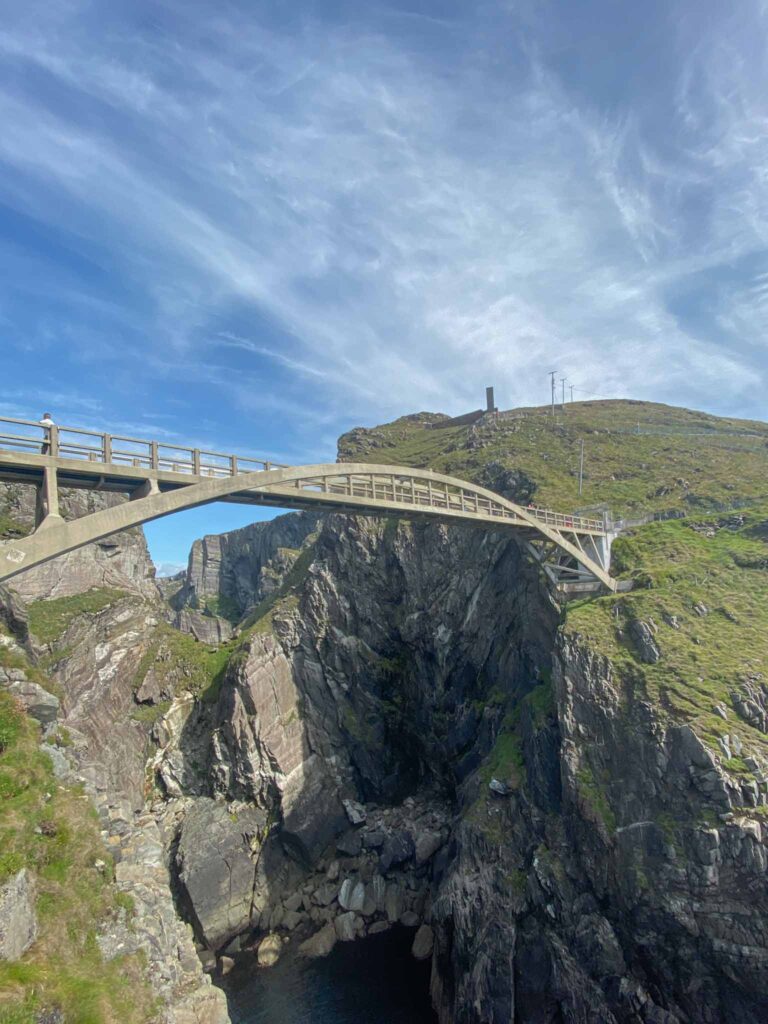 7. Mizen Head
If you can only stop in one place along the Wild Atlantic Way Cork, let it be Mizen Head.
This is one of the most iconic places in West Cork and all for a good reason. Mizen Head is known for being one of the most dramatic cliffs in Ireland, with its iconic bridge and crashing waves beneath. The head is connected to the mainland by a giant cliff chasm meaning a bridge is needed to access the main area.
The walk is home to many wonderful viewpoints, and people typically spend 1 to 2 hours exploring. It costs €7.50 to enter and in my opinion, it is worth every penny.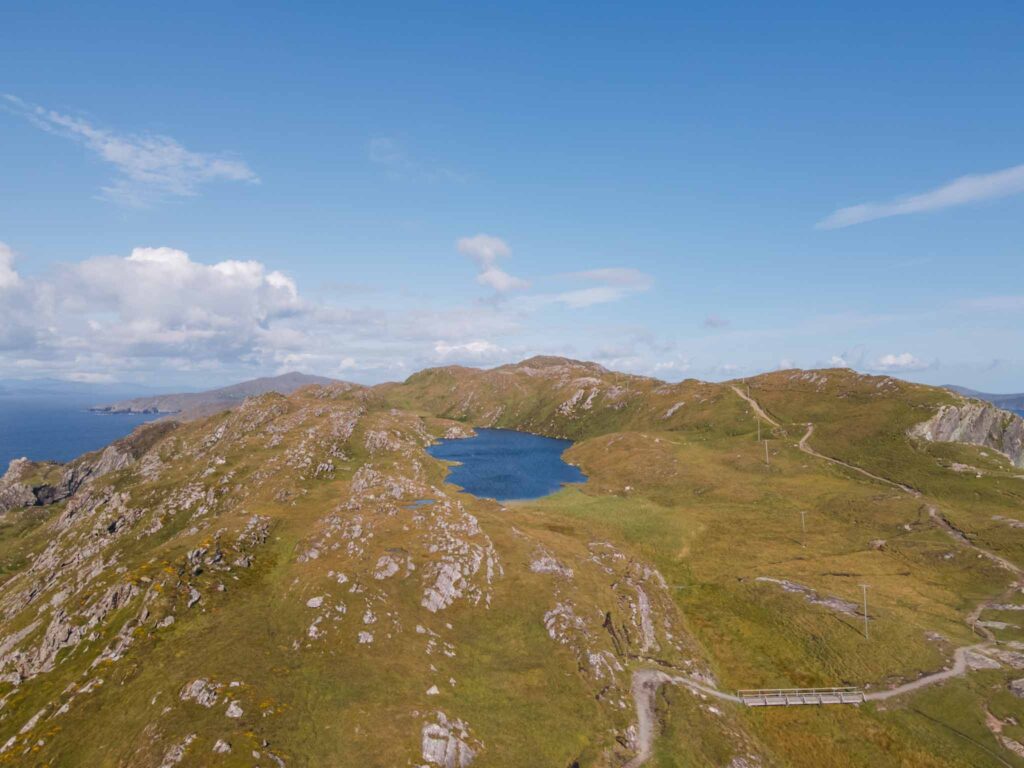 8. Sheeps Head
Another must on any West Cork Road Trip is none other than Sheeps Head. This is one of my favourite hikes in the Country. It is located on the southernmost stretch of the Wild Atlantic Way and offers insanely beautiful views throughout the walk.
There are many walks to choose from, I recommend the shorter lighthouse loop (blue loop). The walk begins at the Cupán Tae Car Park and lasts for 4.3km which takes about 1 and a half hours to complete.
Along the walk, you will come across soaring cliffs, a LOT of sheep (lives up to its name) and an awe-inspiring backdrop.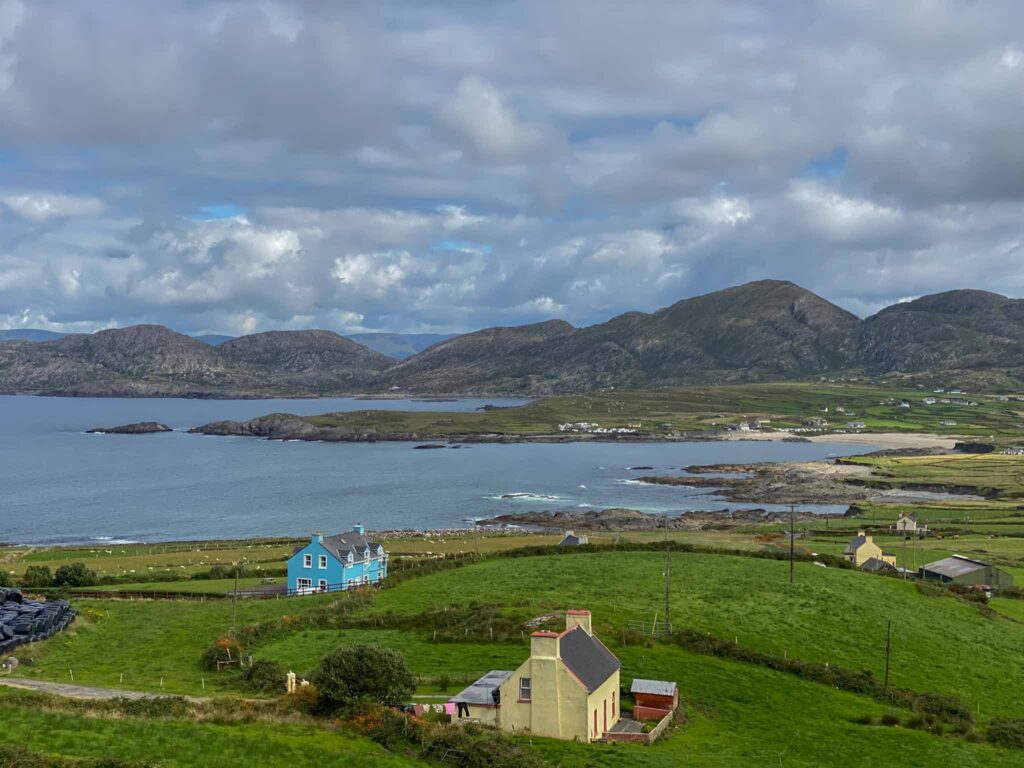 9. Allihies
Another beautiful town worth stopping off in West Cork is Allihies. It is the final village at the end of the Beara Peninsula and is surrounded by the rocky cork countryside and the Wild Atlantic Coast.
Allihies, the last village at the end of the beautiful Beara peninsula, sits between an impressive rocky mountain range and the rugged Atlantic coast.
The drive to Allihies is remarkably beautiful. There are many opportunities to stop off along the way. Here, you will find white sand beaches and beautiful scenery in every corner.
10. The Ring of Beara
No West Cork road trip is complete without driving along the Ring of Beara. Odds are if you are following along with this Top Things to do in West Cork guide you already have plans to drive a section of the Ring of Beara.
The loop begins in a small town called Glengarriff and continues down the Beara Peninsula as far as Lambs Head. It is possible to keep on driving clockwise until you once again reach Glengarriff, of course stopping off at all the beautiful spots along the way. However, I like to cut the loop a little short by ending in Kenmare in County Kerry.
Some points of interest along the route are:
Glengarriff Woods
Healy Pass
Castletown-Bearhaven (for food)
Dursey Island
Allihies Town/Beach
Kenmare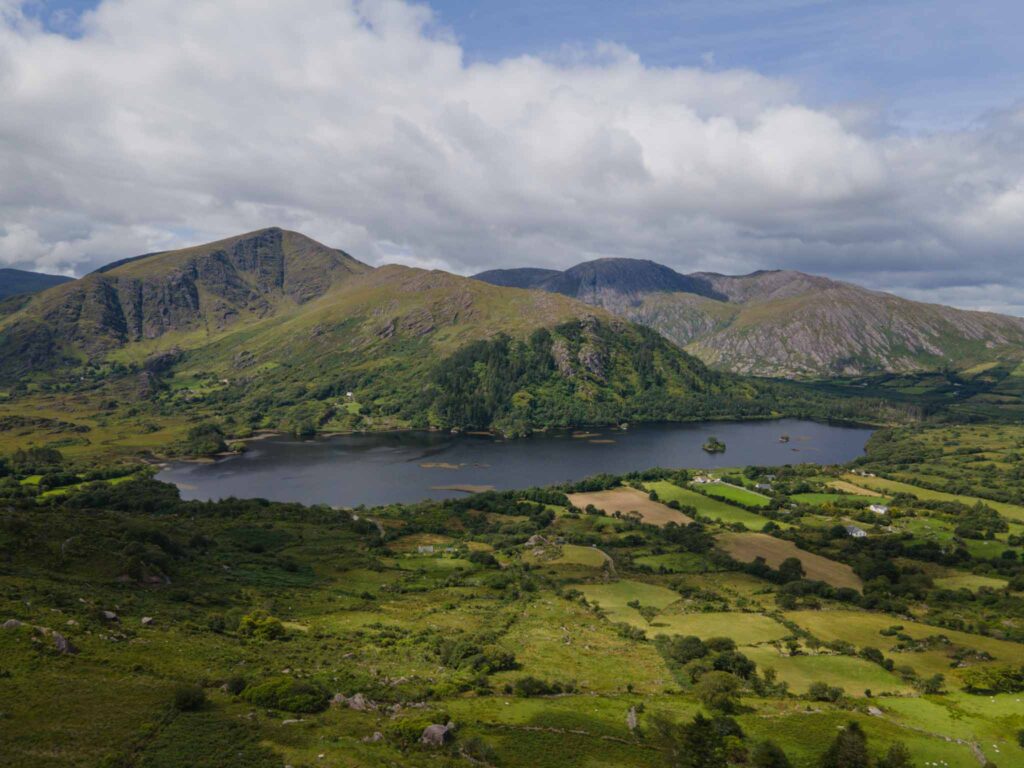 11. Healy Pass
Healy Pass is one of the most dramatic driving routes in Ireland. A road tucked between a valley which features some of the worlds most jaw-dropping views.
Driving Healey's pass is not for the faith hearted as it is quite narrow and can take up to 30 minutes to get from one end to the other. However, if you can brave the windy narrow road then I'd highly recommend checking the pass out as the scenery is like no other.
West Cork Things to do Video Guide
If you want to get a better idea of how the places up above look feel free to check out my West Cork video guide. In this video, we explore the beautiful surroundings of…
1) Rock of Cashel
2) Blarney Castle & Gardens
3) Cobh
4) Kinsale
5) Charles Fort
6) Old Head of Kinsale
7) Galley Head
8) Schull
9) Mizen Head
10) Sheep's Head
11) Healy Pass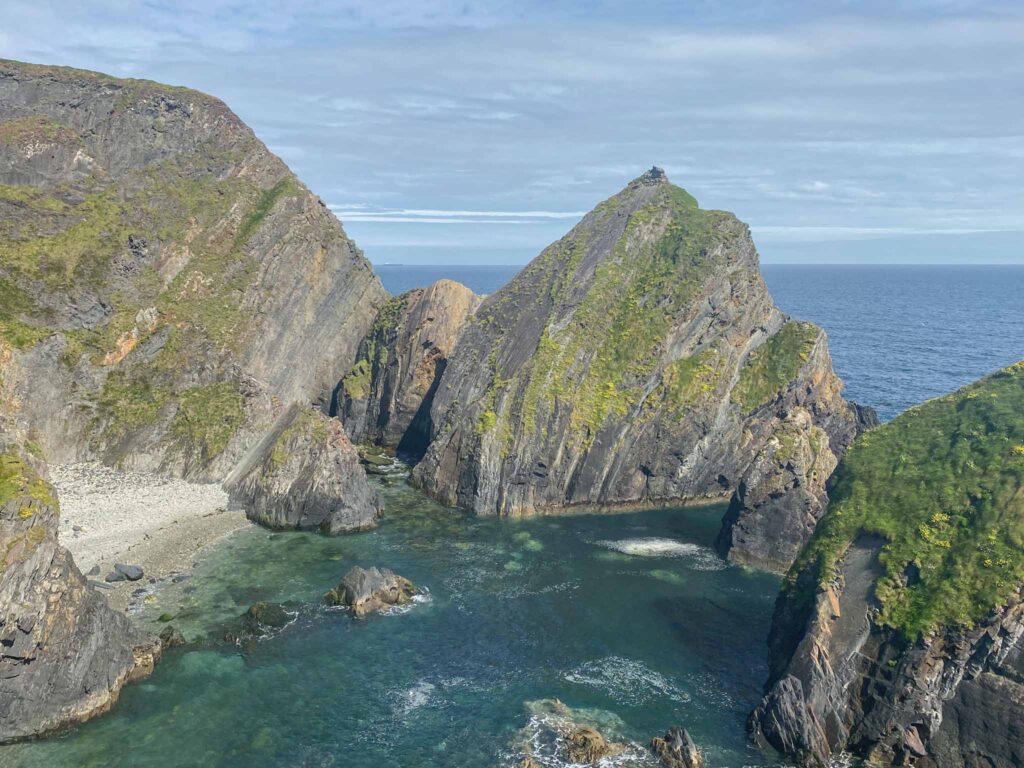 12. Nohoval Cove
One of my favourite places in all of West Cork has to be Nohoval Cove. This stunning coastal passage is like something out of a movie scene, especially when you first set eyes on it. It's hard to believe that somewhere so picture-perfect can exist at the end of a small country Irish road.
Visiting Nohoval Cove can be a little bit tricky as the road down to it is rather small and does not have much room for two cars to pass by. If there is no space to park your car please do not leave it blocking the road access. It is best to visit early as only 4-5 cars can park at a time.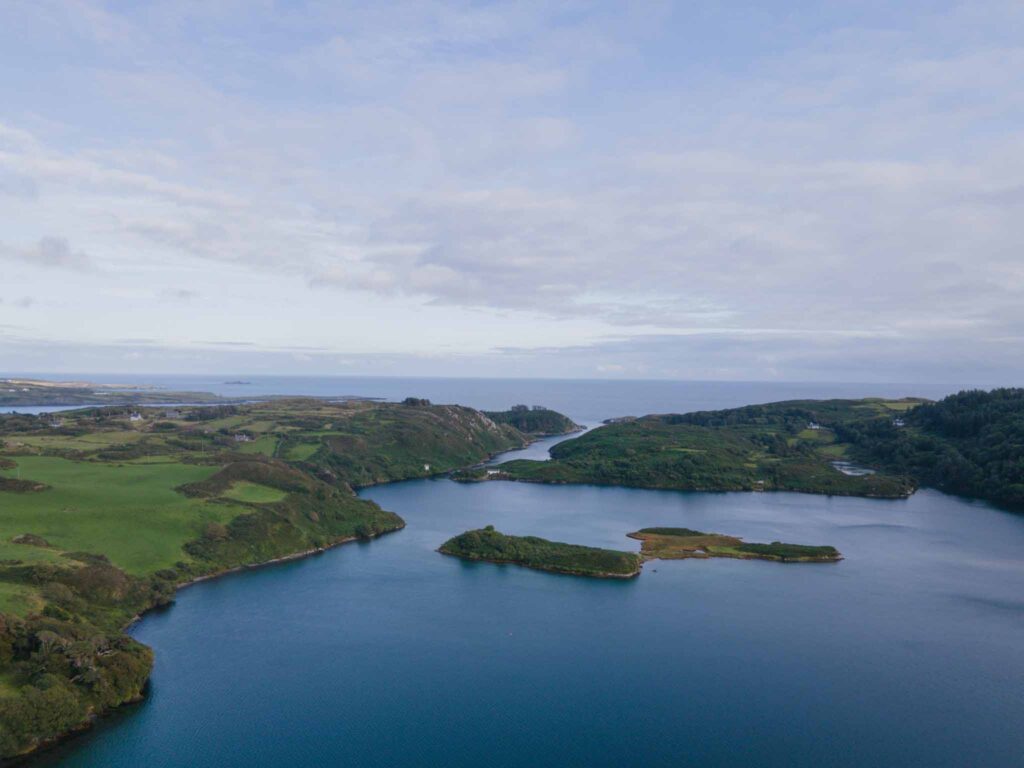 13. Lough Hyne
Lough Hyne is the ultimate place to visit in West Cork if you are looking for a little bit of paradise. It is the only inland saltwater lake in Europe and is home to many sea life that you would not expect to find in a lake.
The saltwater enters the lake via tidal currents located in Barloge Creek. These allow the Wild Atlantic to flow into the lake twice a day.
It is common for those visiting Lough Hyne to take part in water activities, go hiking or sit back and relax. The views are really beautiful here.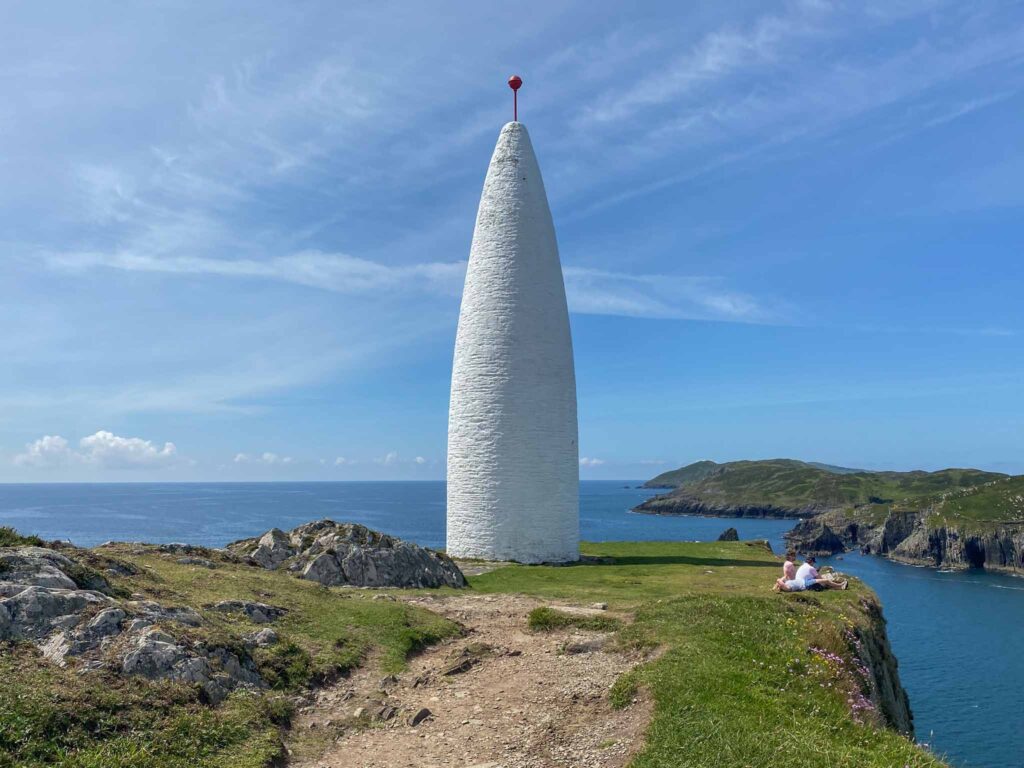 14. Baltimore Beacon
Baltimore Beacon is a must on a West Cork road trip. It is a patch of coastal paradise hidden away in a little town called Baltimore.
Parking at the start of the Beacon Walk can be tricky to find, however, it is possible to walk from the town which should take you no longer than 20 minutes.
The trail itself isn't overly difficult however it can get mucky, rocky and slippy at times. Therefore, it is best to wear a good pair of shoes and watch your footing. It only takes about 10 minutes to reach the Beacon from the start of the trail. You are then presented with insanely beautiful views of the coast and Skerkin Island.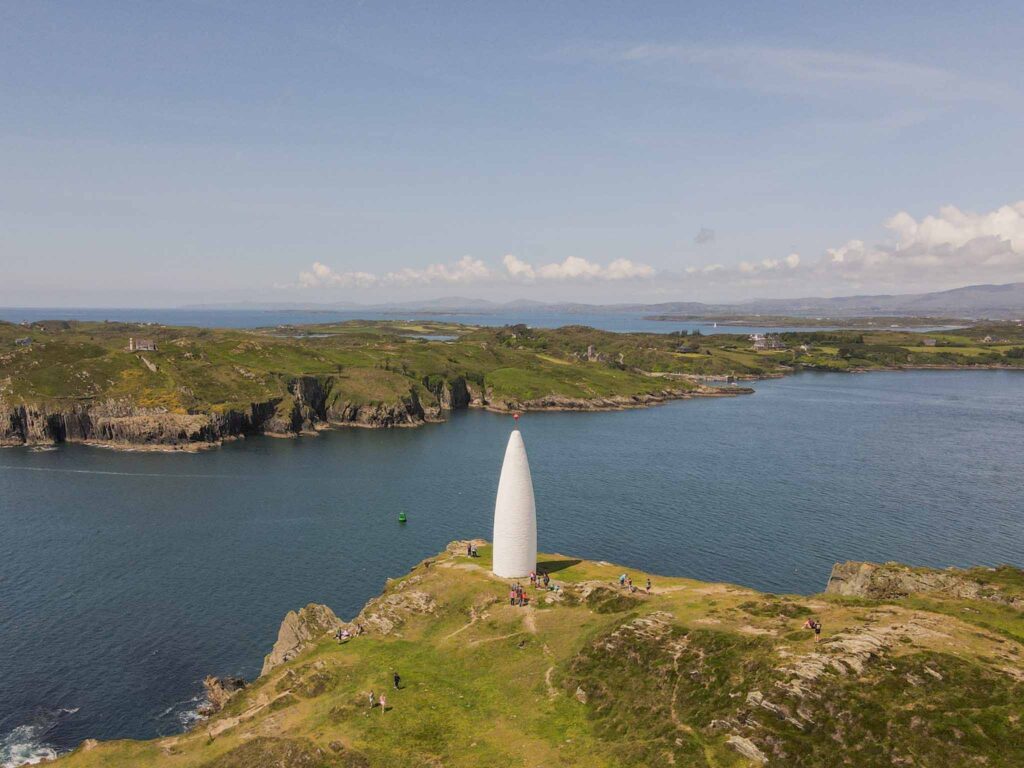 15. Sherkin Island
Sherkin Island prides itself on being the most accessible island off the coast of Ireland. It only takes 10 minutes to reach the Island by ferry which leaves from Baltimore. The ferry schedule is quite regular and the island is home to only 100 people. It is the perfect addition to any Ireland Itinerary.
The island is a popular location for day-trippers who enjoy cycling, geocaching and walking their way around the island.
The island's landscape is truly beautiful and it is home to white sandy beaches.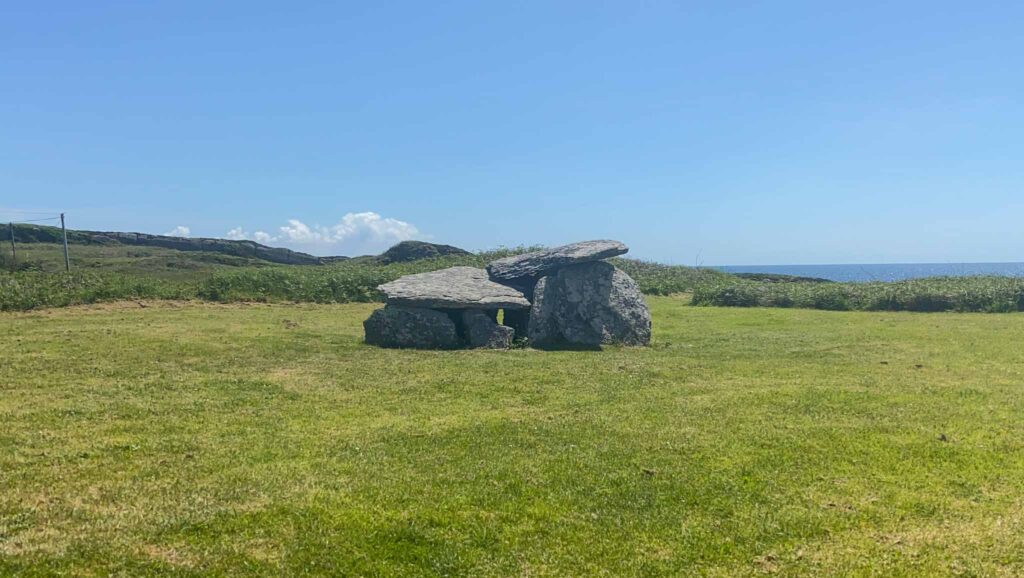 16. Altar Wedge Tomb
If you are looking for West Cork Hidden Gems them making a stop at Altar Wedge Tomb is a must! Now, while the Wedge Tomb is rather known, most people stop off, take a picture and then jump back in the car again.
The coastline at this point of the Wild Atlantic Way is beautiful, particularly on a sunny day. It's a nice place to stop and stretch the legs after a long drive between stops.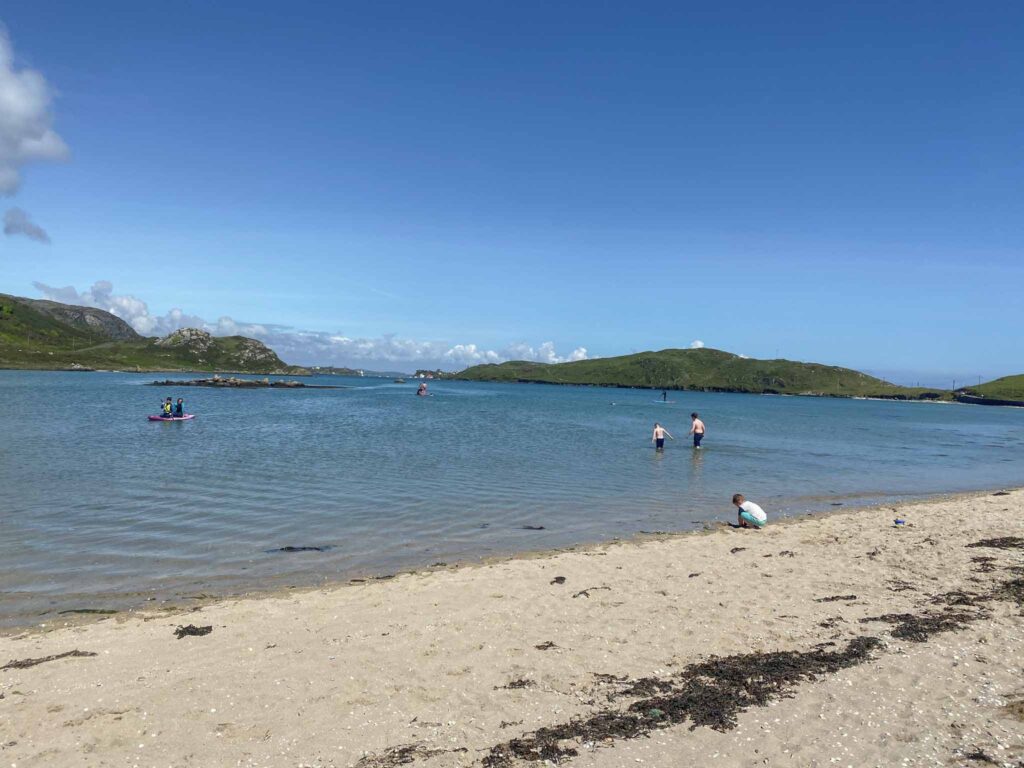 17. Barley Cove
Ireland has some amazing beaches and Barley Cove is one of them. It is home to crystal clear waters, mountainous views and white sand.
Don't be fooled by the beaches beautiful appearance the water is absolutely FREEEEEZZZZIIIINNNGGG! However, it is possible to swim there so if you a willing to brave the cold it's a good place to go for a dip.
If you are looking for some inspiration on what to pack for your trip to Ireland be sure to check out my packing guide.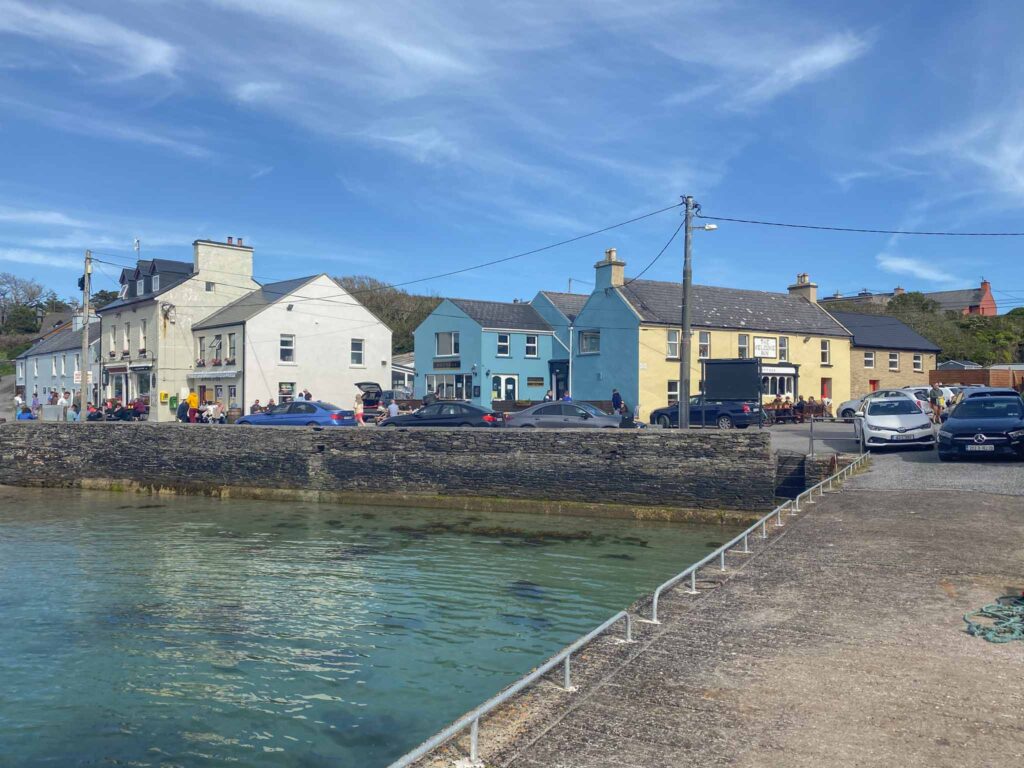 18. Crookhaven
Crookhaven is a coastal town a short drive from Barley Cove, located on the Mizen Peninsula. It is a great place to stop for a quick bite to eat or maybe even an ice cream.
The town itself is quite small but it does offer some beautiful views of the surrounding area's and is always packed with people drinking and having fun in the summer months.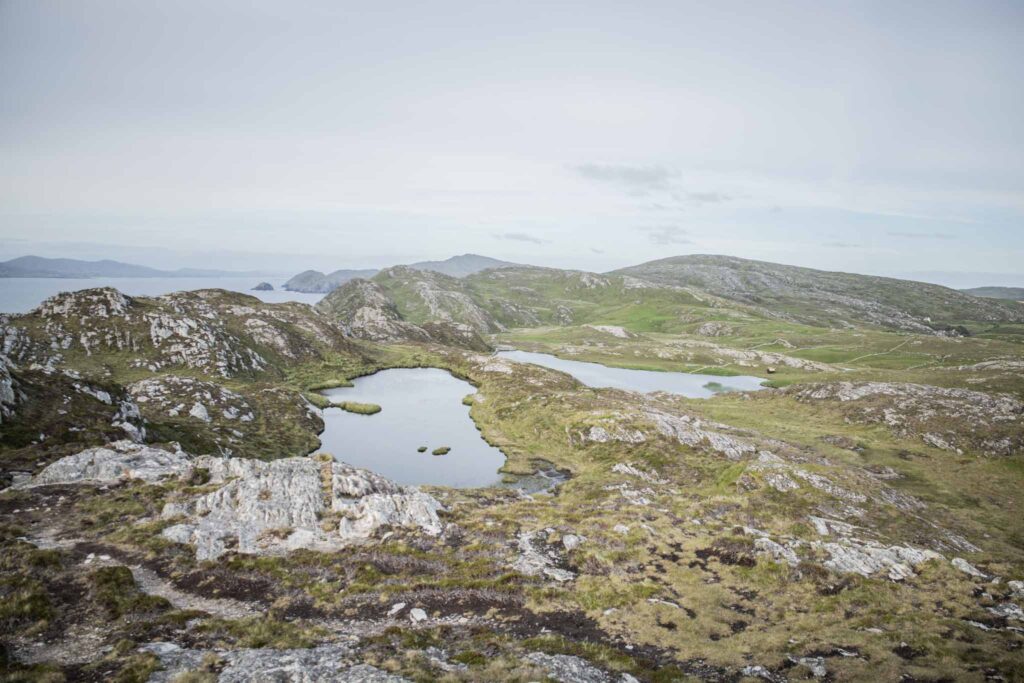 19. Three Castle Head
If you are not a fan of popular places but still want to check out the beauty of the Mizen Peninsula. Then consider making your way to Three Castle Head, one of the lesser-known places in West Cork.
Three Castle head is located just a 20-minute drive from Mizen Head but it is far less busy. There is free parking on site however a 3 euro donation is greatly appreciated to help with the upkeep of the car park.
A fair bit of hiking is needed to truly enjoy this spot so make sure you come prepared. It takes about half an hour to reach the castle, where you will be presented with beautiful views of the coast.
From this point, you can choose to turn back to the car or hike a further 40/50 minutes to the heads peak (something I really recommend). Once you reach the top you will be able to see all of Corks coast including, Mizen Head, Lambs Head and Sheeps Head.
20. Bantry
Bantry is a lively town located in between the Beara and Sheepshead Peninsulas. It is the perfect place to base yourself while on a Wild Atlantic Way West Cork road Trip. Particularly, if you are looking for somewhere to go for a few drinks and enjoy the Irish atmosphere.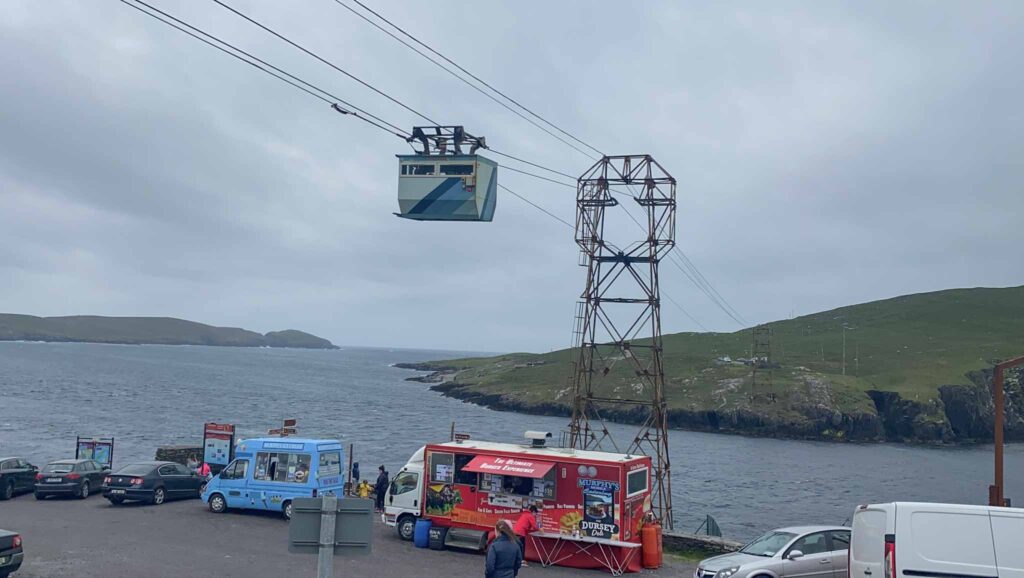 21. Dursey Island Cable Car
Dursey Island Cable Car is one of the best West Cork Activities. Get ready to soar above the Wild Atlantic in Ireland's only Cable Car. This is an experience you do not want to miss.
Dursey Island is one of Ireland's inhabitant islands but it does not have any shops, restaurants or takeaways. Therefore, it is important to remember to bring snacks and water when visiting the island.
There is a bus service that transports visitors around the island but I personally prefer to hike. The looped walk will take about 4/5 hours to complete. Alternatively, you can hike straight up from the cable car for a 360 view of the island. This route takes about 30 minutes.
Cable car tickets cost 10 euros for a return and can not be booked in advance. At times the cable car can get busy, therefore it is a good idea to arrive early to avoid disappointment.
West Cork Road Trip: Top Things to do and See Video Guide
There is so much to do and see in West Cork that I couldn't resist going back a second time. If you want to get a better feel for what each place mentioned above looks like feel free to check my second video guide.
22. Glengarriff/Garnish Island
Many people stop off in the town of Glengarriff to enjoy the surrounding scenery, eat some delicious food or go for a quick dip.
Glengarriff is also a popular destination for those wanting to visit Garnish Island. The island is basically one big beautiful garden full of colour, amazing smells and design.
The island is located in Glengarriff harbour, boats operate every 30 minutes and cost €14 for a return ticket.
23. Gougane Barra
Gougane Barra is the site of a 19th-century monastery in County Cork. It is a beautiful place to walk around and enjoy the incredibly scenic views. Often times on a still day the ruins can be seen reflecting upon the waterfront.
The mountains that surround the lake add to the peace and tranquillity of the area.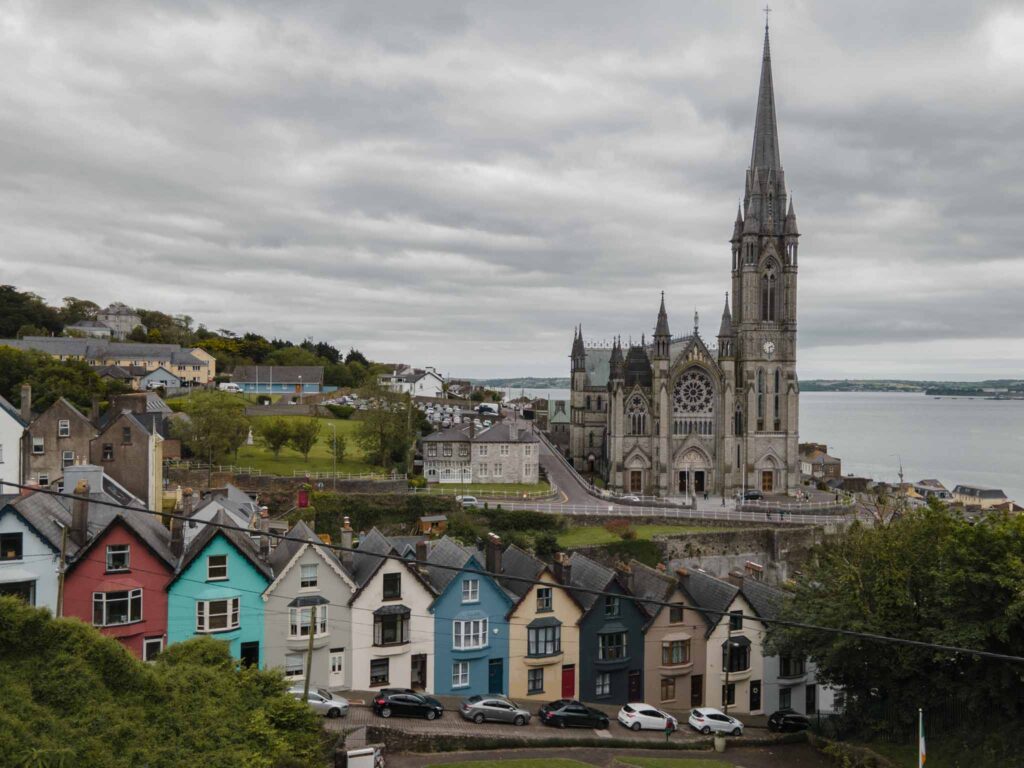 24. Cobh
While Cobh is not technically in West Cork, I couldn't resist giving it a spot on the list. The charming towns close proximity to Cork City makes it an easy spot to add to any West Cork Itinerary.
Cobh is famously known for being the final port call for the Titanic.
The town also has a strange similarity to that of the major US city San Francisco. Cobh is home to the deck of cards houses that resemble the painted ladies, Spike Island which has a similar past to Alcatraz and the town is rather hilly in places ?
Cobh is a lovely place to spend the day soaking up Irish History, eating in the many beautiful cafes/restaurants or venturing out to explore spike island. No matter what you decide to do you will love exploring Cobh.
Cobh is also a fantastic option for those looking to visit Cork on a Day Trip from Dublin.
25. Spike Island
Spike Island is somewhere you don't want to miss, with over 1300 years of Irish History. Throughout the year's Spike Island served time as a Monastery, a Fortress & a prison. In fact, it used to be the worlds largest prison.
The star-shaped fort is located off the coast of Cobh. And is often nicknamed 'Ireland's Alcatraz'. Tours of Spike Island cost 22 euros and depart daily.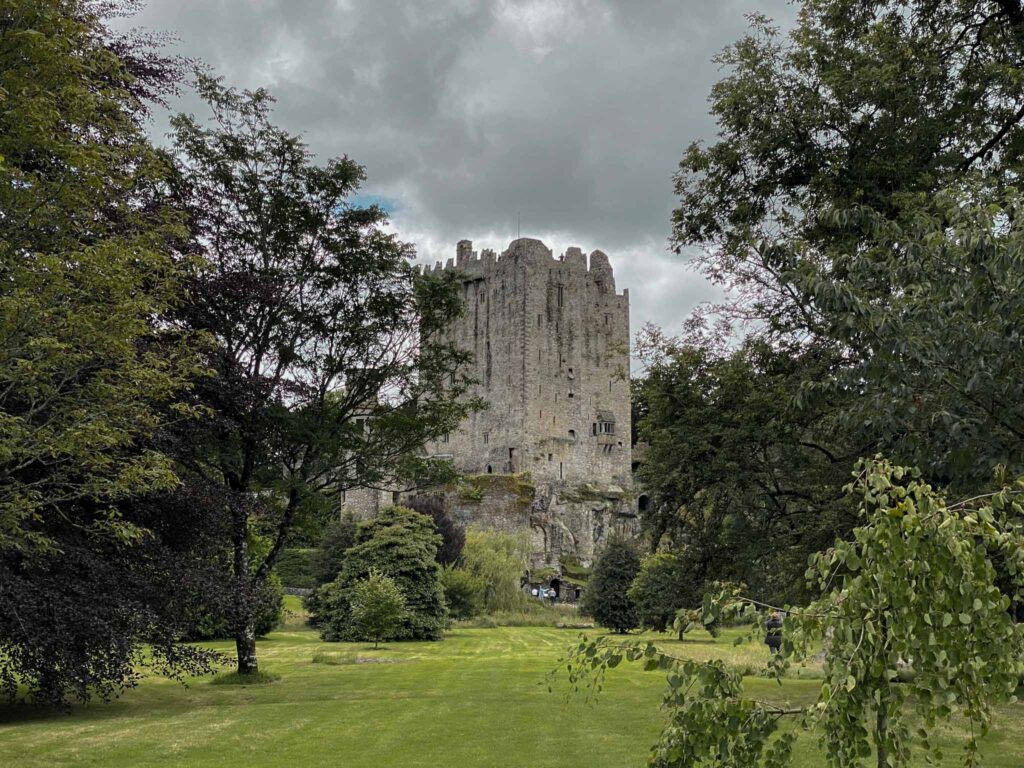 26. Blarney Castle
Would you like to receive the gift of the gab? Then you need to make your way to Blarney Castle and Gardens. There lies the Blarney Stone and it is said that those who kiss it will forever have the skills of flattery.
Entry into the gardens costs 16 euros, allowing you to spend as long as you like exploring the grounds.
Blarney Castle is one of the places in Ireland visible via a virtual tour. Perfect for pre trip planning
Thanks for reading <3
Disclaimer: Please note that some blog posts on IrelandTravelPlanning contain affiliate links, meaning I may make a commission on purchases through those links. This is of course at no extra cost to you. Live Adventure Travel is a participant in the Amazon Services LLC Associates Program, an affiliate advertising program designed to provide a means for sites to earn advertising fees by advertising and linking to Amazon.