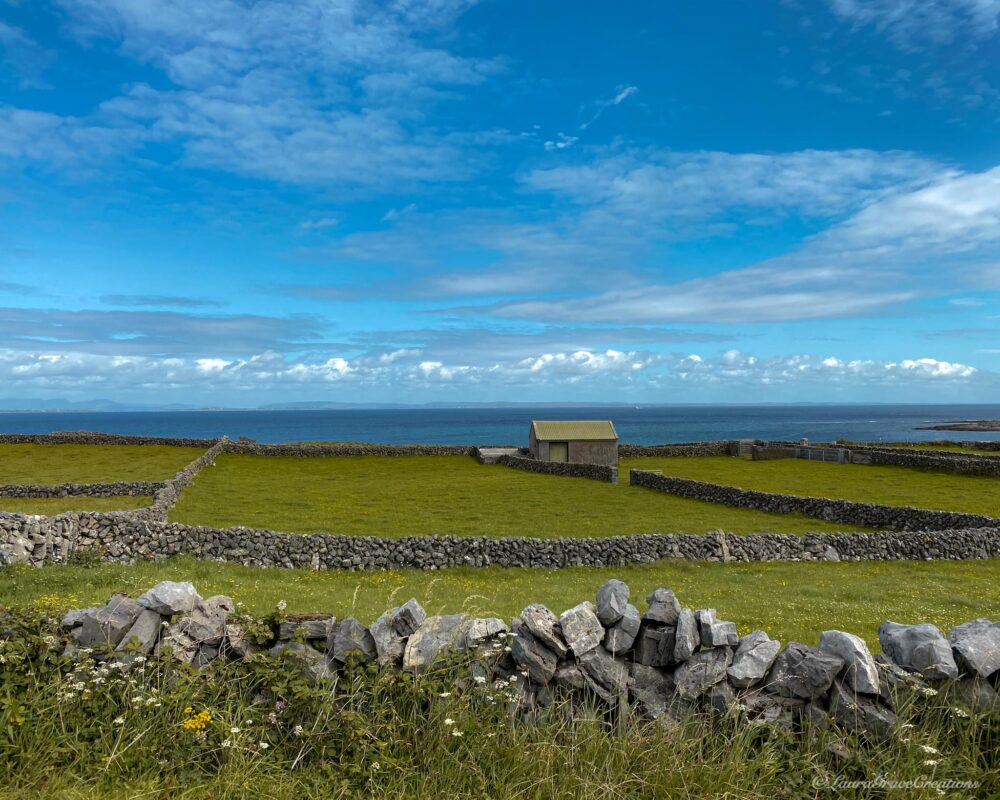 The Aran Islands are starting to climb up high on everyone's Ireland bucket list and all for a good reason. They are rich in culture, home to crystal clear waters and are the perfect destination to add to your Ireland Itinerary if you have a strong sense of adventure. Today we are going to dive a little Off Ireland's Beaten Path and discuss the top things to do in Inis Mór, the largest of the 3 Aran Islands. But before we dive in, I want to discuss some very important questions.
Where is Inis Mór?
Inis Mór, much like the other 2 Aran Islands is located on the West Coast of Ireland in Galway Bay. It is a beautiful destination to visit for those travelling along Ireland's Wild Atlantic Way. The island is 12km long and 3km wide, making it the perfect spot to explore.
Related Post: 7 Days in Ireland
How do I get to Inis Mór?
There are two ways to get to Inis Mór, by boat or by plane.
Most of those visit Inis Mór by ferry, which leaves from either Doolin in County Clare or Rossaveal in Galway. A new boat route has recently been set up from Galway City too. Most ferry routes offer a beautiful view of the famous Cliffs of Moher off in the distance.
The journey to Inis Mór via plane takes just 10 minutes and leaves from Connemara Airport. The fare for an Adult return is €55. More information on the flight can be found here.
When is the best time of year to visit Inis Mór?
Inis Mór can get rather busy in July and August as these are typically the hottest months of the year. It is also common for families to visit at this time as the Children are on their school holidays.
It is typical to have a high level of sunshine or dry days in June or September. Therefore, I'd advise visiting throughout these months as the crowds are far less.
How do I get around Inis Mór?
The most common way to make your way around the island is by renting a bike. This will cost €15 for the day. Please be mindful that most bike companies only take cash. The local shop has an ATM machine however, the queues can get busy for it in the summer months. Therefore, I'd advise taking out money the day before you visit the island.
It is also possible to explore the island on foot. However, it may not be possible to see all of Inis Mór attractions in just one day if you do decide to walk.
Another common way to get around the island is by renting a pony and a trap.
Related Post: Ireland Tips for First Time Visitors
Is one day on Inis Mór enough time?
If you are looking to explore the Island relaxed way of life and learn from the local culture then I'd advise spending more than one day on Inis Mór.
However, if you are stuck for time and still want to sample things to do on the island then a day trip is the perfect amount of time. One day on Inis Mór will give you plenty of time to cycle around to the island's top attractions.
If you plan to spend the night in Inis Mór here are some accommodation options for you:

Aran Island Glamping

Aran Islands Hotel
What to bring to Inis Mór?
I'd advise packing a small day bag for your trip to Inis Mór. If you intend on staying for the night check out my Ireland Packing List for a more detailed guide on things to bring. I have highlighted down below some important items you should consider bringing on your day trip.
Top Things to Do on Inis Mór
Now that we have covered the most frequently asked questions about Inis Mór it is time to jump into the top things to do in Inis Mór. The Island is rather small in size, yet that doesn't mean there is little to do. In fact, some of the most beautiful spots in Ireland lie on the shore of Inishmore.
I have explored Inis Mór by bike in the past. For the next section of this post, I will write an Inis Mor Day Trip Itinerary. Highlighting the top things to do and the order in which you should do them.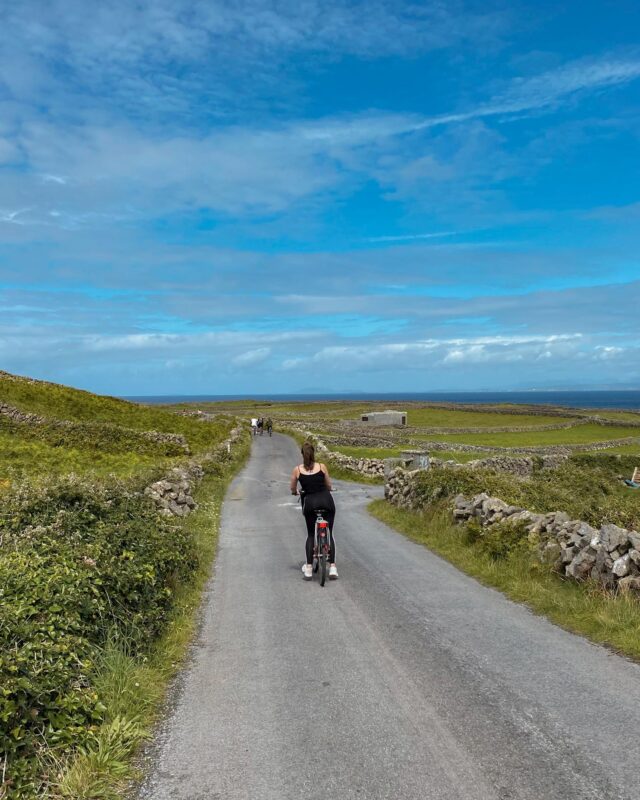 1. Rent Your Bike
When you get off the ferry, you will see a range of different bike companies promoting their day rate. Most companies charge the same price for a standard mountain bike.
On my most recent trip to the island, I went with Aran Bike Hire.
I couldn't recommend this company more, they were really professional and the bikes were in good working condition.
The bikes do not come with a lock but the island is incredibly safe.
Most day-trippers will leave their bike unattended in order to explore the beautiful sites.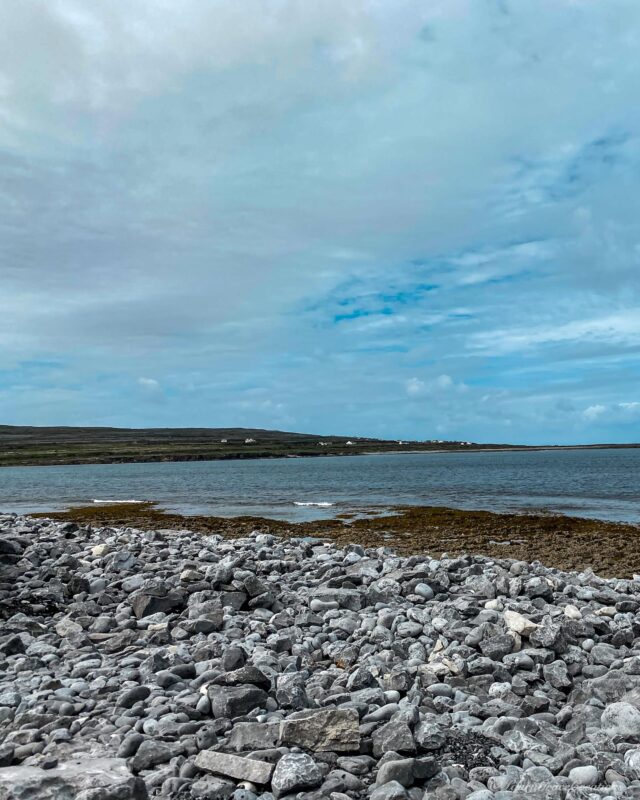 2. The Seal Colony
Most bike rentals on the island are located at the pier. Once you have your bike I recommend heading towards the Seal Colony.
It is mostly a downhill cycle and it will take around 15 minutes to complete.
This is an area on the island where a Seal Colony tend to relax on the rocks or swim nearby.
When I was last on the island I only saw the seals bobbing in the water. A local told me that the seals are more likely to sit on the rocks in the evening time.
Either way, the area is a beautiful place to stop and watch the waves crash against the rocks.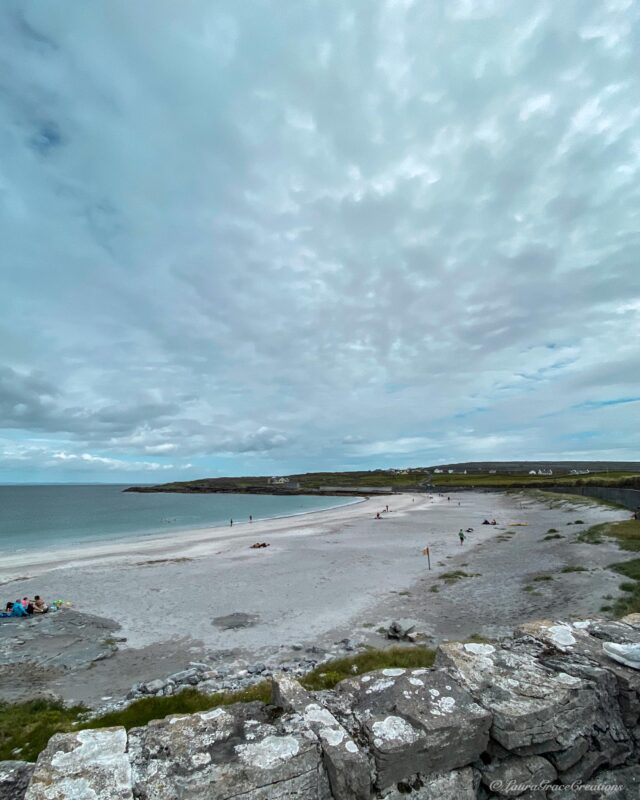 3. Kilmurvey Beach
Once you have finished watching the waves crash against the rocks at the Seal Colony continue to cycle a little further down the road to Kilmurvey Beach.
The beach is located on the north coast of the island and is home to crystal clear waters and beautiful white sand.
The beach is also a common spot for those hoping to do a little birdwatching.
If you brought a packed lunch, I suggest finding a spot to sit for a little bite to eat and a rest.
While it is possible to swim at Kilmurvey Beach, I recommend skipping this as there are still many beautiful places to explore on the island.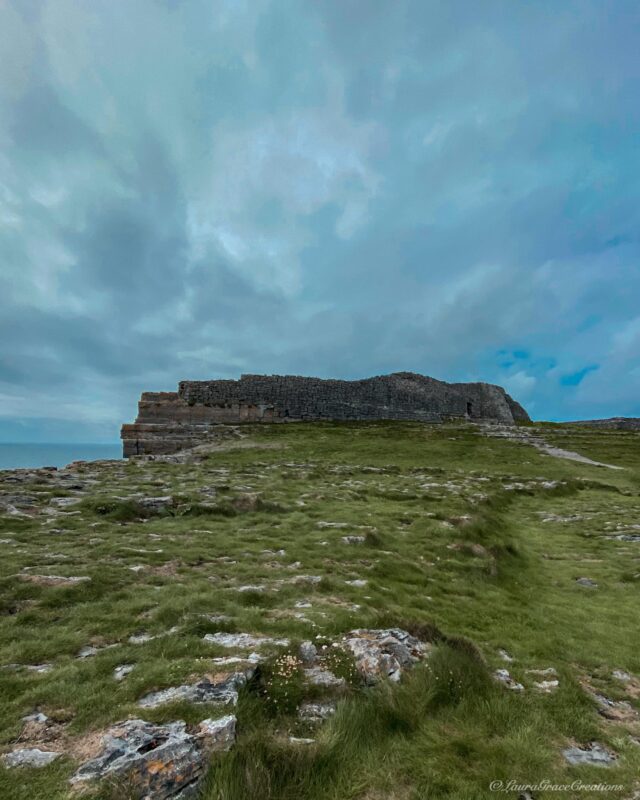 4. Dún Aonghasa
Not far from Kilmurvey Beach lies one of the most famous attractions on Inis Mor, Dún Aonghasa.
Bikes are not allowed along the walkway towards Dún Aonghasa. For those cycling, you can leave your bike here.
The walk takes about 15/20 minutes to complete. It is uphill, but not majorly strenuous.
Entrance into the site will cost €5.00 per Adult, however, in my opinion, it is completely worth it.
Dún Aonghasa is more than 3,000 years old and stands on an 87-metre cliff edge.
From the top of the cliff, you can see a 180 view of the entire island. It is a truly remarkable sight.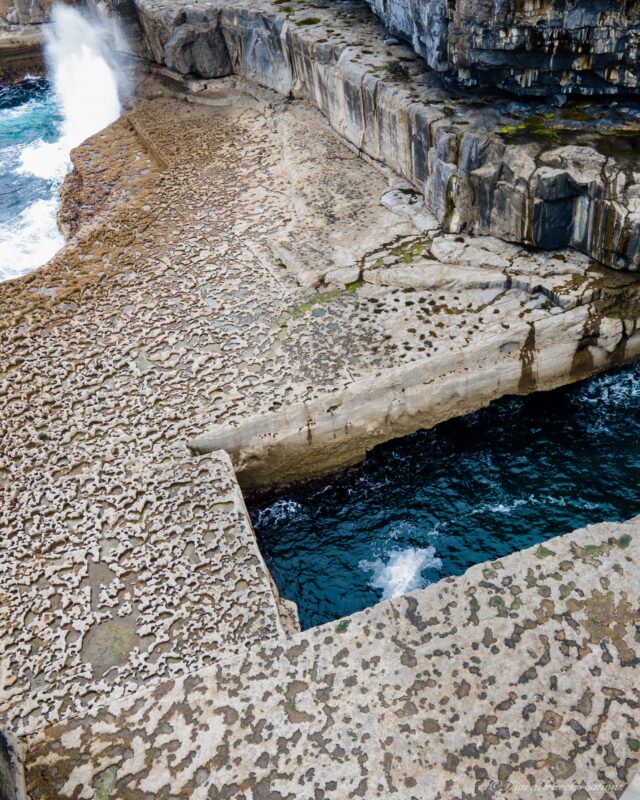 5. The Wormhole
One of the most popular things to do on Inis Mor is visit Poll na bPeist, or otherwise known as the wormhole.
The wormhole is a rectangular shaped natural pool that lies at the end of one of Ireland's many Cliffs, Dún Aonghasa. This little hidden gem was used as a diving spot for the Red Bull Cliff Diving Championships.
The easiest way of reaching the wormhole is by cycling to this point. Once the road ends, it is time to start walking.
Follow the red markings on the rocks for about 25 minutes. It's important to watch your step as the ground can be uneven in places.
Make sure you allow for enough time to make it back to the boat.
Things to do on Inis Mor Map
Suggested Timetable for Inis Mór

10.00am Get the Boat

11.00am Rent Bikes

11.15 pm Seal Colony (Spend 20 mins)

11.45pm Kilmurvey Beach & Quick Lunch Stop (Spend 30 mins)

12.30pm Dún Aonghasa (Spend 1 hour and half)

2.15pm The Wormhole (Spend 1 hour and 45 minutes including walk)

4.00pm Cycle Back to Pier

Please note the walk to the worm hole takes longer than expected. Make sure you are back on your bike at 4.00pm as it is a 25-minute cycle back to the boat.
Inis Mor Travel Guide on Youtube
I am currently running an Ireland Travel Series over on my Youtube Channel. If you are looking for a visual guide on how to spend one day on Inis Mor then this is the perfect video for you. We visit all of the places mentioned in the itinerary above. In the same order. I'd love it if you could give the video a like, comment and subscribe.
This brings us to the end of our Inis Mór Travel Guide, I hope you enjoyed it. If you have any more questions feel free to send me a message on Instagram. I'd be happy to help.
Disclaimer: Please note that some blog posts on Ireland Travel Planning contain affiliate links, meaning I may make a commission on purchases through those links. This is of course at no extra cost to you. Live Adventure Travel is a participant in the Amazon Services LLC Associates Program, an affiliate advertising program designed to provide a means for sites to earn advertising fees by advertising and linking to Amazon.