Ireland is known for its outstanding range of scenic hiking trails, from the Mourne Mountains in County Down to the towering cliffs of Slieve League and Croaghaun. Throughout the years the Lough Ouler Hike has grown in popularity thanks to social media platforms such as Instagram and Facebook. Everyone wants to catch a glimpse of the Heart Shaped Lake in Ireland. Yes, that's right, Lough Ouler is shaped just like a love heart.
Even though the lake has become famous over the years the walk still remains one of Ireland's Hidden Gems thanks to its location. See, unlike other well-known lakes in Wicklow, such as Lough Tay (aka-the-Guinness-Lake) and Glendalough. Lough Ouler involves a fair bit of walking in other to see it. Unfortunately, you can't just rock up, jump out of the car, snap and picture and continue on your merry way. Lough Ouler makes you work for the view. And, Oh Boy it is worth the climb.
Lucky for you, I have written this in-depth local guide on how best to catch a glimpse of the beautiful Lough Ouler. In this post, we will discuss, how to get there, where to park, public transport options, trail length, difficulty and routes.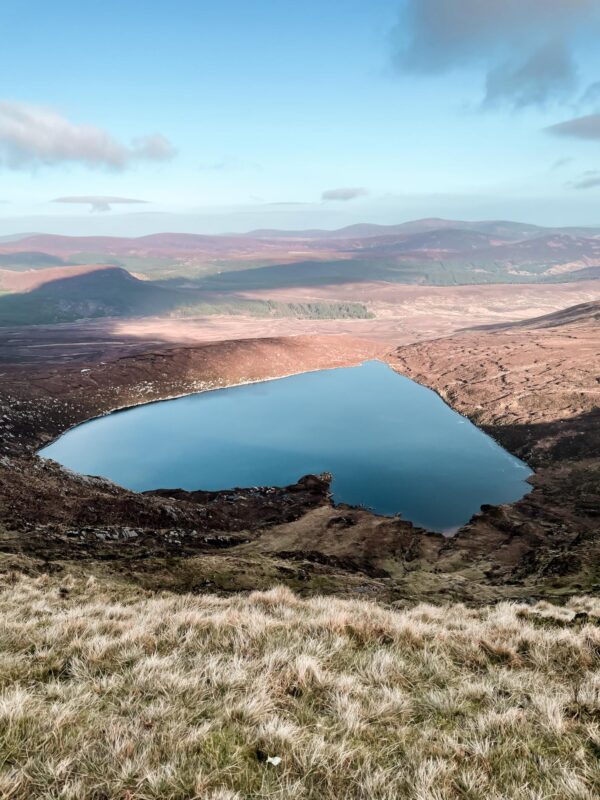 Where is Lough Ouler?
Lough Ouler is one of the most beautiful hikes in Wicklow. The lake is tucked away behind Tonelagee Mountain, which soars 817 meters high and forms a rather unusual shape. It is truly, a remarkable place to visit and the ideal hike to add to your Ireland itinerary.
How to get to Lough Ouler?
The best and most efficient way to get to Lake Ouler is by car. Luckily, it is not too far from the capital, making it the perfect day trip from Dublin. There a 3 route options, all of which have different parking locations. In this Lough Ouler Hiking guide, I will break down which route is best to take and a public transport option for those of you who don't drive.
Is it difficult to hike Lough Ouler?
Lough Ouler is a beautiful destination for hikers, but it's important to know that the hiking routes are not easy.
While many might wish to hear that the trails are straightforward and easy to follow, the reality is that all route options are unmarked, meaning there is little to no trail to follow.
The terrain can be quite challenging, with uneven and often wet in places. Additionally, hikers should be prepared to walk uphill for long periods of time.
To fully enjoy the experience and make the most out of this beautiful destination, it is recommended that hikers have a moderate to high fitness level.
What should I bring with me on my Lough Ouler Hike?
Before we dive into the post I want to highlight the major things you should bring when planning a trip to Lough Ouler. I promise, these are things you do NOT want to forget.
Hiking Boots: All of the trails leading to Lough Ouler are notoriously known for having wet and boggy terrain. And the last thing you want is wet feet for the duration of the hike. The trails are also unmarked, which means, the ground is uneven, with sudden drops and bumps. Hiking boots are a must to protect your ankles. These Boots are my favourite pair. I never leave the house without them.
A Day Bag: This goes without saying, you need something to carry your snacks and drinks in. As the routes are rather uphill. I recommend a lightweight bag like this one with clips to support your back while walking at an incline.
A Torch/Headlight: This may seem like a bit of a strange suggestion as I presume you plan on hiking during the daytime. However, as the trail is unmarked, it can be easy to lose your way. Therefore, a light source will come in handy if you do end up hiking past sunset.
A Travel First Aid Kit: It can also be a good idea to pack a first aid kit just in case you have a fall while out in the mountains. I like to bring one like this as it is lightweight and fits perfectly in my bag.
Waterproof Clothing: It's Ireland, and let's be honest, we never really know when it might rain, even when the weather app is predicting 100% sun. It's best to bring a Waterproof Jacket just in case. They are also great for blocking out the wind.
If you are planning to spend longer in Ireland feel free to check out my Ireland Packing List for a more in-depth guide on what to bring.
Lough Ouler Hike: Parking, Routes and Difficulty
There are many ways to get to Lough Ouler, however, there are two main routes and one bonus route for those needing to use public transport. The two main ones are known as, The Lough Ouler Loop and the Tonelagee Hike. Both trails are equally as beautiful, they do, however, differ in difficulty, length and parking destinations. Below I will answer all you need to know about each trial.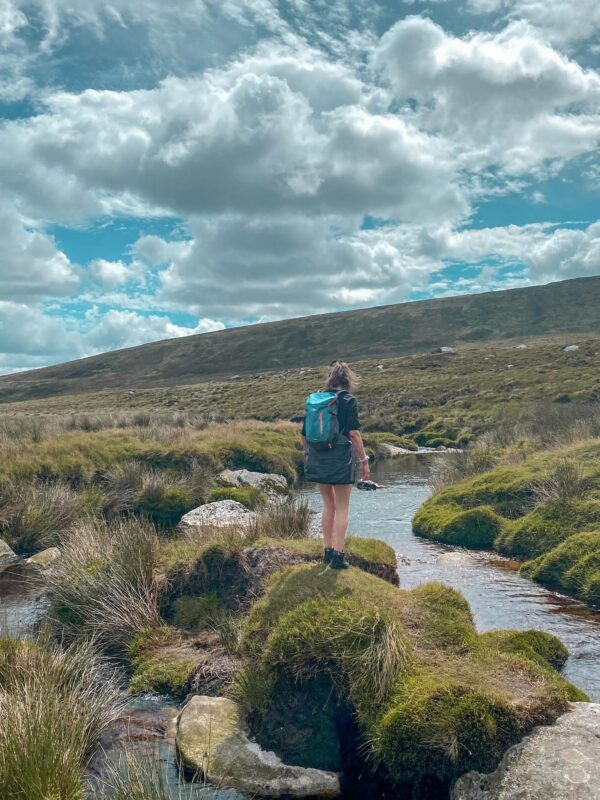 Route One: The Lough Ouler Loop
The most popular of the two routes is the Lough Ouler Loop. This trail begins at the Glenmacnass Waterfall Carpark and takes about an hour to reach from Dublin. The beginning of the trail is rather difficult as you need to cross a river to reach the route. This can be particularly challenging in the winter months after heavy rainfall. Once you leave the car park, I recommend walking slightly to your right for about 5 minutes before trying to cross. There are larger boulders here that can act as stepping stones when the water is low.
Once you make it across, hopefully without falling in (unfortunately I was unsuccessful on my first attempt, all I can say is pack spare socks 😂). It is time to start ascending up the mountain. At this point, there is no clear path, and the terrain is rather boggy. It does however get slightly drier the higher you climb.
Around, 1 hour 30 minutes into the trail you will reach the lake, please note that this is the lower part and too see the famous love heart shape you should continue on walking until you reach the Tonelagee NE Top, you can use google maps or the All Trails App as a guide.
The Lough Ouler Loop takes around 2/3 hours to complete depending on your level of fitness. It is possible to swim in the lake, however, be mindful of currents and your safety. It is also important to note that phone service is limited on the trail. I'd recommend telling someone at home your expected return time just in case.
Please do not attempt this hike without using a hiking map. There is no route or marked trail and it is super easy to get lost. It is also common for the hike to have low cloud cover, so, I recommend checking the weather before leaving your house/hotel.
| Category | Description |
| --- | --- |
| Trail Name | Lough Ouler Loop |
| Driving Distance from Dublin | 1 hour |
| Where to park | Glenmacnass Waterfall Carpark |
| Trail Type | Loop |
| Distance | 8.0 km |
| Elevation Gain | 503 m |
| Difficulty (Fitness Level) | Hard (Moderate to high) |
| Time Required | 3-4 hours |
| Season | Year-round, but best from April to October |
| Dogs Allowed | Yes, but on a leash |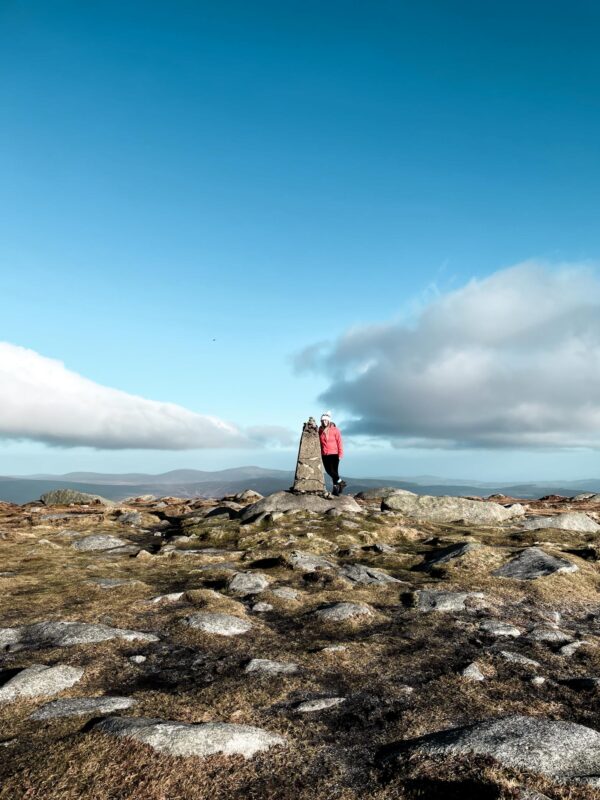 Route Two: Tonelagee Hike
If you are looking for an easier way to reach Lough Ouler, then I recommend the Tonelagee Hike. It is by no means easy, but it does offer a more carefree way of seeing Ireland's famous heart-shaped lake.

There is free parking at the 'Wicklow Mountains Viewing Platform Car Park', however, at times, especially on a summer's day this car park can fill up quickly. In this case, I'd advise parking in the lot behind known as 'Turlough Hill Car Park'.
The hike is fairly easy to follow, there is no trail but it is pretty much straight all the way up to the peak of Tonelagee. I recommend checking out the maps on All Trails before hiking and being mindful of the terrain as it is extremely wet in places.
Once you reach the peak, start to gear off slightly to the right (don't go too far right though). I recommend downloading an offline map to judge this. Even google maps will do the trick.
The walk to Lough Ouler's viewpoint will take around 15/20 minutes depending on the terrain on the day you choose to hike. Try not to get too close to the edge as it can be steep in places. The Tonelagee Hike, combined with the Lough Ouler Viewpoint takes about 2 hours and 30 minutes to complete.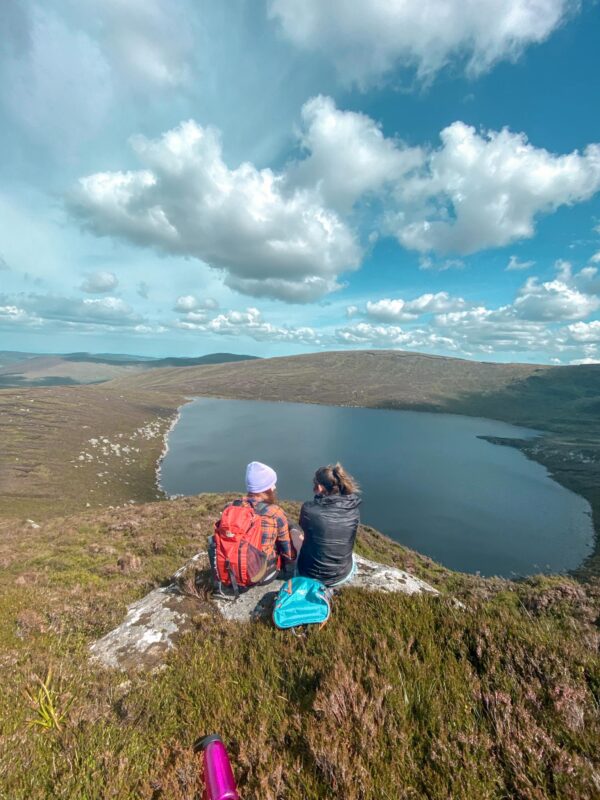 Route 3: Laragh & Glenmacnass Loop
This is the best option for those looking to reach Lough Ouler by using public transport. But…it is important to note that this is not an easy mission. It is expected to take 8/9 hours to complete for those with moderate to high fitness levels.

The trail starts in a well-known Wicklow town called Laragh. And it is possible to get there by using the Glendalough Bus Service which costs €20 for a return ticket.
The bus route begins at St. Stephens Green in Dublin City Centre and continues as far as Glendalough (one of Ireland's most popular hiking spots). But for this trail, you should get off the bus at Laragh.
Please note, I have not personally done this trail myself, however, this is the best route I can find as a public transport option. The route links up with the Lough Ouler Loop and follows the same trail.
| Category | Description |
| --- | --- |
| Trail Name | Laragh and Glenmacnass Loop |
| Driving Distance from Dublin | 1.30/2 hours |
| Starting Point | Laragh Town |
| Trail Type | Loop |
| Distance | 23.8km |
| Elevation Gain | 1139m |
| Difficulty (Fitness Level) | Difficult (Moderate to high) |
| Time Required | 8/9 hours |
| Season | Year-round, but best from April to October |
| Dogs Allowed | No (not with public transport) |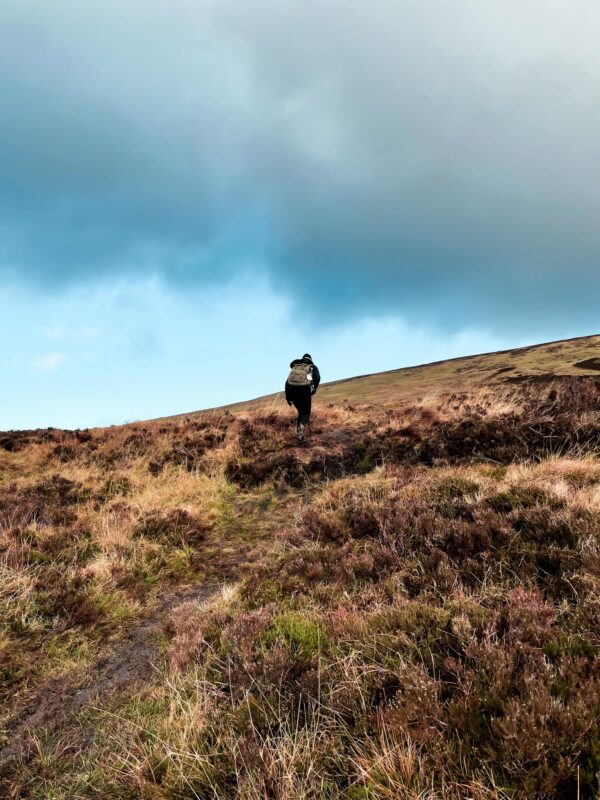 Heart Shaped Lake Ireland: Lough Ouler Summary
Below is a quick summary of frequently asked questions about Lough Ouler. It covers all 3 trails!
Where is the best place to Park when hiking the heart shaped lake in Wicklow?
There are two trails up to Lough Ouler that offers FREE parking:
How long does the Lough Ouler Hike Take?
The Tonelagee Hike (+ Lough Ouler View Point): 2 hours
The Lough Ouler Loop: 3/4 hours
Laragh and Glenmacnass Loop: 8/9 hours
Can you swim in Lough Ouler?
Yes, there are no rules when it comes to swimming at Lough Ouler. However, like all lakes it is important to be aware of underwater currents. It may seem completely safe, however, that is not always the case.
Does hiking Lough Ouler require a certain level of fitness?
Yes, I would recommend those planning to hike any of the 3 trails to have a high to moderate fitness level. All trails are rather steep and the terrain is wet and uneven all year round. While the trails can be differcult in places the hard climb is completely worth it for the Epic views of Ouler from above.
Do I need to wear hiking boots?
Yes, and that is none negotiable. This trail is not suitable for your everyday foot wear. It is wet and uneven. I have fell many of time thinking the ground was soilid. Spoiler alert, it was not.
Tips and Advice Before Hiking Lough Ouler:
Weather: No matter where you go in Ireland, it is always a good idea to look up the weather first. Ireland is known for getting 4 seasons in one day. Don't be surprised if the day starts off sunny and warm and ends with a snowstorm and -4 degrees.
What to wear hiking in Ireland? I'd advise wearing gym clothes for any hike in Ireland. Comfort is extremely important. If there is a chance of rain, consider bringing waterproof overall's.
You can check out my packing for Ireland post for a more detailed account on what to bring and wear in Ireland.
What to bring: It's always a good idea to bring a camera on any hiking trail and I promise this one is no different. Be sure to bring your camera or smartphone to capture some stunning scenery.
Packed Lunch: Call into a local supermarket on the way and for some treats at the mountain's summit. The best type of lunch, one with a view
Arrival Time: If you are hoping to park in the main car parks I suggest arriving early, particularly in the high season and on the weekends. The Wicklow Mountains tend to be packed in the summer months.
Phone Service: Phone service can be really patchy on this trail, so I'd advise letting someone at home know your expected return time just in case of an emergency.